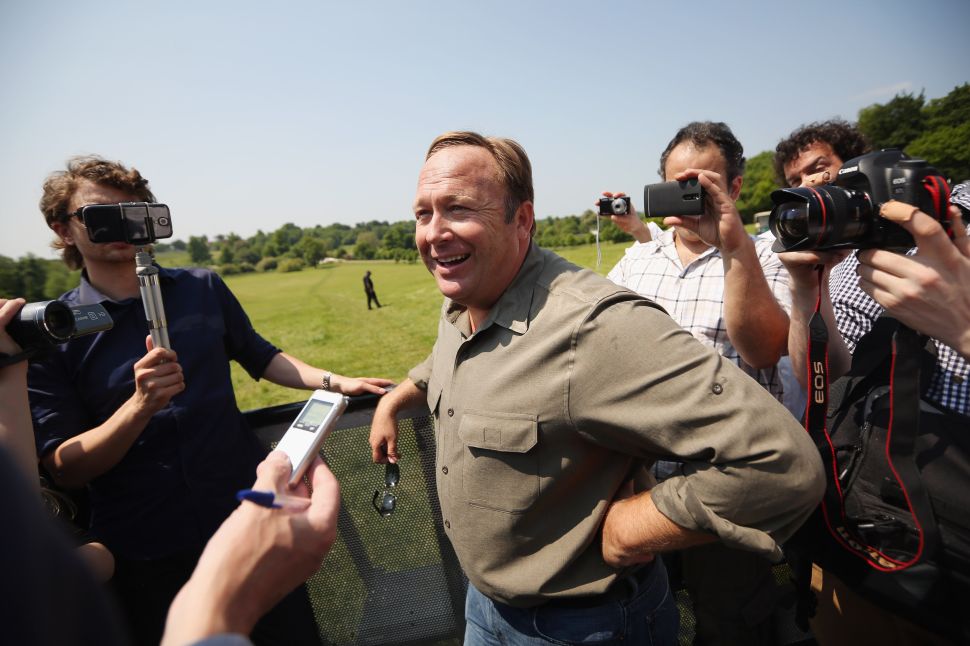 On Monday, when Facebook, YouTube and Spotify followed Apple's lead and removed much of Alex Jones' InfoWars content, other businesses were also pondering what to do with Jones—namely, Pinterest.
Yesterday, in response to an inquiry from Mashable, Pinterest took down its official Alex Jones – InfoWars page, which according to screenshots had over 10,000 followers when it was removed from the site.
Pinterest confirmed to Mashable that the official account had been removed for consistently saving content that could potentially lead to harm, a violation of the company's community guidelines. 
However, a look at the "Infowarspins" Pinterest page today shows that the search still summons reams of InfoWars-affiliated videos, Trump memes and pinnable conspiracy theories even though the official InfoWars account no longer exists.
In fact, Pinterest plays host to a vast, diverse community of conservative power-users who use their accounts to pin memes, videos and self-made internet ephemera to a wide variety of boards which promote everything from MAGA ideas to traditionalist marriage dictums. The platform is a little bit like Tumblr in the sense that Pinterest users don't have to create any original content if they don't want to.
Instead, they have the option of simply following and pinning images from pre-existing boards and accounts which appeal to them, lending Pinterest an air of passivity that's absent on more adversarial platforms like Twitter. 
When analyzing how members of the online far-right use social media, certain platforms are more obviously suited for spreading conservative rhetoric than others. For example, it makes sense for someone like Milo Yiannopoulos to use YouTube for his rants, because YouTube makes it simple to post lengthy videos for subscribers who can easily comment on and share the content. Similarly, a Facebook group is the perfect tool a far-right fraternity like the Proud Boys might use to organize against "antifa scum." 
In contrast, the intersection of InfoWars/MAGA supporters and the pre-existing Pinterest universe introduces a clash of form and content that feels initially bizarre. This jarring contradiction stems from the fact that "pins," images linked or uploaded from another website which can be saved to a user's Pinterest board, have largely been used for feminine-coded aspirational lifestyle collages since the company's inception.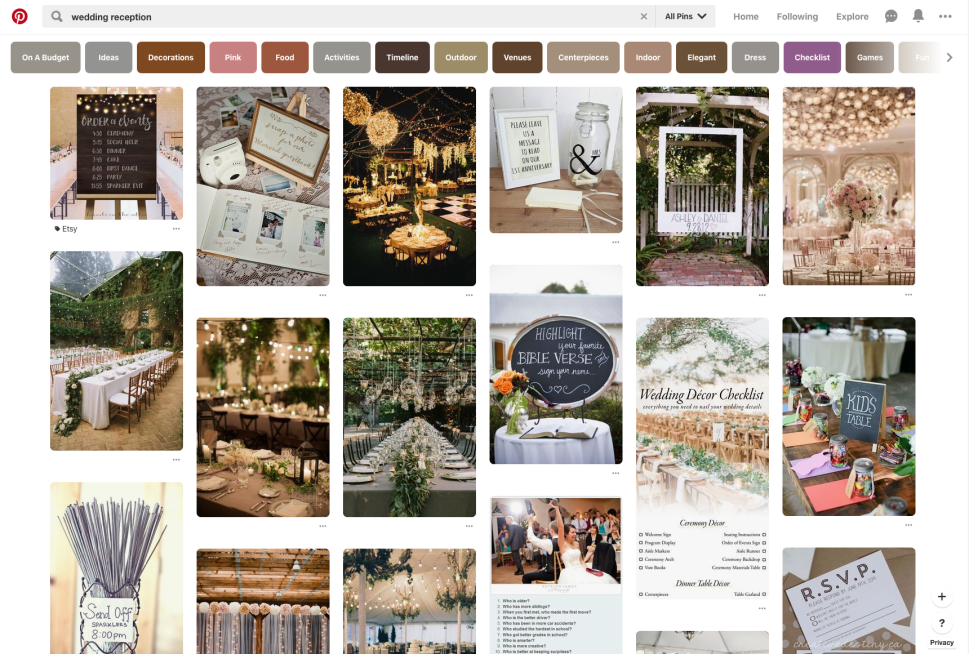 The stereotypical Pinterest account-holder is a woman planning her wedding, covering her board with pinned images of flower arrangements, vintage veils and rustic barns draped with twinkle lights. The company even releases an annual report on wedding trends; such is the strength of its core audience. 
While Pinterest is, of course, not solely used by women, its brand identity is nonetheless rooted in notions of restrictively "traditional" rituals (AKA a cisgender woman marrying a cisgender man). Given the deep ties between conservative ideas about gender roles and the burgeoning American alt-right, it's therefore striking, but not but necessarily unbelievable to see a Pinterest page littered with far-right conspiracy fare, including Jones-promoted dietary supplements, outlandish 9/11 theories and long-term survivalism tips and tricks.
Again, similarly to how folks use Tumblr, MAGA fans and InfoWars followers use Pinterest to promote their own interests, share content that matters to them and connect to like-minded people or groups who also use the platform.
One woman, who describes herself on Pinterest as a "Happily married wife & mother [and a] lover of God & country," follows "#MAGA" and "Political memes" boards in addition to boards dedicated to "Cottage Charm" and "Joy." Freerollinsider.com, who can claim over 44,000 monthly Pinterest viewers, has made two boards dedicated to QAnon card games. He also appears to be a big fan of actress Piper Perabo.
Conspiracy theorists and Trump fans obsessing over the sanctity of the 2nd Amendment and accusing Democrats of operating child sex slave rings doesn't immediately scan as the conventionally "aspirational" way of using Pinterest, or even the internet at large. But the breadth of the alt-right Pinterest community indicates that even though Alex Jones has been banned from several major platforms, his many denizens are still ambitiously building their vision of a country where conservatism holds sway. 
In fact, the "official" de-legitimization of InfoWars will probably only strengthen the network's fans' devotion to Jones and whatever preposterous conspiracy theory he dreams up next.
InfoWars is a bleak repository for humanity's darkest impulses which doesn't deserve to be promoted or endorsed. However, it's also undeniable that banning InfoWars will galvanize those on the far-right to claim that their right to free speech is being violated by an unjust shadow cabal of liberal overlords, something they love to do already. 
In any case, the persistence of InfoWars Pinterest indicates that the online right is still very much alive and optimistically planning for the future they want so badly.