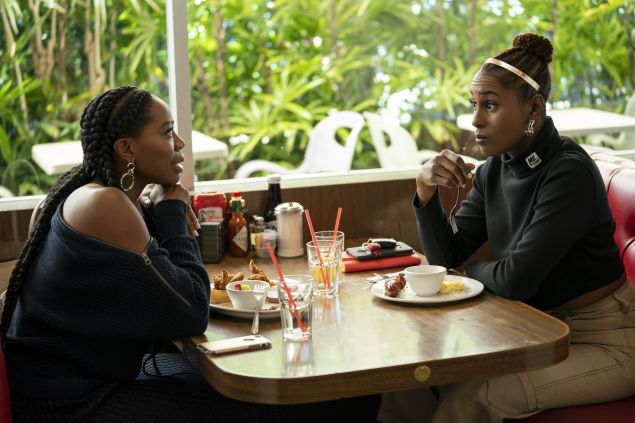 At the end of Insecure Season 2, Issa (Issa Rae) had come to a crossroads. She could no longer afford her rent, her relationship with Lawrence was definitely over and her ex's couch had become her new bed. When Season 3 picks up, Issa doesn't have her life any more together—but damn if her wardrobe doesn't make it look like she does.
Having served as the costume designer for the previous two seasons, Ayanna Kimani styled the first four episodes of the HBO show's new season (premiering August 12) before departing to work on the MTV Movie & TV Awards. She hopes that fans will find Issa's latest sartorial choices as cool and remarkable as they've been in the past, but not just because she's searching for personal acclaim. Last season, after the series featured a sweatshirt bearing the phrase "FBI Killed Fred Hampton," Kimani saw an Instagram post from its designer, Rari Samo, mentioning the mountains of new orders he had to ship out. "For me that is the Holy Grail," Kimani says, "finding a young designer, somebody I am helping push to the forefront and whom this will benefit in some way."
Here, Kimani chooses her eight favorite looks from Season 3, revealing everything you need to know about the emerging labels behind them.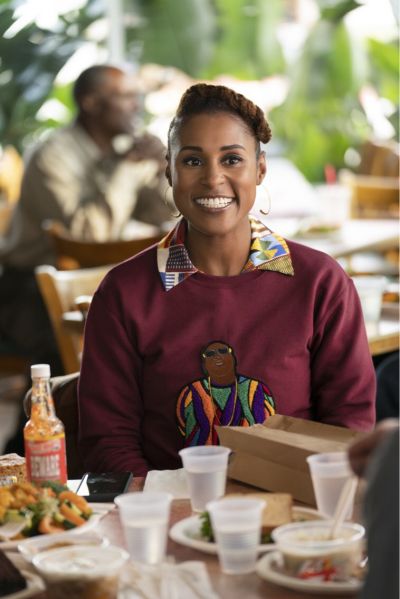 "As we pick up in Season 3, Issa is still staying with Daniel. She doesn't have a ton of clothing. For the first few episodes, I just took one rack of clothing including stuff we used last season and a couple of new purchases and mixed them to create a really cool wardrobe that repeats. I love the Biggie sweater. It's from a brand called Lyfestyle based out of New York. I'm heavy on Instagram—that's how I find a lot of these unknown designers and brands. I put the sweater over a Stella Jean button-up shirt—her take on kente print, which comes from West Africa. I am a big fan of Stella, particularly because she uses sustainable clothing and part of the manufacturing actually happens in Africa. When I find brands from a designer of color that are also sustainable and helping the community or culture they come from, I love to put them at the forefront."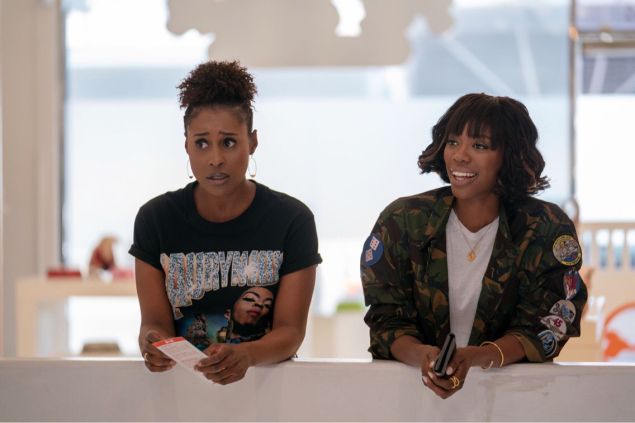 "Issa's Lauryn Hill T-shirt is by Melody Ehsani, who's based in L.A. Another amazing indie designer, she has done some really cool collaborations. Melody told me she had always wanted to work with Lauryn Hill. Lauryn was touring, Melody had a friend who introduced them, they met up and she told Lauryn, 'I would love to create something for you.' And Lauryn said yes! The Miseducation of Lauryn Hill came out when I was probably about 10 or 12 years old. It was a very impactful album.
In one scene, Issa and Molly are telling each other about their drama. We are going to see Molly in the workplace a lot in Season 3. It's a really good juxtaposition when you see her in camo and then in the next shot she is in this beautiful Tibi dress on her first day at work. Just having those two worlds effortlessly collide is why I think we love Molly's wardrobe."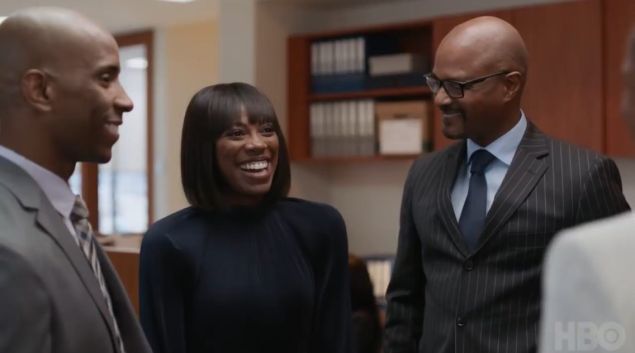 "I think Tibi has released this dress three or four times because it is such a hot seller. [The men] are a bit more muted. They're old-school. Even though she is meeting with the attorneys at the black law firm, they're still part of the old boy's club. She has to stake her claim. She has to show the moment she walks in that she is worth it and not just a pretty face. There is intelligence behind all that beauty and style."
"Even when Molly is in casual wear, it will still be designer (in this scene, Versace). She wears Off-White, Sacai tops, and Monse. Molly is your New York fashion girl. If she wasn't an attorney, she would be at New York Fashion Week with all of the editors and aspiring stylists taking photos."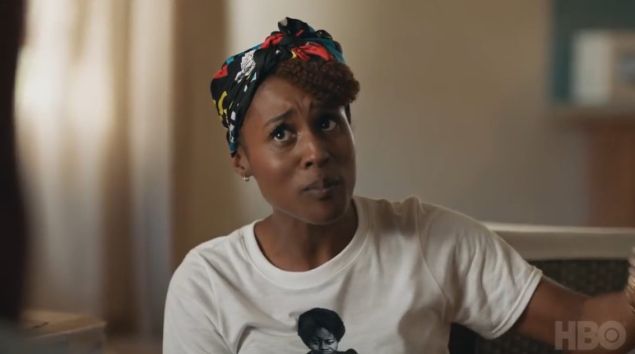 "Most of the time when Issa is chilling, you'll see her in a hip-hop T-shirt. I did that in Season 2 a lot, and I would always put her in a T-shirt that interpreted her mood. For this scene she is in another space. She has graduated to the next level. When we see Issa at the end of Season 2 and beginning of Season 3 she is pretty down in the dumps. By the time the Nina Simone shirt comes in, she's feeling good."
"In one scene, Issa and Daniel are talking junk at the laundromat. Issa Rae and Issa Dee would wear this outfit—I think Issa said this was her favorite. It was literally just a sweatshirt and some sweats. [It's from] a local L.A. designer called Reck'Creations. Because Insecure is filmed in Inglewood and is a story based in and around Inglewood, I thought it was a great opportunity to shout out the city."
"For jewelry, I have one rule in my department: do not bring me anything from a department store. I am very intentional about the jewelry I pull. [It's gotta be] from the Slauson Swap Meet, or handmade jewelry that is similar to what you would find in Leimert Park—where We Got Y'all is based. When we started back in Season 1, I wanted Issa's jewelry to look like she got it when she was walking to work one day, or when she was on her lunch break and visited one of the vendors in that park. Quite a few [pieces] of her jewelry are from my personal kit from Kenya. My husband is Kenyan, so I buy jewelry whenever I'm over there. I also work with another sustainable brand called Shop Soko. They are a Kenyan company, and they have really beautiful fine jewelry. Another brand I work with out of New York is called Third Crown. In this scene, Molly and Issa are wearing different versions of Third Crown jewelry."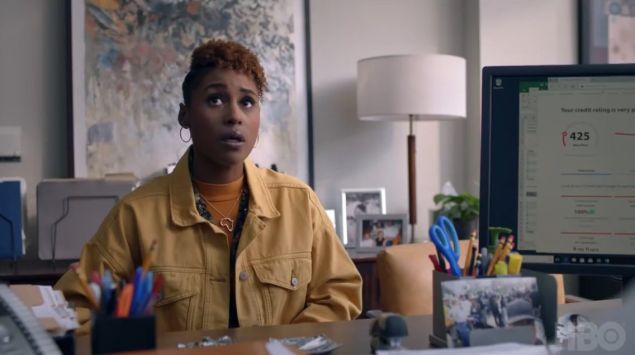 "I believe I got the necklace in this scene from Melody Ehsani. It is also one of the little Easter eggs I put in there, because Issa Rae is half African—half Senegalese. Because I travel back and forth between the States and East Africa—sometimes West Africa—I hear the response from people over there who see that I am using local brands and designers. There ends up being this transcontinental camaraderie that I am building with designers of color from the States, Africa, the Caribbean, Toronto. Anybody I can work with and bring them into this journey, I do it."