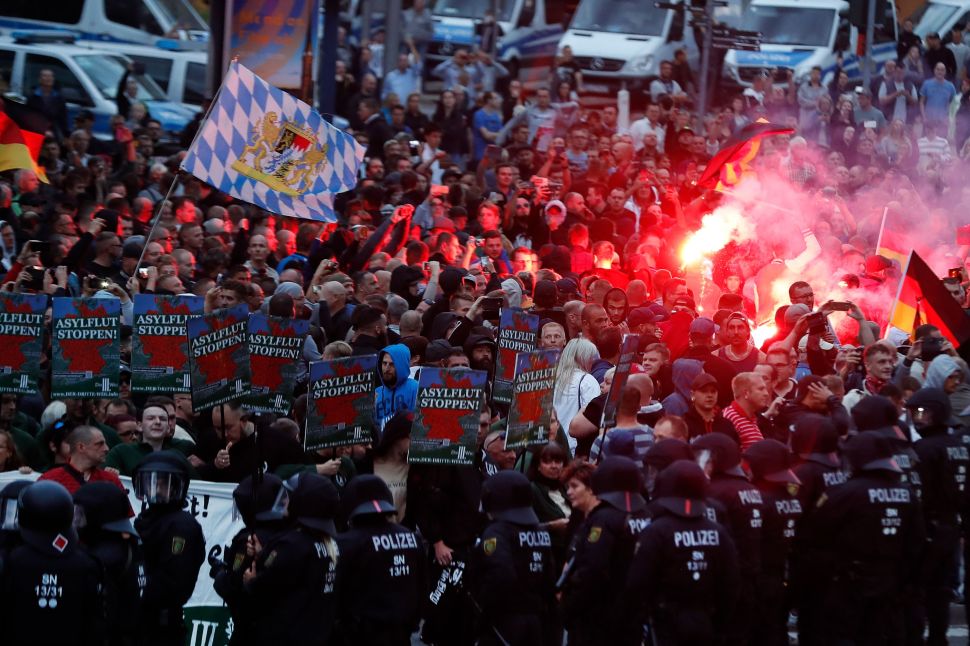 This week, Germany has been convulsed with rioting in the eastern city of Chemnitz, where right-wing protesters have clashed with police for days. The murder of a German man on Sunday, reportedly by two Middle Eastern migrants, birthed angry protests that have devolved into violence, with attacks on foreigners by right-wing mobs. The police have been unable to quash the street melee, leading to troubling questions for the government of Chancellor Angela Merkel in Berlin, whose open door to migrants three summers ago set the stage for political turmoil in the European Union's predominant country.
Angry right wingers flashing the banned Hitler salute for the cameras rattled Germany's chattering class, which seems mystified by anger at Merkel and her policies. However, it's no surprise that this unpleasantness exploded in Saxony, the German state where the renascent far right has the deepest roots. Chemnitz, called Karl-Marx-Stadt when this was East Germany, like much of Saxony, has proved an ideal breeding ground for hardline nationalism and nativism, thanks to socio-economic stagnation. Chancellor Merkel's harsh criticism of the rioters is unlikely to change many minds in Chemnitz, where dislike of the current government runs deep.
Right-wing hooligans from across Germany descended on Chemnitz to partake in the violent protests, and although the police have made progress in regaining the streets, the city remains in turmoil today. Tensions over migrants that have roiled German politics for the last three years, nearly causing the collapse of Merkel's fragile coalition, have now exploded in open violence. Like the recent murder of a Jewish girl by a migrant, the Chemnitz fracas raises awkward questions about the true state of German politics and society.
We also need to ask what's really going on here. There can be no denying that the renaissance of Germany's nationalist right is real, as demonstrated by the rise of the Alternative for Germany or AfD, which this month charted its highest poll numbers ever, as Merkel's shaky government struggles to deal with the migrant issue. Birthed five years ago on anti-EU sentiments, the AfD has successfully rebranded in opposition to Merkel's open-door policy on immigration. The possibility that the AfD could become a power player in Berlin, dismissed as fantasy until recently, now seems increasingly plausible.
While Germany's right-wing surge is genuine, it bears noting that the Kremlin has aided the AfD's rise. Russian state media regularly pushes lurid stories about migrant crime in Germany, to the benefit of the far right, embellishing such accounts and even inventing them out of whole cloth for political effect, while the AfD's cozy relationship with Russia is no secret. Russian financial support for the party has included flying some of its leaders to Moscow on a private jet paid for by the Kremlin. In return, the AfD praises President Vladimir Putin and displays a regard for Moscow's perspective that is strong even for Germany, where Russlandversteher ("Russia-understanders") are found on all points of the political spectrum.
Russian intelligence has connections to right-wing hooligans in several European countries, Germany included. As I reported two years ago, there are detectable connections between Kremlin military intelligence, known as GRU, and football hooligans in Western Europe. Russia has forged ties to right-wing hooligans under the guise of sport solidarity, while some of Moscow's violence-prone professional superfans, called ultras, are known GRU operatives.
Moreover, GRU, which has formed links with far-right activists across Europe, has been busy in Germany doing the same thing, as uncovered by the journalist Boris Reitschuster, who two years ago warned that Moscow was building secret cadres of German agents under the cover of sport. As Reitschuster explained, GRU employs Russian martial arts clubs to spot and assess potential recruits, to be used for future espionage and even attacks on German targets.
Is this what's happening in Chemnitz this week? Gunter Pilz, a German academic specializing in the intersection of sport and extremism, explains that there is a real and growing problem here. "The new hooligan scene is quite clearly oriented to the right wing," he stated regarding the Chemnitz debacle. "Unlike the hooligan scene in the 1980s, groups today are very well organized and networked," Pilz explained, adding, "The scene is heavily dominated by Russian hooligans who organize martial arts events." Some of them are proud of their part in the mayhem. Russian nationals have boasted about traveling to Chemnitz from Bavaria, arriving with baseball bats to help the right-wing protestors.
My friends in German intelligence have confirmed this, and they are concerned that GRU has stoked the right wing in their country and that Moscow is poisoning German politics with violence-prone extremists, some of whom are directly controlled by the Kremlin. "We can see links between Russia and some of the rioters this week," a German security official told me, adding that the security services are concerned that the Merkel government does not take this threat seriously enough.
German intelligence has been unhappy with Merkel since 2015, when her open-door migrant policy created domestic turmoil and gave rise to the resurgent far right. Spies were under quiet pressure to lowball the number of migrant crimes, for fear of stoking the anti-Merkel movement, and now they feel that Berlin isn't heeding their warnings about the Russian espionage and covert influence threat. "They don't listen, they pretend to be deaf about such matters," a German security official told me.
Germany today offers an ideal playing field for the Kremlin to execute its customary provocative spy games. There, the Left and Right are riddled with friends of Moscow, and this week's unpleasant events in Chemnitz indicate that the country may be entering a new, dangerous phase of political polarization and violence. Since some European security officials believe that Russian intelligence clandestinely aided the flow of migrants into the EU in 2015, as I've previously reported, Germany's present turmoil looks like the Kremlin's dream come true. Putin's agents have abetted the EU's left-right divide and possess the ability to stoke riots in Germany's streets.
Since Germany's political divisions over migration and national identity show no signs of abating, Moscow has plenty of fodder to work with. Covert action cannot create political conditions, but it can certainly shape them, as President Putin, who knows Germany well from his KGB service in East Germany, is fully aware. Until Berlin starts taking these matters more seriously, this week's riots in Saxony should be considered the harbinger of a new, ugly age in Central Europe.