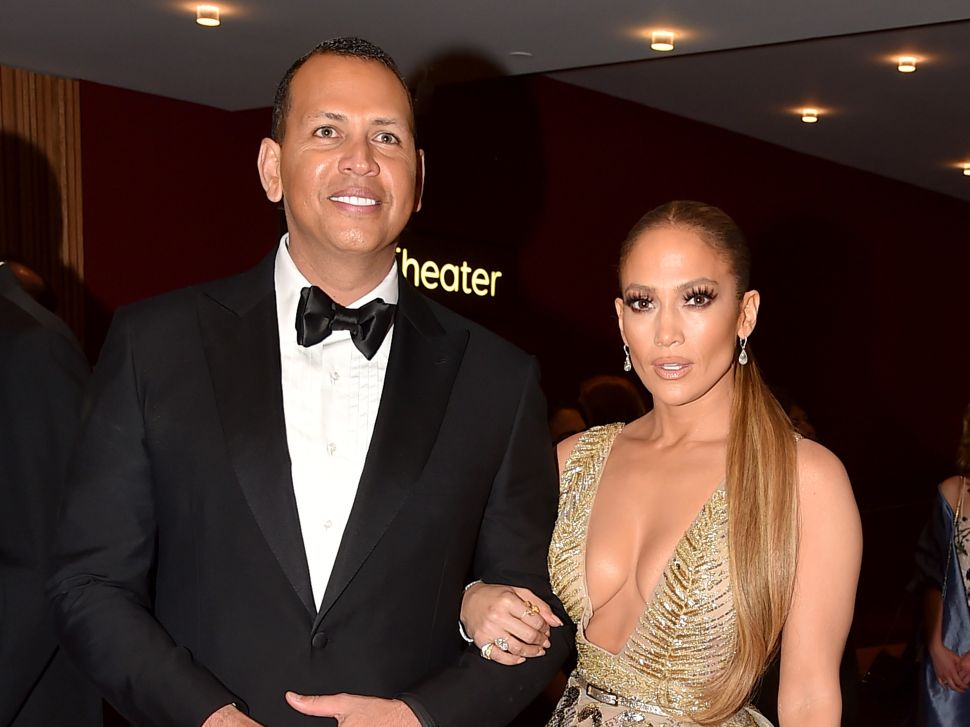 Instead of starting the week by heading into an office and sitting at a desk with a sad salad, Jennifer Lopez and Alex Rodriguez decided to jet over to Italy on Monday by way of a private plane, as one does. Not that we'd expect anything less from J.Lo and A-Rod, who are currently living their truest vacation selves as they sail along the Amalfi Coast on a massive yacht.
Last year, the duo went on a French holiday, stopping in Paris and the south of France—atop a massive boat, of course. This year, they decided on Italy, and after a short stay in Positano, they glided over to Capri, where they've continue to document their travels via Instagram—yes, J-Rod is as susceptible to couple vacation photos as every other #normal you follow.
They've worn coordinating all-white ensembles as they stroll through the town and very candidly perused a fruit market. Rodriguez shared a video of himself belting out Journey's "Don't Stop Believin,'" though we personally think perhaps he should leave the vocal talent to his girlfriend. The former baseball star also demonstrated that he is not immune to the lure of the Yacht Photo, as he posted a solo shot of himself posing against the railing.
They seem to be putting a little work into this getaway, too, with the photo Lopez shared of the two looking at what appears to be fabric color swatches, with bow ties behind them—as expected, this set the internet into a frenzy with a debate over potential wedding plans.
This might be a belated birthday trip for both Lopez and Rodriguez—her birthday is July 24 and his is July 27. Two Leos!
Anyway, Lopez was definitely the guest of honor at Ristorante Villa Verde, where she blew out candles to celebrate, and then gave an impromptu performance of "Let's Get Loud," which all the diners were very here for. Perhaps no one was as enthusiastic as the erstwhile New York Yankees captain, who was the epitome of an ideal Insta-boyfriend and uploaded a video of Lopez singing atop the table.
Lopez and Rodriguez are far from the first celeb patrons to book a meal at the restaurant this summer—Gwyneth Paltrow stopped by, as did Caroline Wozniacki, Tommy Hilfiger, Lindsey Vonn and P.K. Subban. Oh, and Beyoncé and Jay-Z have dined there, too.
It's not surprising, considering how many famous faces have ventured to the Italian coast this year—Paltrow was aboard Valentino Garavani and Giancaro Giammetti's yacht in June, with her fiancé Brad Falchuck, while LeBron James celebrated his $154 million contract with the Los Angeles Lakers by immediately jetting over to Positano and Capri for his own family yacht trip. Then, there was Kourtney Kardashian and Younes Bendjima, but also RIP to that relationship.
And let's not forget about Leonardo DiCaprio, who, in a shocking turn of events, is vacationing around Europe with a 20-something model! Sadly, Leo and his beloved vape did not make an appearance in any of the plethora of photos his 21-year-old girlfriend, Camila Morrone, shared on her Instagram.