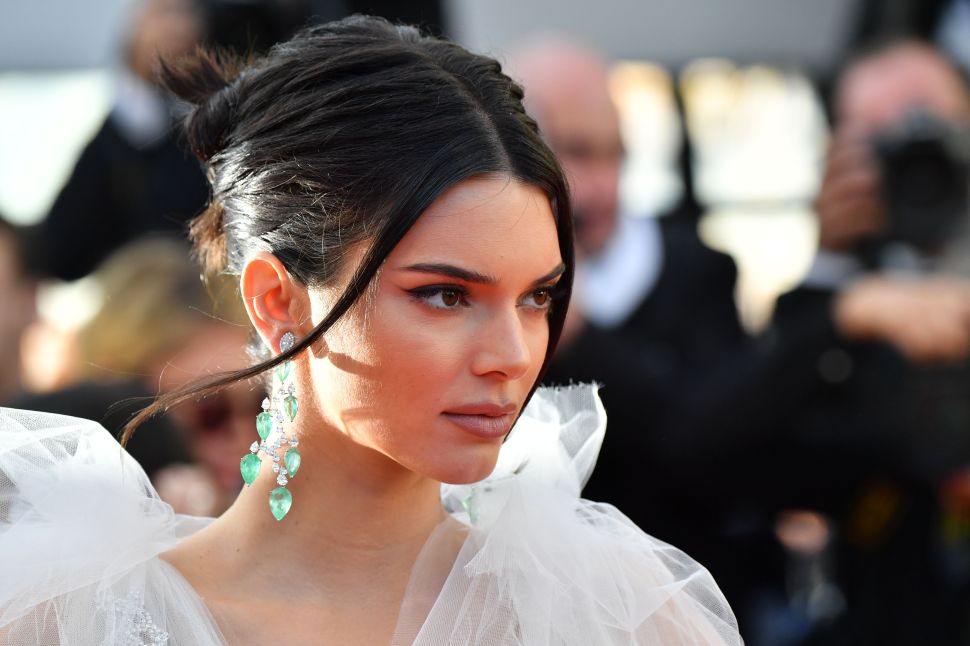 Over the weekend, Kendall Jenner, who last year eclipsed Gisele Bündchen to become the highest-paid model in the world, ignited a backlash when an excerpt of her interview with Love  was posted on the magazine's Instagram account.
"Since the beginning we've been super selective about what shows I would do," Jenner said. "I was never one of those girls who would do, like, 30 shows a season or whatever the fuck those girls do. More power to 'em. But I had a million jobs, not only catwalks but everything else. The whole combination was very overwhelming, and I started to freak out a little bit and needed to take a step back."
The Love article has yet to be published in full, but several professional models are furious about Kendall's implication that their labor (in this instance, specifically runway work) is somehow less worthwhile than her own. Many have also pointed out that Jenner is only able to be selective about her work because of her family's considerable wealth.
"Never been so indirectly and publicly offended in my whole entire life," Society Management model Irina Djuranovic wrote on her Instagram story (screenshots were acquired by BuzzFeed). "To be called a supermodel…how easy it comes to you," she added, addressing Jenner.
Jenner's representative gave the following statement to BuzzFeed:
It's not what she meant. The quote was taken out of context. Mid-thought she realized the number of shows some models walk a season is closer to 80. The point was that it's their path and "the more power to them." She admires their hard work and dedication. It's an accomplishment.
A career involving catwalks and haute couture might seem glamorous from afar, but the high-fashion modeling industry is notoriously dependent on free and underpaid labor from people as young as 13 —and it's likely some models working in unregulated conditions are even younger. Though in recent years significant efforts have been made to course-correct the exploitative status quo, model representation and compensation among the world's top houses is still a concern. Of the models who appeared in New York Fashion Week in February 2018, 62.7 percent were white and only 34 out of 2,289 models were plus-size. Just 31 models were transgender or non-binary.
Any model just starting out on the punishing fashion circuit of runway shows in New York, London, Milan and Paris will have to contend with long hours, physical exhaustion and lots of rejection. Unless, of course, the model is an internationally famous reality television star. Jenner broke into modeling at 15 after her mother called a renowned Victoria's Secret photographer, but her experience is quite unique.
In 2017, casting directors for luxury fashion house Balenciaga came under fire for locking more than 150 prospective models in a dark stairwell when they went on a three-hour lunch break, telling them not to leave if they wanted to be seen.
"I wasn't there, but I and hundreds of girls waited for them at another casting that season for six hours without getting to see them," a New York–based model who wishes to remain anonymous told Observer. "Even casting directors like Anita Bitton that brand themselves as being progressive are known for getting girls to stay at fittings, which are unpaid, until the early morning without ever confirming them."
Aspiring models are also often forced to fund their own travel and expenses in pursuit of poorly paid or unpaid contractual work (the reward instead is exposure that could lead to a paid gig in the future). This has resulted in an industry-wide trend of models falling into debt. 
The model continued, "My old agent tried to make me feel better about my debt by telling me about a girl at their boutique agency who was $12,000 or $20,000 in debt. I saw some number about $43,000 being the median pay for models, but girls at my old agency probably made at most $10,000 a year, and many couldn't work other jobs because castings are freelance and last-minute. You always have to be available." (The required minimum annual living wage for a single adult in New York City is $33,561 before taxes.)
Though Jenner would probably deny receiving preferential treatment, she likely hasn't faced the same challenges that an unknown hopeful who doesn't come from money may face. It's also worth pointing out that someone as famous as Jenner is less likely to be the target of abuse, assault or harassment than someone without her power and influence.
Abuse of power is rampant in the fashion world. Last year, model Cameron Russell used Instagram to post anonymous sexual assault stories within the industry and was flooded with responses that are still visible on her page. Whistleblower @shitmodelmgmt also uses Instagram to call out abuse and inform models of their rights, and has compiled a running list of repeat offenders.
The outrage over Jenner's comment is tied intrinsically to her misapprehension about the modeling industry. Her feeling "overwhelmed" by runway shows is perfectly justifiable, but the fact remains that she lives in another world. 
She is an exception in the business because modeling is but one facet of her own formidable industry.