Lady Kitty Spencer might not be a true royal, but she's on a decidedly regal trip to Portofino right now. Prince William and Prince Harry's cousin arrived in the tiny Italian resort town this week, where she's already letting her inner tourist out with her six-photo slideshow of the scenery, as well as a definitely filtered selfie at her exclusive 67-room hotel, the Belmond Splendido.
The five-star hotel is one of the most expensive spots in the already pricey enclave, with rooms starting at over $3,000 a night in peak seasons. Most of the rooms have sea views, and many feature frescos by local artists and private balconies, and all of which will provide more Instagram fodder for Princess Diana's niece.
There's a heated saltwater pool and sceney piano and pool bars, as well as three restaurants. The famed La Terrazza is one of the most coveted reservations in Portofino, with diners flocking for both the menu filled with seafood and pasta as well as the postcard-esque view outside—you've definitely seen at some point scrolling through Instagram or perusing paparazzi shots.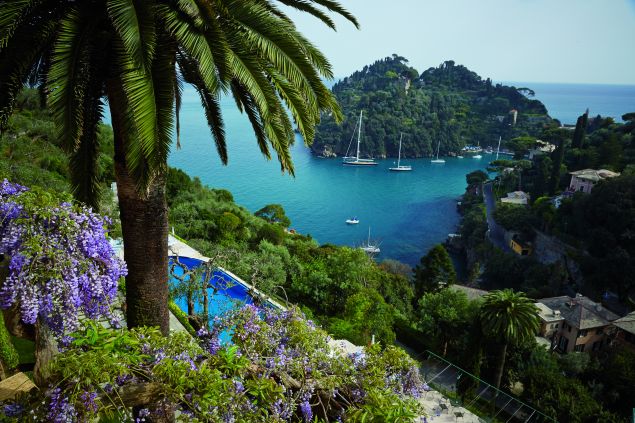 The hotel has been frequented by the jet set for years, though, and Spencer is far from the first noble guest at the Belmond—the first signatures in the hotel's famed visitor's book in 1952 were the Duke and Duchess of Windsor, and Princess Grace also gave her stamp of approval.
Indeed, the hotel's history goes back much further than the 1950s. It was once a 16th-century monastery, perched atop a steep hill and looking over the Portofino bay. Alas, it was frequently attacked by Saracen pirates, so the monks eventually abandoned it (present-day looting has been reduced to people paying for expensive pretty things from Chanel and Louis Vuitton).
Baron Baratta purchased the estate in the late 19th century and transformed it into a summer estate, as Italian aristocrats do, before it was taken over by Ruggero Valentini, who opened Hotel Splendido in 1902. In the time since, guests have included Winston Churchill, who hopefully didn't run into his low-key nemesis the Duke of Windsor, as well as Humphrey Bogart and Lauren Bacall. Ava Gardner got a suite named after her—it occupies an entire floor, with a sitting room and terrace, and costs upwards of $3,700 a night.
Beyonce and Jay-Z checked out the hotel but sadly didn't let Blue Ivy have her usual photoshoot on the grounds. Madonna and Rod Stewart both opted for the Belmond, so maybe the Material Girl picked up a few pointers on how to carry on her very real British accent.
In an absolutely shocking and unexpected move, George Clooney brazenly abandoned his post as (un-?)official mayor of Lake Como to stop by. Also, Neville Longbottom—erm, Matthew Lewis—got married here in May, with no Remembrall required.
But Elizabeth Taylor wins as the the true queen bee of the hotel—Taylor first came on holiday there with her fourth husband, Eddie Fisher, before turning into a frequent guest with her fifth (and sixth…) husband, Richard Burton. Burton reportedly proposed to her (for the first time) at the Hotel Splendido, and the hotel quickly switched out a photograph of Taylor and Fisher on the wall for one of Taylor and her new husband, presumably prompting a certain LizTay1932 to leave a glowing Yelp review.
She spent four of her honeymoons here, though her final farewell wasn't in the form of a room name. Instead, it's with her favorite pasta, and to this day, Spaghetti Elizabeth Taylor remains on Hotel Splendido's menu. Honestly, Lady Kitty Spencer should aspire to this—she could begin by exclusively eating her "guilty pleasure," truffle pasta (because #millennial), at La Terrazzo. It's no four honeymoons, but it's a start.