There's a war underway for the soul of Lana Del Rey, and this time it's not between two 37-year-old bikers with face tattoos. The ethereal singer found herself at the center of a fierce debate over the weekend when news emerged that she would perform at the Meteor Festival in Tel Aviv later this week.
For once, Del Rey may have found herself at the center of a controversy she can't wave away with sage and a pointed pout. On one side are critics of Israel, who maintain that a strict cultural boycott of the country should be maintained owing to its apartheid state behavior and its human rights abuses against Palestinians. Among this camp, this time out, include a large number of Del Ray fans—which is surprising, because their mom, as they call her, is typically regarded as a pure being of light and energy that can do no wrong.
On the other side is an astroturf campaign coordinated in part by Israel intelligence. 
"Lana, don't go to Israel and whitewash the apartheid state!," one thread on the Lana Del Reddit page implores her. "160 people were murdered in the last 4 months…" "She is making a huge mistake performing in Israel and it will haunt her for the rest of her career!" reads another. Posts calling for the canceling of Del Rey on Twitter abound, and the #lanadontgo hashtag has picked up steam, just as the BDS (Boycott, Divestment, Sanctions) movement has similarly called for the singer, and other scheduled performers (which include A$AP Ferg, Pusha T, Flying Lotus and many others), to reconsider their involvement. 
"The Israeli government uses international performances as a stamp of approval for its regime of oppression and ethnic cleansing and its violent attacks on Palestinian life and culture," the BDS site explained in a statement. "Performing at an international music festival in Israel sends the message that Israel's actions aren't so bad after all."
For her part Del Rey has taken note of the criticism, and posted a meandering justification that nonetheless doesn't seem to take the issues at the heart of the boycott seriously. 
"I believe music is universal and should be used to bring us together," she wrote in part. "We signed on to the show w the intention that it would be performed for the kids there and my plan was for it to be done w a loving energy with a thematic emphasis on peace."
When pressed by a fan account, Lana Del Rey Sweden, which pointed out that her "playing there is used as propaganda to improve the image of Israel abroad," Del Rey pulled out another line of mystical Echo Park crap from her over-sized witch hat. 
"But could a person as good intentioned as I not perhaps with my presence bring attention to the fact that something should change and that a singer with a loving energy can help shift the energetic vibration of a location for the higher good even if it's just for a minute?" she posted.
To be sure, there are certainly no shortage of sincere Del Rey fans who'd like to see her perform the concert as planned—Zionists with daddy issues have voices too. Click on a story about Del Rey's defense of her performance on the Facebook page of Variety, for example, and the top comment from a user named Rotem Appel, is effusive in its praise.
"Thank you Lana, for using your music to bring people together! Ignore the haters, Israel is so excited to have you!🇮🇱😘🇮🇱" it reads.
There's just one complicating issue there. The posts was generated as part of a coordinated astro-turfing effort led by a pro-Israel group with ties to its information ministry called Act.il. 
Sign onto Act.il now, and there are two campaigns leading the app: "Like a Comment on Facebook >> Lana on the Right Side of History" and "RETWEET >> Thank You Lana!"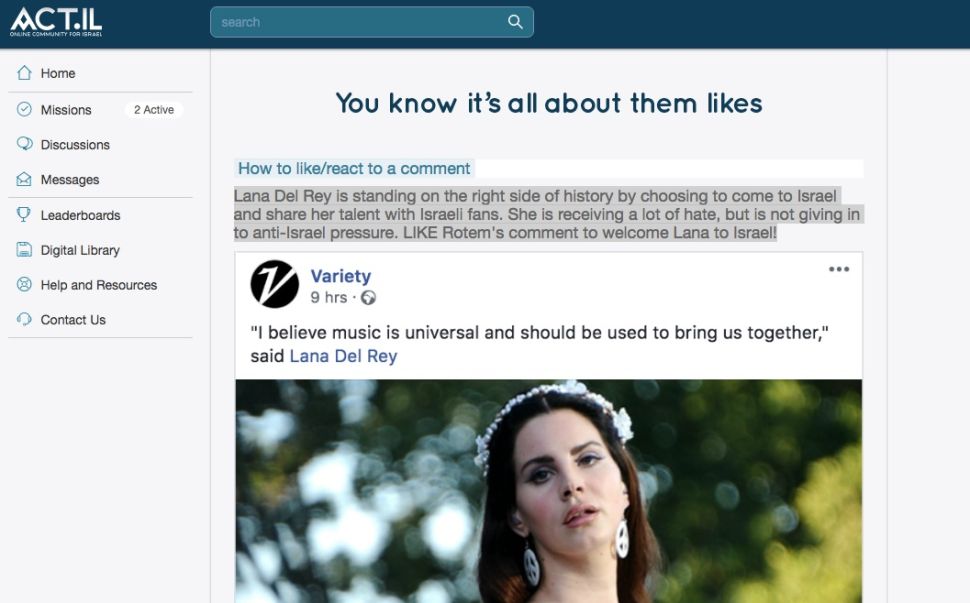 "Lana Del Rey is standing on the right side of history by choosing to come to Israel and share her talent with Israeli fans," reads the first social media mission. "She is receiving a lot of hate, but is not giving in to anti-Israel pressure. LIKE Rotem's comment to welcome Lana to Israel!" 
"Thank you Lana Del Rey for not giving in to pressure by Israel haters, and allowing your Israeli friends to experience your amazing talent!" reads the other. "Music is for people, not governments, and art has the power to bring people together. Israelis thank you and welcome you!"
In the letter campaign, they've even suggested two pre-written tweets that users can send as a reply to Del Rey on Twitter with the click of a few buttons.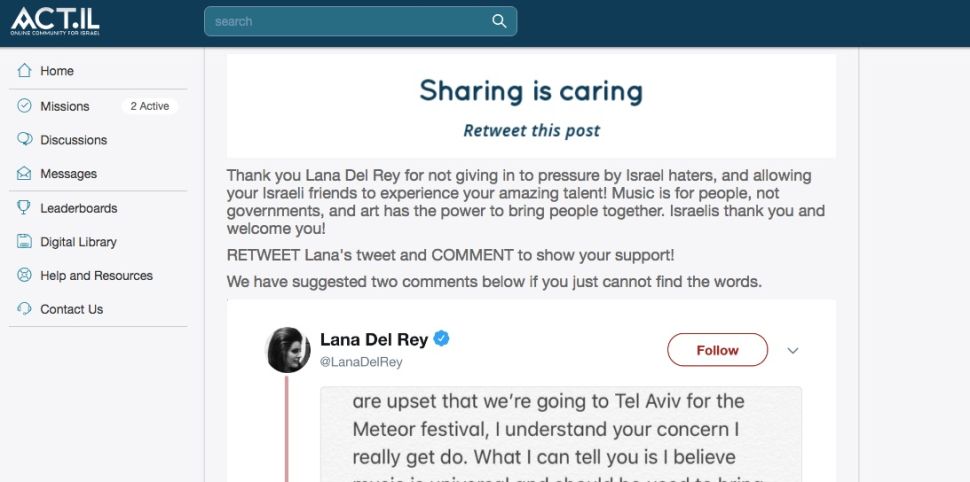 Suggested Comment #1
Thank you Lana for sharing your music with the world and using your power to bring people together! Can't wait to see you in Israel!
Suggested Comment #2
Israel welcomes you! I hope while you are here you are able to meet some of the amazing people and see some of the amazing things Israel has to offer.
Similar efforts were carried out around the time of the controversy over Lorde's canceled performance in Israel, Twitter user Behind Israel's Troll Army @AntiBDSApp, who brought the campaign to my attention, told me. 
We've become accustomed to the idea of governments coordinating behavior online for political purposes in the wake of the #Russiagate scandal, but the weaponization of Lana Del Rey for propaganda purposes is an absurd Pynchonian development few probably ever saw coming. 
But that's exactly the point of a project like Act.il and Israel's cultural programs like the concert in the first place. The more clueless music fans that see their heroes performing in a country like Israel, the shinier its image comes out looking on the other side. How bad can that whole, you know, human rights abuse thing be if Lana baby can sing there?  
Making things even weirder is infamous Las Vegas billionaire Sheldon Adelson's involvement in the project through his Israeli-American Council; Adelson, along with former Israeli intelligence agents with ties to the Ministry of Strategic Affairs, maintain the service. 
Among other projects coordinated by the service were a mission last year that asked users to email a Boston-area church to complain about screening a documentary critical of Israel, as the Forward reported. 
"It's a beautiful initiative that brings the supporter of Israel to the same place under the same vision of helping the State of Israel online, and doing it in a simple and smart way," the founder and CEO of Act.il Ben Yosef told the outlet.
It may be beautiful to some indeed, but as any Lana Del Rey fan will tell you, beauty can be dangerous.