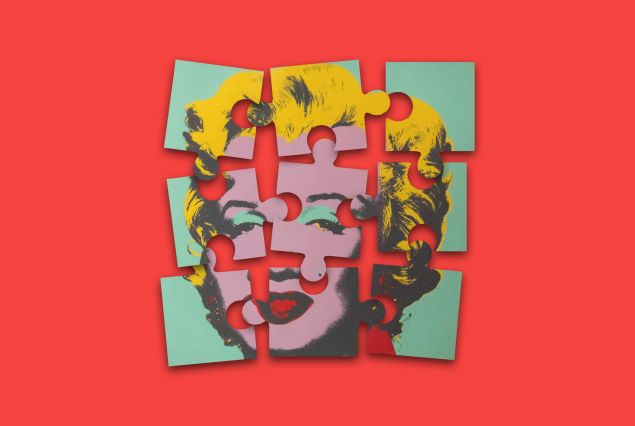 Don't we all deserve to own a Warhol? Some might argue that in way, by paying taxes into public museums, we do. But a new venture is trying to give aspiring art collectors a bigger bite of the cookie. "We are looking to democratize the art market," said Steve Lynn, founder of the newly created online platform Masterworks, an art fund that will allow people—you, me, most everyone we know—to invest as little as $20 to purchase a share of an artwork. Masterworks acquires artworks that its leadership team believes to be undervalued—its first two offerings are an oil and silkscreen Colored Marilyn by Andy Warhol (bought for $1.8 million) and an oil Coup de Vent by Claude Monet (bought for $6.3 million)—for which investors may purchase a fraction.
The plan, Lynn stated, is to resell the artworks within 120 days, returning the investors' money plus any profits, less a two percent administrative fee and 20 percent of the sale gain, which Masterworks retains.
While $20 is the lowest entry point, Lynn claimed that the average investment is in the $2,500 to 5,000 range, although some investors have put in more than $50,000. In its short existence, 1,374 people already have acquired shares in the Warhol, while another 474 have bought into the Monet. "We felt like the Warhol and the Monet were good deals," he said. "We focus on works that are in the several million dollar area, because that's where we see the greatest area of potential appreciation with the lowest degree of risk."
Masterworks is not alone in this concept. Another firm, Arthena, also operates what may be considered a crowd-funding site that solicits ownership shares in a fund that acquires and sells artworks over a five-year time period, although the price point of these objects is generally lower. If the concept catches on, there may be more competition in this space.
But small-scale art investing probably won't make someone rich, said Princeton University economics professor Orley Ashenfelter, though it could be "part of a diversified portfolio, as long as the fees are not too high." Better, he claimed, to view the amount of money invested in a company like Masterworks or Arthena as money "to play with. [It's] probably a notch above a casino or race track. There's nothing wrong with it."
And in many ways, these services do serve to democratize an aspect of the market—think of them like private equity art funds for the rest of us. These, however, are aimed at a more exclusive group of investors, who may be required to put in no less than $100,000. In order to protect potential investors, the federal government's Securities and Exchange Commission requires all those interested in placing money with private equity and hedge fund to be "accredited investors," that is, people who have an "individual net worth, or joint net worth with the person's spouse, that exceeds $1 million" or whose income exceeds $200,000 in each of the two most recent years (or joint income with a spouse exceeding $300,000 for those years "and a reasonable expectation of the same income level in the current year"). If you don't have that kind of money, look elsewhere. Peter Brant's UTA Brant Fine Art Fund, for instance, requires an investment of at least $1 million. Masterworks stands out for its willingness to accept investments as low as $20 and deal with "unaccredited investors."
The risks are also different between the two. More volatility exists in high-end private equity art funds—there is considerably more money at stake—but smaller investment platforms like Masterworks hold a degree of uncertainty. The Warhol and Monet that Lynn has acquired sit in storage with his own collection, and it is unlikely that any Masterworks investors will ever see them or, more importantly, spend money for others to see them. If you are only investing $50 or $100 or $1,000, you are unlikely to hire an appraiser or art historian or conservator to travel to Lynn's storage facility to inspect the artwork: Is it a real Warhol? What condition is the Monet in? Has either painting been damaged and repaired in the past, actions that would lessen their market value?
And there are also, perhaps more questions that prospective investors should ask. Enrique Liberman, a lawyer in charge of the art law and art funds practice group at the New York-based firm Bowles Liberman Newman, advised those considering low- and high-priced art funds to learn about the level of expertise (to appraise, conserve, buy and sell artworks) that the fund manager has or can draw upon, as well as that person's track record of buying low and selling high. He also warned potential investors against conflicts of interest on the part of art fund managers, who may otherwise be dealers or art collectors themselves seeking to "dump" artworks that they or their clients own.
Most important for any investor in art is an understanding of how the artwork is expected to rise in value. They need to be promoted in some way, such as loaned to museums or galleries, where they can be seen and discussed. "Is the fund manager's plan to put the artworks in storage and pray?" asked Philip Hoffman, founder and chief executive officer of The Fine Art Fund in London, a firm that offers advisory services as well as investment opportunities. He added that an artwork's provenance—its history of ownership—adds to its value. "A painting that belonged to the Rothschilds or to some other noted collection adds to its allure and value. No one wants a painting that belongs to a stock market company."
For some, art has replaced religion as the focus of devotion and provider of meaning to life, but today's belief system may rest on the hope that artworks can lead to increasing material wealth. Perhaps that's what makes art funds of all types appealing to so many. But whether Masterworks' model of investing will offer any kind of significant return on investment remains to be seen—unless the fun of dabbling is enough.