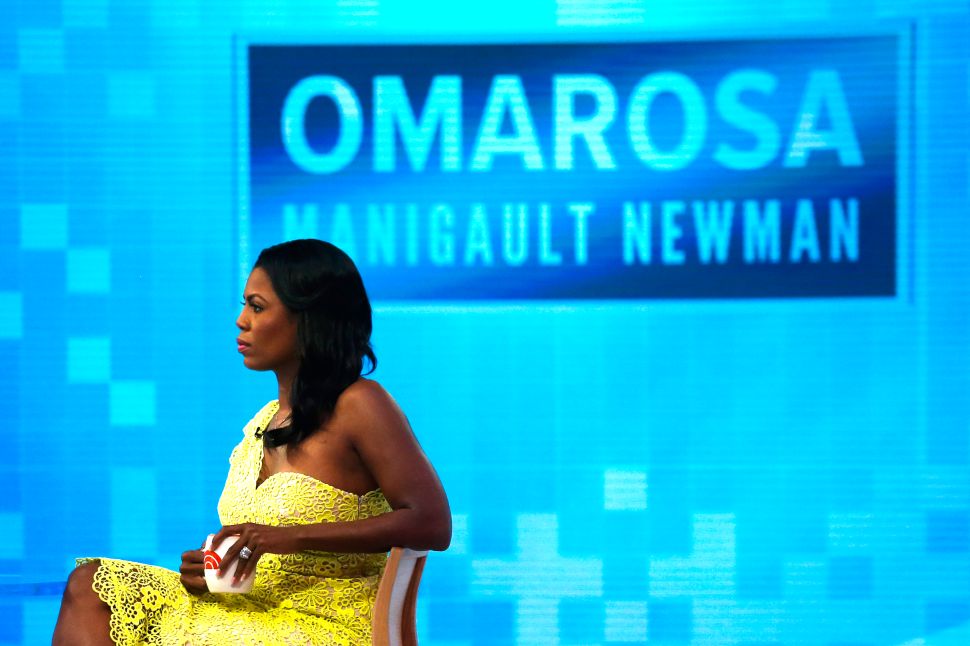 Omarosa's media blitz has aggravated a White House comms team in perpetual crisis, worrying inhabitants of Trumpland of additional fallout.
After the ousted White House aide released audio of her firing by John Kelly, President Trump's 2020 presidential campaign filed legal action—an official told CNBC that Manigault Newman had violated a nondisclosure agreement. To promote her D.C. blockbuster book Unhinged, the former reality TV villain is alleging a tape exists of the president saying the N-word, and that former Trump aides receive $15,000-monthly hush payments for their silence.
The White House communications department has struggled in beating back the accusations—Sarah Huckabee Sanders did not deny the existence of such a tape during Tuesday's press briefing. Trump, meanwhile, exacerbated the situation by calling Manigault Newman a "dog" over Twitter, sparking further allegations of racism by leading politicos.
As more revelations from Manigault Newman surface, the president's fury is expected to escalate.
"I believe Omarosa has really hurt the president personally because they go back a pretty long ways," Michael Caputo, a former communications advisor on the Trump campaign, told Observer. "And because of that, the president is going to pay more attention to this than he probably should, and so is the press office."
"Omarosa is a distraction," added the operative. "She's always been a distraction. She's never been a positive influence on anything to do with Donald Trump… I managed to avoid Omarosa completely by hanging around where all the work was being done."
When asked if Trump played any responsibility for grooming Manigault Newman's career during The Apprentice and for hiring her to advise him at the White House, Caputo likened her to the monster Frankenstein.
"Mary Shelley wrote this script," said the operative, referencing the English novelist behind the Gothic masterpiece. "The lesson is that when you create a monster, it will eventually come and attack you."
In describing the reality star's "treachery," Caputo also hinted at Shakespearean themes of betrayal reminiscent of literature's iconic Machiavellians.
"While people all around her were wondering why she was in the White House and what exactly she was doing, she was gaslighting the president," explained Caputo. "He genuinely liked her. He believed they were friends, and when it comes to his friends, he tends to not listen to the criticism others have. Let's face it, the White House is a treacherous place. Only when she forced a firing, and when she turned her back on him and wrote a tell-all book, only then did he understand the depths of her treachery."
Manigault Newman is the second Trump confidant to secretly record conversations with the president. Michael Cohen, the longtime Trump attorney now cooperating with the FBI, also released recorded audio of their interactions to media networks.
Caputo cackled when asked whether he thought other Trump allies had taken similar measures.
"I don't think so, but tomorrow is another day," he responded.