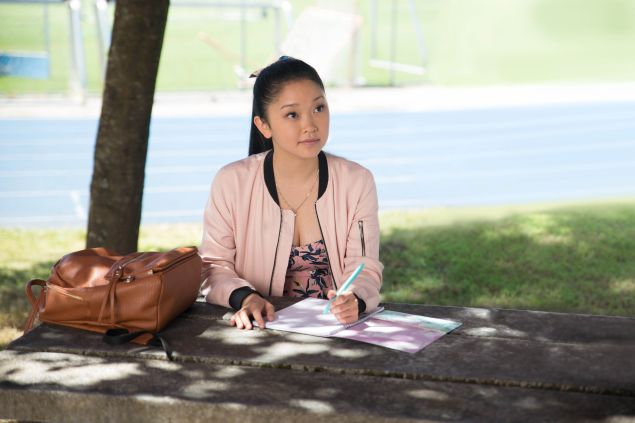 Netflix's new movie To All the Boys I've Loved Before (out August 17) ticks all the teen rom-com boxes. Based on Jenny Han's best-selling YA novel of the same name, the story follows 16-year-old Lara Jean Covey (Lana Condor), whose love life goes from romance-novel-inspired fantasy to messy reality as her summer winds down and she heads back to the socially fraught world of high school. But it wouldn't fit into the genre without an enviable wardrobe complete with very personal inflections. Rafaella Rabinovich, costume designer for the production, spoke to Observer about where she found the distinctive charm necklaces that Lara Jean and her sisters wear, and how she captured teen style by pairing vintage finds with Forever 21.
Back-to-School Style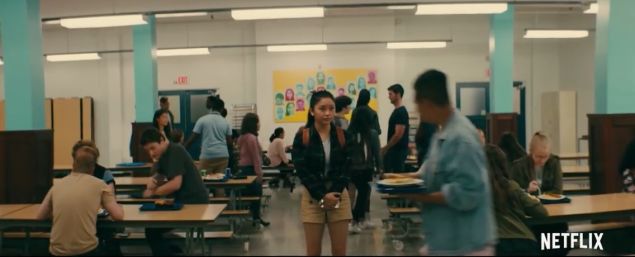 "The question here was, how do we make this look feminine, but at the same time, because it's the first day of school, like Lara Jean is not trying too hard? This outfit worked around those boots and shorts. We really liked those shorts. They're from Wilfred."
Charm Necklaces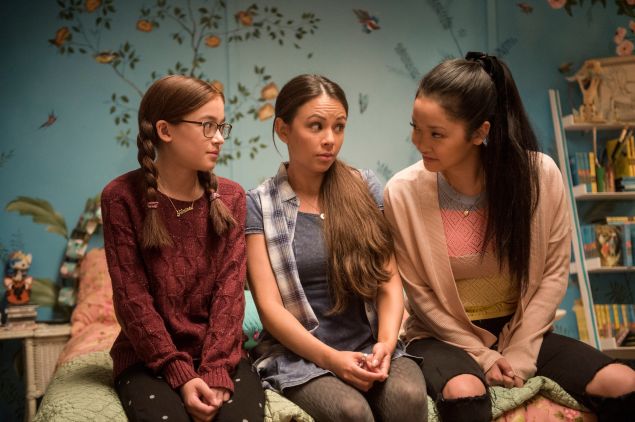 "This is Lara Jean (right) with her older sister, Margot (Janel Parrish), in the middle, and younger sister, Kitty (Anna Cathcart). Kitty is effortlessly cool, whereas middle child Lara Jean is not aware that she has her own visual voice. Kitty knows it and uses it. Her necklace, which reads FEMINIST, is from Rock & Rose in the U.K. I did a lot of international shopping because I knew I didn't want to be constricted to what North America had to offer.
Lara Jean has a heart locket, which you see prominently throughout the movie. The first time we see Margot she's wearing a key pendant, which represents the idea that she has the key to Lara Jean's heart [Spoiler alert: they share a love interest]. When Margot leaves for Scotland she is wearing an Aries necklace. Here, after she's returned, her necklace charm is a compass."
Sweater Season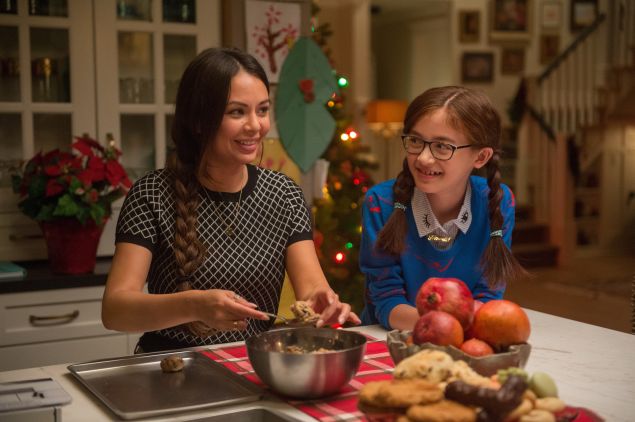 "This is one of Kitty's coolest looks, and one of my favorites. I purchased this blue sweater with orange swimmers not being sure I could use it, because we had a really clear color palette for the leads. We were trying to avoid oranges and purples as much as possible. But I really fell in love with this. By putting the shirt with the eyes and that fun pattern under it I was hoping to balance out the orange."
A Question of Contrasts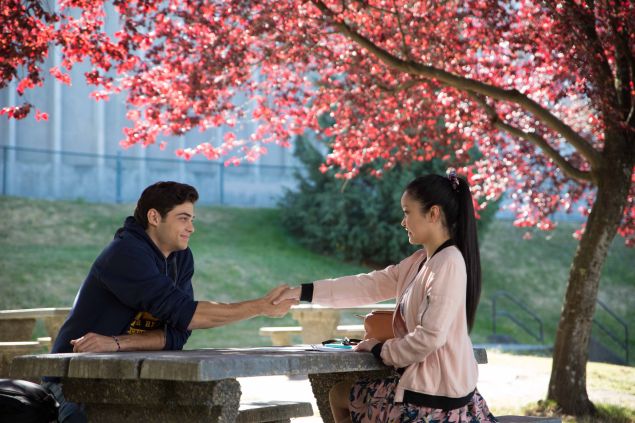 "This is a pivotal scene that looks at the contrast between Lara Jean and Peter (Noah Centineo), who make a deal to pretend to date. We use the stereotype of pink and blue. Lara Jean has really cool jackets—particularly bomber jackets because they're both timeless and fashionable. This one is by Dex."
Where Vintage Meets Forever 21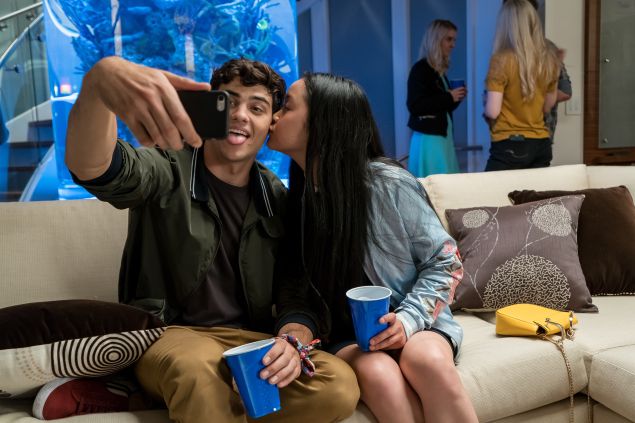 "The jacket here is from Forever 21. When designing characters, I always try to get in their brains and shop where they would shop. The navy dress is Lara Jean's version of the little black dress. She's a little bit effortless, she's quirky, she has her own style and she is not aware of the fact that she's cool. Her yellow purse is a really cute vintage piece. We wanted to give her those pops of unpredictable color."
The Trouble With Yellow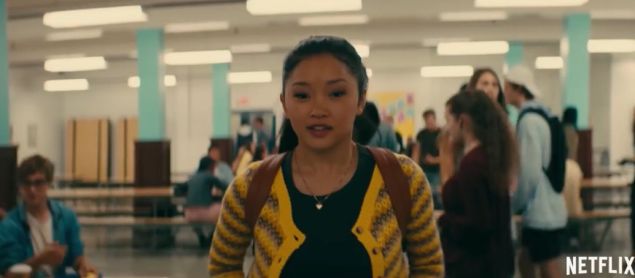 "Lara Jean's yellow sweater is a thrift-store find. I didn't have an easy time bringing yellow into her wardrobe, which we decided would be part of her color palette. This is an important part in the movie—when you see Peter slide his hand into her back pocket. She has this cute thin vintage yellow belt to tie everything together. Yellow is a more daring color, so it fit well here."
Some Very Specific Style Icons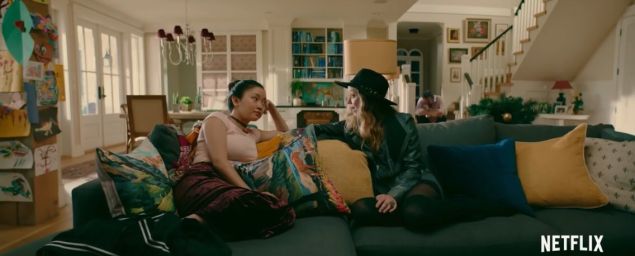 "Lara Jean's best friend, Chris (Madeleine Arthur), is definitely a little bit punk rock. When shopping for her, it was very clear she needed to have a very different cut to the Covey girls. The hat is something no other character would wear in this movie. She's inspired by Stevie Nicks and Natasha Lyonne in her earlier movies."
Color Coded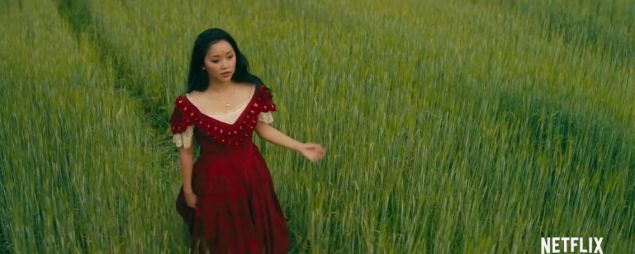 "We had a back-and-forth about what color Lara Jean's fantasy dress should be. We all knew it was going to be a romantic period piece. At the beginning we gravitated toward pastels, but when things unfolded we realized the best inspiration for this was romance novel covers from back in the day—the illustrated ones with Fabio look-alikes. Then it was obvious. We had to go for red."