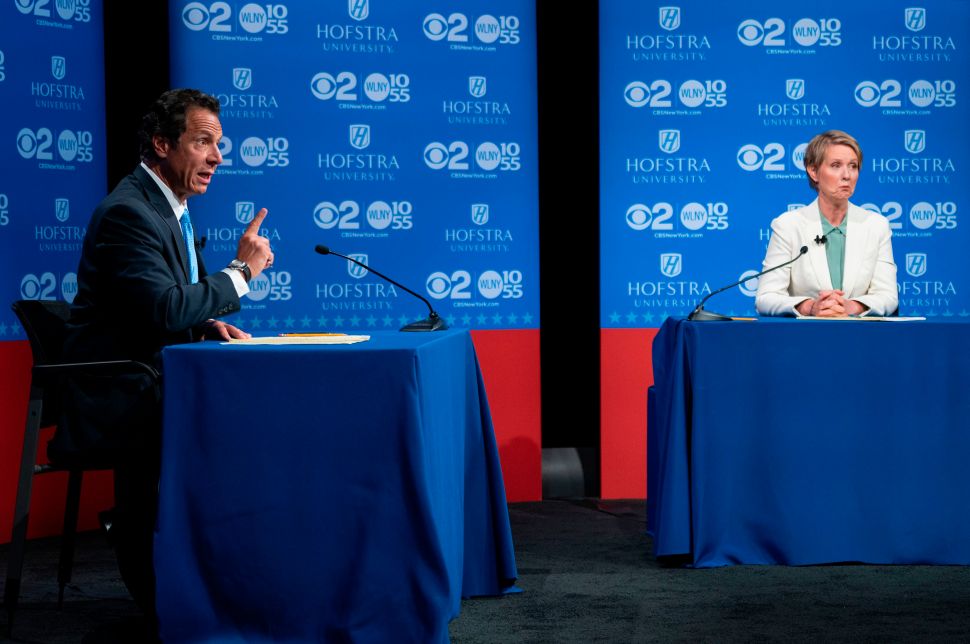 The New York Times just covered a gubernatorial debate like it was an episode of Sex and the City.
Last night, New York Governor Andrew Cuomo and challenger Cynthia Nixon faced off ahead of the September 13 Democratic primary.
Tensions ran high throughout the hour-long war of words. But if you read the Times summary of the debate, you'd think Nixon was the only one who got heated.
Male reporter Shane Goldmacher used the neutral verb "said" when quoting Cuomo. But he was much more forceful when describing Nixon, saying she "snapped," "ripped" and "accused."
The below exchange is a good example of this dichotomy:
"Can you stop interrupting?" Mr. Cuomo said to her at one point.

"Can you stop lying?" Ms. Nixon snapped back.
Journalists on Twitter said the gendered language made Nixon seem like a shrill harridan.
Goldmacher and the Times have not responded to Observer requests for comment.
The Gray Lady has often found itself at the center of gender disputes brought on by politics stories.
It was roundly criticized for its coverage of Hillary Clinton's emails, putting the private server at an equal or greater footing with President Donald Trump's alleged crimes.
The Times said Clinton's stature meant she merited more critical coverage. But many commentators said the analysis had gendered overtones (and was sometimes just plain wrong).
More recently, the paper took heat because it completely missed the political rise of Alexandria Ocasio-Cortez. The Times didn't publish a stand-alone feature on the Democratic star ahead of her primary win.
Even worse, its initial article about Ocasio-Cortez's win said only "millennial and female outlets," like Elite Daily and Refinery29, had covered her campaign. Many observers took issue with the Times denigrating other media organizations.
The paper's arts section has also struggled with gender issues. A profile of non-binary actor Asia Kate Dillon used the pronoun "she" rather than Dillon's preferred term "they." Then-public editor Liz Spayd issued a mealy-mouthed apology, to no avail.
"The editors took someone else's identity in their hands and reshaped it to fit the demands of a style guide," The Daily Beast's Samantha Allen wrote.
Gender and sexuality mistakes like this can easily be avoided by using proper pronouns and verbiage—and reporters should be able to explain their decisions when necessary.
In terms of the Nixon story, the easiest (and simplest) solution is just to use "said" for her quotes and Cuomo's. That's the best way to avoid unforced errors, as journalism students learn on day one.
Given Nixon is seeking the same office as Cuomo, it's only fair to give her statements the same weight as his.