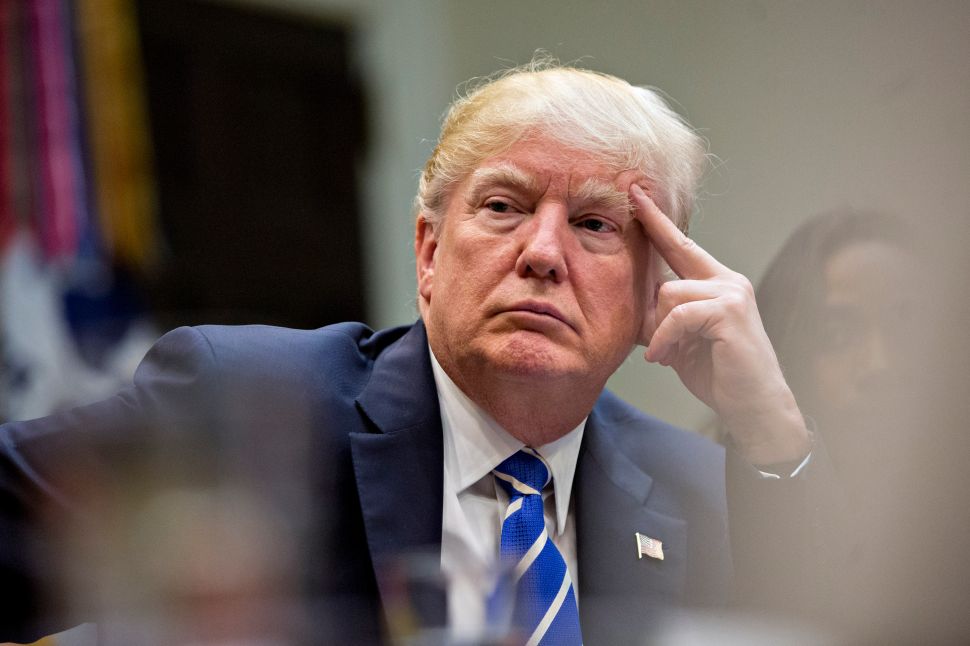 If you want publicity, stoke outrage.
It's a strategy that's worked for political leaders and is now being embraced by the folks promoting a documentary titled Our Leader: The Idiot about the presidency of Donald Trump.
A billboard featuring the film's name and an unflattering portrait of the nation's 45th chief executive is causing quite a stir in Union Township, with Trump supporters calling to voice their outrage over the display, according to a story by NJ101.5.
But township officials have gone to great lengths to remind upset residents that the town has little recourse to control a privately owned billboard on private land. The political activist who bought the billboard told News 12 New Jersey that he paid $1,000 for the message, according to the NJ101.5 story.
Quote of the Day: "It's something that's caused a stir here." — Union Township spokeswoman Natalie Pineiro, on a billboard promoting the anti-Trump film 'Our Leader: The Idiot.'
As Towns Say No To Legal Pot, NJ May Let Them Charge a Local Tax
Before the state Legislature even starts debating legalizing adult-use marijuana, let alone approve it, around 35 municipalities have adopted local laws barring pot shops within their borders.
NJ101.5 Read more
'Resounding Outrage' Over Trump Billboard
Many of those complaining about a billboard promoting a documentary called "Our Leader: The Idiot" — referencing President Donald Trump — say they want to see more respect paid to his office.
NJ101.5 Read more
NJ attorney general to feds: School expulsions, suspensions as discipline 'do real harm'
Attorney General Gurbir Grewal is urging the Trump administration to keep federal guidelines on school discipline that discourage the use of expulsions and suspensions, which critics say have a disproportionate impact on children of color.
The Record Read more
Murphy rejects bill requiring law to end NJ-Pa. tax pact
New Jersey Gov. Phil Murphy rejected legislation on Monday that would have made it more difficult for him to end a tax reciprocity agreement with Pennsylvania.
Associated Press Read more
Murphy kills 5-cent plastic bag fee in vetoing of 22 bills
Gov. Phil Murphy issued a flurry of vetoes and conditional vetoes on Monday morning, cutting a proposed $1 billion bond act in half, blocking a 5-cent fee on plastic grocery bags and asking for further changes to a measure meant to remove onerous licensing requirements on traditional hair braiders.
The Record Read more
Murphy says bill pushed by top Democrat would tarnish an ex-governor's legacy. He just vetoed it.
Gov. Phil Murphy on Monday strongly rejected a bipartisan bill sponsored by New Jersey's top lawmaker, saying it would threaten the state's environment and sully the legacy of a late former governor.
NJ.com Read more
Murphy approves revised vo-tech, community college bond bill
Gov. Murphy has signed Senate Bill 2293, formally called the "Securing Our Children's Future Bond Act," after the state Senate approved it in a 31-0 emergency vote.
NJBiz Read more
His campaign took off in the Mt. Laurel Wegmans. Now Andy Kim, 36, is trying to unseat New Jersey's Trumpiest congressman
Andy Kim is telling the Wegmans story again. He's 36, a Democrat locked in a dead heat for a key New Jersey congressional seat, but this story, like many a South Jersey tale, starts at a Wegmans.
Inquirer Read more
Stile: John McCain, who came to NJ 18 years ago, still stands in sharp relief to Donald Trump
It was a crisp day in early November 2000, and John McCain had just finished firing up a campaign rally when he stopped to answer questions from a few reporters in a parking lot at Fairleigh Dickinson University, much to the dismay of his aides.
The Record Read more
NJ to lower flags in honor of late Arizona Sen. John McCain
Flags at state buildings and facilities will fly at half-staff the rest of the week in honor of U.S. Sen. John McCain, the longtime Republican lawmaker and Vietnam war hero who died Saturday.
The Record Read more
Former N.J. governor blasts 'petty,' 'small man' Trump over apparent McCain snub
Former New Jersey Gov. Christie Whitman accused President Donald Trump of being "petty" and said the commander in chief is a 'small man' because of his apparent snub Monday of the late U.S. Sen. John McCain.
NJ.com Read more
Hugin declines to comment on Trump's treatment of McCain's legacy
Republican Senate nominee Bob Hugin, a Marine veteran who often refers to his service on the campaign trail, punted Monday when asked if recent actions by the president were disrespecting the legacy of Sen. John McCain, a fellow Marine who died Saturday.
Politico Read more
Mind-altering breast milk? New pot study poses that question
Marijuana's main mind-altering ingredient was detected in nursing mothers' breast milk in a small study that comes amid evidence that more U.S. women are using pot during pregnancy and afterward.
NJ.com Read more
Buying a Home in NJ? No One Has to Tell You If It Has Flooded
New Jersey is one of 21 states that do not require home sellers to disclose a property's past flood history to a prospective home buyer. And that includes whether the home has ever suffered any kind of flood damage.
NJ101.5 Read more
NJ flooding: With extreme rain more common, the appeal of flood insurance expands
During a freakishly potent storm two weeks ago, rainwater three inches deep rushed into retiree Robert Ferris's home in Brick's Greenbriar senior living community.
Asbury Park Press Read more
Murphy nominates Beson to NJ Transit Board
Gov. Phil Murphy has nominated former Neptune Mayor Michael Beson to fill one of two open seats on the New Jersey Transit board, and Greg Lalavee, the business manager for International Union of Operating Engineers (IUOE) Local 825, for a seat on the New Jersey Turnpike Authority.
New Jersey Globe Read more
Meeting between Hoboken mayor, water company reps ends abruptly, official says
An emergency meeting between Mayor Ravi Bhalla and Suez to discuss the recent series of water main breaks didn't go as well as planned.
NJ.com Read more
Cuffed Man Hit, Dragged and Choked in Elizabeth Cops' Custody
A video released appears to show a man being beaten and dragged while handcuffed and in police custody as several officers standby — and one officer involved has been indicted in the case.
NJ101.5 Read more
Glen Rock wants to ban noisy early-morning, late-night commercial garbage pickup
After neighbors complained about noisy pre-dawn trash pickups at nearby businesses, Glen Rock has proposed banning early-morning and late-night commercial garage collection.
The Record Read more
Judge to Bayonne: Pay up for legal fight over brutality deal
A Superior Court judge has ordered Bayonne to pay legal bills incurred by The Jersey Journal during the city's unsuccessful yearlong battle to shield the $1.6 million settlement of a police brutality lawsuit from public view.
NJ.com Read more