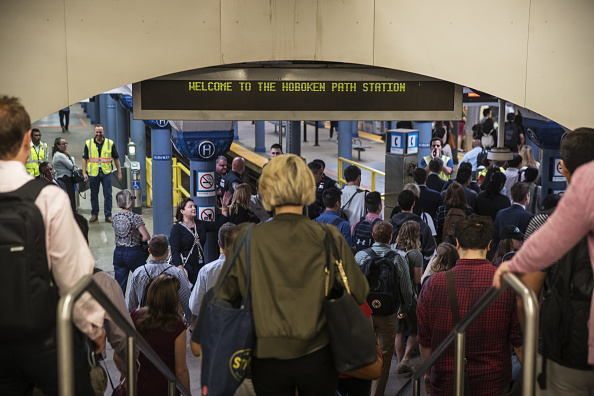 Gov. Phil Murphy included a pledge to fix problems at NJ Transit as part of his promise to show New Jersey taxpayers they were getting good value for his increases to what was already one of the nation's highest property tax burdens.
On Wednesday, the agency had a message for commuters who are suffering through what some say are conditions worse than last year's so-called "Summer of Hell"—there are no quick fixes coming.
After hearing furious commuters complain of unannounced cancellations, equipment failures and other service delays, agency officials blamed the administration of former Gov. Chris Christie, who left office more than seven months ago, and said that issues with the agency "won't be fixed overnight," according to a report in The New York Times.
Murphy has been vacationing with his family at his Italian mansion during a summer heatwave that saw commuters fuming after several days of unannounced delays due to foreseeable things like worker vacations and unforeseeable incidents like air conditioning and equipment failures and workers taking unscheduled days off.
Murphy had made improving transit service in the state a major campaign issue and one of the cornerstones of his push to boost the state budget by about $2.7 billion. But so far, commentators said during a meeting of the agency's board, things have only gotten worse.
Commuters and their representatives turned out to vent their fury at the transit board. A Republican member of the state assembly blasted transit officials for poor planning that has left commuters stranded and, as one commuter described it, dealing with zoo-like conditions.
"When New Jersey fails to plan, everyone's plans suffer," said Assemblywoman Nancy Munoz, according to the Times report. "There have to be better options than canceling trains at the last minute or shutting down lines altogether."
Transit officials, who recently announced the agency would no longer be running train service on its Atlantic City line said things aren't likely to improve anytime soon. The agency has hired new employees, but they must undergo a lengthy training procedure. NJ Transit is also struggling to meet a federally mandated deadline for installing a positive train control safety system, they said.
Quote of the Day: "Last summer was a breeze. This is the 'Summer of Hell.'" — Rahway commuter Mary Migacz, on NJ Transit's service failures.
'Summer of Hell 2': Commuters, lawmakers unleash fury on NJ Transit
NJ Transit riders, transit advocates and elected officials unloaded their fury on the agency's senior management Wednesday amid a summertime service meltdown.
The Record Read more
N.J. Transit: We Let You Down. And It's Not Over Yet.
After hearing angry commuters sound off about a summer filled with cancellations of trains, officials of New Jersey Transit, the nation's second busiest railroad, admitted on Wednesday that they had let their customers down.
New York Times Read more
NJ Transit plan to close Atlantic City line shows long-building troubles
NJ Transit's announcement last week of its plan to close the Atlantic City rail line for five months starting in September is the latest blow to the statewide public transportation provider.
The Record Read more
Last-Minute Cancellations the New Normal for NJ Transit
The daily, last-minute cancellations of NJ Transit trains could become the new normal this fall, according to its executive director as the railroad canceled still more trains on Wednesday morning.
NJ101.5 Read more
NJ Transit Direct Explains Why They Can't Get The Trains to Run on Time
On a day when NJ Transit canceled 10 morning trains, the agency's leadership shed some light on why cancellations and delays have become the norm this summer.
NJ101.5 Read more
Municipal courts: Local lawmakers who profit from them could derail reform
Key lawmakers with the power to enact or derail critical municipal court reforms made more than $780,000 last year from their work within the local courts — a system even the state judiciary said has been broken for 50 years.
Asbury Park Press Read more
N.J. Supreme Court sides with public worker unions, Legislature in spat with Christie
The New Jersey Supreme Court on Wednesday sided with the state Legislature in the first-ever test of lawmakers' power to undo rules or regulations introduced by a governor's administration.
NJ.com Read more
How Much Are NJ's Four-Year Public Colleges Charging for 2018
The odds of a tuition-and-fee decrease are slim to none at any public college or university.
NJ101.5 Read more
New Jersey colleges with lowest, highest average student debt after graduation
More than 60 percent of students who graduated from college in New Jersey last year carry student debt and, among that group, the average load was $31,000.
The Record Read more
Trump's 'opportunity zones' could give his South Jersey golf club a tax break
South Jersey properties selected by state officials to benefit from a new federal tax break include construction sites in needy cities, apartment complexes for low-income renters — and a sprawling golf course run by the president of the United States' private enterprise.
Inquirer Read more
Jersey CEO praises Trump on economy a year after denouncing president's Charlottesville remarks
A year ago, Johnson & Johnson Chief Executive Alex Gorsky resigned from the White House Manufacturing Advisory Council as he denounced President Donald Trump's remarks about the white supremacist protest in Charlottesville.
NJ.com Read more
MacInnes stepping down as New Jersey Policy Perspective president
New Jersey Policy Perspective President Gordon MacInnes is stepping down as president of the think tank, it announced Wednesday.
ROI-NJ Read more
Menendez's cheap shot at Hugin misses a riper target. Expect more ugliness
Bob Hugin, the former drug company CEO who is running for U.S. Senate, offered discounted cancer drugs to Russia last year at the same time his company jacked up prices here at home.
NJ.com Read more
Well wishes pour in for 2 cops shot by gunmen, including one from Gov. Murphy
It was a beautiful night in Camden.
Like many communities, police hosted National Night Out festivities Tuesday evening.
NJ.com Read more
Lakewood school board hands lawyer 35 percent raise for hourly work
The public schools' $600,000-a-year attorney, who earns four times as much as the state education commissioner, is getting a pay raise.
Asbury Park Press Read more
Republican councilman backs Sherrill
Democratic congressional candidate Mikie Sherrill has won the endorsement of Republican Councilman Mike Puzio of Rockaway Township, her first public endorsement by a GOP elected official in her bid to flip New Jersey's 11th district from red to blue.
New Jersey Globe Read more
Paterson mayor pushes $37M road repair plan he voted against 4 years ago
Mayor Andre Sayegh wants to revive former mayor Jose "Joey" Torres' unfinished $37 million road resurfacing project – an initiative that Sayegh voted against in 2014 while a member of the City Council.
Paterson Press Read more
Lawsuit: former Bergen Regional Medical Center operator says county owes them millions
The former operator of the now-defunct Bergen Regional Medical Center is suing the Bergen County Improvement Authority for withholding cash receipts, fraudulently convincing it to speed up payments on a hefty loan and demanding compensation for employees' accrued sick time.
The Record Read more
Barnegat postpones vote on 'nuisance' ordinance
The Township Committee postponed a vote that could leave landlords and residents paying hundreds of dollars in fines for "nuisance" properties.
Asbury Park Press Read more
Mark Albiez, Fulop's chief of staff, departing City Hall
Mark Albiez, chief of staff to Mayor Steve Fulop and one of the mayor's top aides, is leaving city government at the end of August.
NJ.com Read more