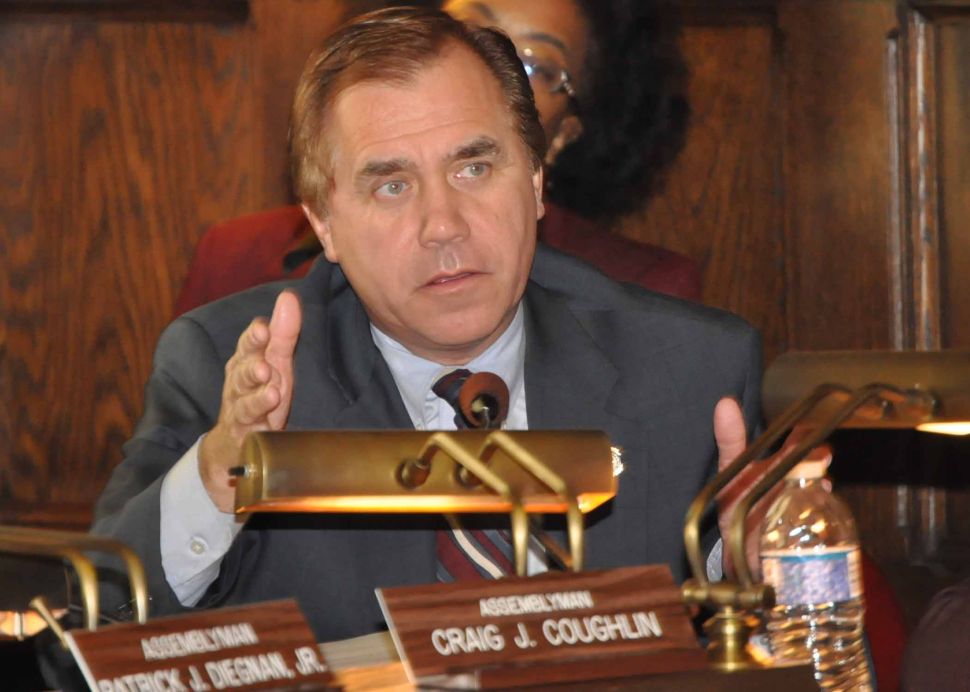 It probably isn't too wise to make a political promise almost a year out, particularly when that promise is not to raise taxes in cash-strapped New Jersey while a progressive governor tries to advance his agenda.
But that's what Assembly Speaker Craig Coughlin has done, saying in a statement he was "insistent" New Jersey's next budget won't include tax hikes, according to NJ.com. The speaker also seemed to be positioning himself in favor of Senate President Steve Sweeney's plan to remake state spending, which includes proposals to trim health benefits and change pensions for New Jersey's public workers' unions.
"As always the Assembly will take a thorough and thoughtful approach to analyzing the report, but I am insistent that next year's budget not include new tax hikes, which makes it clear that we have to rein in spending," Coughlin said in the statement, according to the NJ.com report.
That sets up what could be a new battle royal between the state's two top Democratic legislators and its new Democratic governor. It also gives Gov. Phil Murphy, widely seen as the loser in a budget battle this year with Sweeney and Coughlin, time to plan his strategy.
Murphy, who is closely aligned with the public workers' unions, has shown little interest in cutting union benefits or spending in the state. His budget represented an increase of more than $2 billion from last year and included more than $1 billion in new taxes.
In a statement on Sweeney's plan, a Murphy spokeswoman said the "governor's guiding principle is always whether a proposal strengthens New Jersey's middle class and working families." Murphy, who campaigned on a promise to help the state's middle class, increasingly uses the term to refer to public union workers. Murphy, who unsuccessfully attempted to raise the state sales tax as part of his budget plan, contends New Jersey residents won't mind paying more in taxes if they feel they are getting good value for their money.
Sweeney, however, has warned that the state, which has one of the highest tax burdens in the nation, has reached a breaking point with taxes and fundamental changes are needed to avoid a looming financial disaster.
A top N.J. Democrat backs pension reforms, calls for no 'new tax hikes'
Assembly Speaker Craig Coughlin is "insistent" New Jersey's next budget won't include any tax hikes.
NJ.com Read more
'Murder Insurance?' State Investigates NRA's Controversial Program
Insurance policies promoted by the National Rifle Association in New Jersey are under scrutiny by the state Department of Banking and Insurance.
NJ101.5 Read more
Percentage of uninsured kids in New Jersey reaches all-time low
The rate of uninsured children in New Jersey is at an "all-time low," according a new report from a children's advocacy group.
The Record Read more
Battle brewing to turn former Garden State Park into sports betting venue
A battle is brewing over whether a former New Jersey racetrack will be one of the state's legal sports betting venues.
Associated Press Read more
Here's Why So Much Trashed Washed onto NJ Beaches This Week
Something else to blame on the recent heavy rain: Trash washing up on Jersey Shore beaches.
NJ101.5 Read more
Poll: Menendez lead over GOP challenger narrows to 6 points following months of attacks
New Jersey Democratic Sen. Bob Menendez leads Republican challenger Bob Hugin by just six points in a new Quinnipiac University poll, a finding that raises fresh doubts about the scandal-scarred incumbent's path to reelection.
Politico Read more
Murphy's Job Approval Hits 54%
Fifty-four percent of New Jersey registered voters approve of the way Gov. Phil Murphy is handling his job, according to the latest Quinnipiac University Poll.
NJ101.5 Read more
Ghost of Christie likely boosts Murphy approval
Gov. Phil Murphy is more popular at this point in his first term than any other New Jersey governor since pollsters began tracking public approval, but part of the credit for that might belong to former Gov. Chris Christie.
New Jersey Globe Read more
Passaic County trustee wants to change law preventing service on two boards
A school board trustee in Passaic County who lost a court decision to sit on two boards at the same time is seeking to change the law that prohibits concurrent service.
The Record Read more
Stile: A pro-gun Republican scores an endorsement from a gun-control group. How did that happen?
Six years ago, Rep. Leonard Lance proudly boasted of his gun-rights pedigree, reminding voters that he scored a "100 percent voting record" from the National Rifle Association.
The Record Read more
Murphy makes yet another move to combat gun violence in N.J.
Gov. Phil Murphy has repeatedly vowed to make New Jersey a national model for gun control. On Wednesday, the Democrat took his latest step in that crusade.
NJ.com Read more
Latest accreditation issue at Kean University raises questions for lawmakers
Kean University is in danger of losing accreditation for its public administration graduate program just one year after failing to have its physician assistant program accredited, a development that has at least two state lawmakers expressing concern about what's going on at the school.
Politico Read more
N.J. senators seek probe of how Channel 9 got its license renewed
he Federal Communications Commission agreed to renew Channel 9's broadcast license even after the Secaucus-based station jettisoned its daily New Jersey newscast, and U.S. Sens. Cory Booker and Robert Menendez want Congress to find out how it happened.
NJ.com Read more
Borgata casino ups the ante with mobile sports betting
Atlantic City's Borgata casino has begun taking sports bets via mobile phones.
NJ.com Read more
Lawyer for ex-NJ police chief charged with hate crimes says his client was framed
The New Jersey police sergeant who secretly taped his former chief using the N-word baited him and then deleted tapes that could have provided context, the chief's defense attorney said in court papers filed this week in U.S. District Court in Camden.
Inquirer Read more
NJ Residents Back Legal Marijuana, Just Don't Sell it in their Town
New Jerseyans have become increasingly supportive of legalizing marijuana, though they're more divided on whether they'd support its sale in their communities.
NJ101.5 Read more
New Jersey lawmakers could vote on legal weed next month, but success not yet guaranteed
A vote to legalize marijuana in New Jersey could come by late September, Senate President Stephen Sweeney said Wednesday, expressing confidence he'll have enough votes to pass the long-delayed measure.
The Record Read more
Toms River woman lost her bid to represent Alaska in Congress
A Toms River woman and former Brookdale Community College spokeswoman lost her bid to represent Alaska in Congress despite the fact she's never been to the state.
Asbury Park Press Read more
Ex-Lincoln Park school business administrator charged with $14,900 theft
The Hackensack school district business administrator, who abruptly resigned last week, has been charged with stealing $14,900 from the Lincoln Park Board of Education while serving as its business administrator, court records show.
Daily Record Read more
Bergmann: Don't fight Lakewood school funding lawsuit
Four years after a Lakewood teacher filed a lawsuit against the state, arguing that its school funding formula failed to take into account the district's disproportionate number of private school students in distributing state aid, an administrative law judge this week ordered the state to finally respond to the claims in the lawsuit.
Asbury Park Press Read more
Editorial: N.J. GOPers also help cover up any Trump crimes and misdemeanors
Dramatic, split-screen findings of criminality by President Trump's ex-lawyer and his former campaign chair this week are really putting the pressure on his party.
Star-Ledger Read more