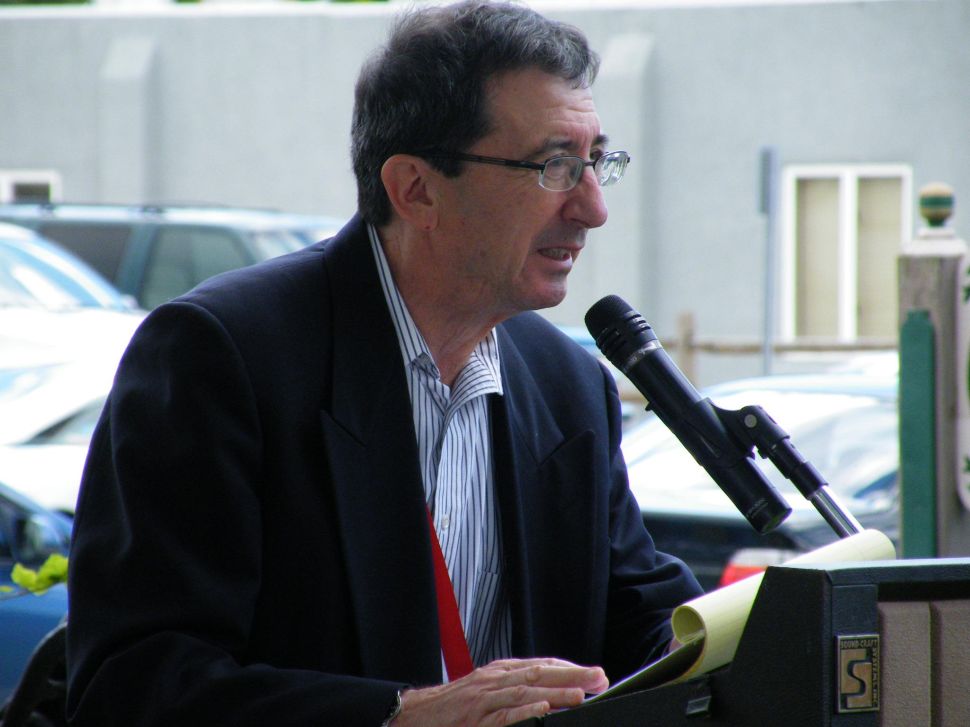 Atlantic County politician Seth Grossman caught a lot of flak after reports surfaced that he'd called diversity "a bunch of crap and unAmerican." He lost the support of the National Republican Congressional Committee in July following reports he posted a link from a white supremacist website.
But not everyone is shunning the GOP's congressional candidate for the 2nd District.
The Philadelphia Inquirer reports that Grossman's contributions nearly tripled when compared to his previous fundraising after reports about his diversity comments made headlines in June. The paper said campaign finance reports show Grossman's contributions went from about $13,000 to $36,000 after the publicity.
But Grossman's Democratic opponent, state Senator Jeff Van Drew has raised much more than the Republican, raising more than $1 million.
The two are competing for the seat currently held by Republican Frank LoBiondo, who is not seeking re-election.
Earlier this month, Grossman penned an op-ed piece saying he "believe blacks are equal to whites in every way" and can succeed without quotas or other preferences. He attended an NAACP meeting in Millville earlier this month.
Quote of the Day: "Death may end a life but it can never end a love. John Loved America: his impact will forever endure." — Sen. Cory Booker, on Sen. John McCain.
After N.J. candidate said 'diversity is a bunch of crap,' his campaign donations tripled
Need more proof that President Trump's takeover of the Republican Party is done, complete, finito?
Inquirer Read more
A New Jersey senator wants to make this unwritten speed limit rule obsolete
If you've been speeding with impunity on New Jersey roadways, maybe you're getting away with it because of a short, off-the-record ditty that traffic officers sometimes hum:
The Record Read more
Lawmakers reach consensus on key elements of cannabis bill
The architects of a bill to legalize recreational marijuana in New Jersey have reached agreement on several major components of the legislation, including regulatory mechanisms for the state's nascent cannabis industry and automatic eligibility for criminal expungement for those previously convicted of possession.
Politico Read more
Weed to replace orchids in gigantic South Jersey greenhouse as demand for marijuana jumps
In rural South Jersey, in a huge greenhouse that was custom-built for delicate, brilliantly hued orchids a decade ago, more than 35,000 cannabis plants are expected to be nurtured from seed as early as next spring.
Inquirer Read more
Men win 98% of NJ House races
New Jersey has elected 304 men and six women to serve in the U.S. House of Representatives. So you don't have to reach for a calculator, that's 98% men, 2% women. If you start the clock in 1922 — the first election a woman was eligible to run in New Jersey – it's 108 men and six women (95%-5%).
New Jersey Globe Read more
Lawmakers proceed with $1B vo-tech schools, community colleges bonds
Lawmakers want to push ahead with putting a ballot measure before voters that would allow the state to issue $1 billion in bonds to fund school upgrades at New Jersey's community colleges and vocational-technical high schools, as well as security upgrades at K-12 schools.
NJBiz Read more
Murphy signs bill eliminating law intended to protect ticket buyers
Gov. Phil Murphy on Friday signed a controversial bill that restructures the state's law on ticket sales, repealing 17-year-old rules that were intended to protect consumers.
Politico Read more
Gov. Phil Murphy signs law in Paramus requiring shoulder restraints on school buses
New school buses in New Jersey will be required to have shoulder restraints as well as seat belts for all students, under a law signed by Gov. Phil Murphy in Paramus on Saturday afternoon.
The Record Read more
Mulshine: Keep the press free from the academics and the politicians
The other day I came across an article on the College of New Jersey website dated July 12.
NJ.com Read more
Garden State schools now required to carry life-saving opioid antidotes
As New Jersey continues to grapple with an opioid addiction epidemic, high schools across the state will soon be required to carry life-saving antidotes under a law Gov. Phil Murphy signed Friday.
NJ.com Read more
New IRS rule limiting tax deductions condemned by charities, blue state governors
The IRS wanted to stop high-tax – and heavily Democratic – states such as New Jersey and New York from getting around the new $10,000 cap on the deduction for state and local taxes, or SALT, by exploiting the uncapped deduction for charitable contributions.
The Record Read more
N.J. is 1 of 4 areas picked to join Policy Academy — program aimed at strengthening manufacturing
Gov. Phil Murphy has made creating an innovation economy a top priority in his administration.
ROI-NJ Read more
Shore town to Phil Murphy: Sell the governor's beach house
It's one of the perks if you get elected New Jersey's governor: a state-owned beach house that you and your family can use.
NJ.com Read more
How Democratic voter registration is outpacing the GOP in N.J.
Democrats in the Garden State and beyond hoping for a blue wave this November can look to New Jersey's voter registration as a sign of encouragement.
NJ.com Read more
N.J.'s senators remember John McCain as friend, colleague and 'American hero'
he news of U.S. Sen. John McCain's death reverberated throughout the country Saturday evening, drawing remembrances from friends and colleagues who included the two U.S. senators from New Jersey.
NJ.com Read more
Stockton, Atlantic City betting on success of island campus
At first, Stockton University student Spencer Szabady and his roommates didn't even consider living in Atlantic City an option for the upcoming school year — they wanted to stay on the main campus in Galloway Township.
Press of Atlantic City Read more
Monmouth freeholders accuse Curley of using a 'gay slur,' attacking a former official
The Monmouth County Freeholders made new allegations against one of their own, Freeholder John Curley, claiming he used a homophobic slur and physically fought with a former official. The allegations came after Curley attempted to censure two of his fellow board members.
Asbury Park Press Read more
A day in drug court features friendly conversation, prizes and, for some, handcuffs
"All rise," said the bailiff as she walked into the center of the courtroom.
Press of Atlantic City Read more
Report paints bleak picture of conditions at NJ's psychiatric hospitals
When the only hospital for mentally-ill patients in New Jersey's criminal justice system faced a possible shutdown earlier this year because patients spent too much time locked in their rooms, concerns about the underfunded, under-staffed state psychiatric hospitals quickly became a priority for Gov. Phil Murphy.
The Record Read more
At Least $60M Paid to NJ Victims of Catholic Priest Sex Abuse
Catholic Church officials in New Jersey have paid tens of millions of dollars in the last three decades to men and women who have accused priests and clergy of child sexual abuse.
NJ101.5 Read more
Monmouth County freeholder admits violating a federal court order in Curley investigation
Monmouth County Freeholder Director Tom Arnone admitted he violated a federal court order by releasing information from an investigative report into a sexual harassment claim against fellow Freeholder John Curley because, Arnone said, he was protecting county employees.
Asbury Park Press Read more
NJ Jury Sides With Landlord in Muslim Discriimination Case
A Union County jury dealt a blow against a discrimination lawsuit filed by the state against a city landlord, dismissing allegations that he refused to rent an apartment to a woman because she was Muslim.
NJ101.5 Read more
Ocean County clerk combats mortgage fraudsters and other real estate swindlers
In an effort to combat mortgage fraud, Ocean County Clerk Scott M. Colabella is encouraging property owners in the county to sign up for free automated email alerts.
Asbury Park Press Read more
Were Dover's primary election results invalid? September trial will decide
A lawsuit that challenges Dover's June election primary results will go to trial Sept. 17.
Daily Record Read more
What's the next step in finding new mayor for Rockaway Township?
The sudden death of Mayor Michael Dachisen has left questions about the township leadership's future.
Daily Record Read more
Bergmann: Should state oversee private schools?
It has been six years since Naftuli Moster founded an organization aimed at pressuring New York City and New York State to enforce a law requiring non-public schools, specifically ultra-Orthodox Hasidic schools, to provide a "substantially equivalent" education to that provided by public schools.
Asbury Park Press Read more
MacInnes: It's a nice try, but here's what's missing from Sweeney's budget plans
Since sports betting is now legal, and politics is a sport, how much would you bet on New Jersey to get its finances in order and avoid fiscal collapse?
NJ.com Read more
Editorial: No new taxes pledge a bit late
Read his lips. "No new taxes." Next year.
So said Democratic Assembly Speaker Craig Coughlin, D-Middlesex, earlier this week. Too bad Coughlin and other Democratic leaders in the Legislature didn't utter those words before approving the 2018-19 state budget in June. That bloated budget raised taxes by more than $1 billion and increased spending by more than 7 percent. It was the last thing New Jersey needed to climb out of its fiscal sinkhole.
Asbury Park Press Read more
Editorial: N.J. utilities turn 'buy more, pay less' rule on its head
There's an old-as-the-hills joke that local business owners may be familiar with. It goes like this:
South Jersey Times Read more