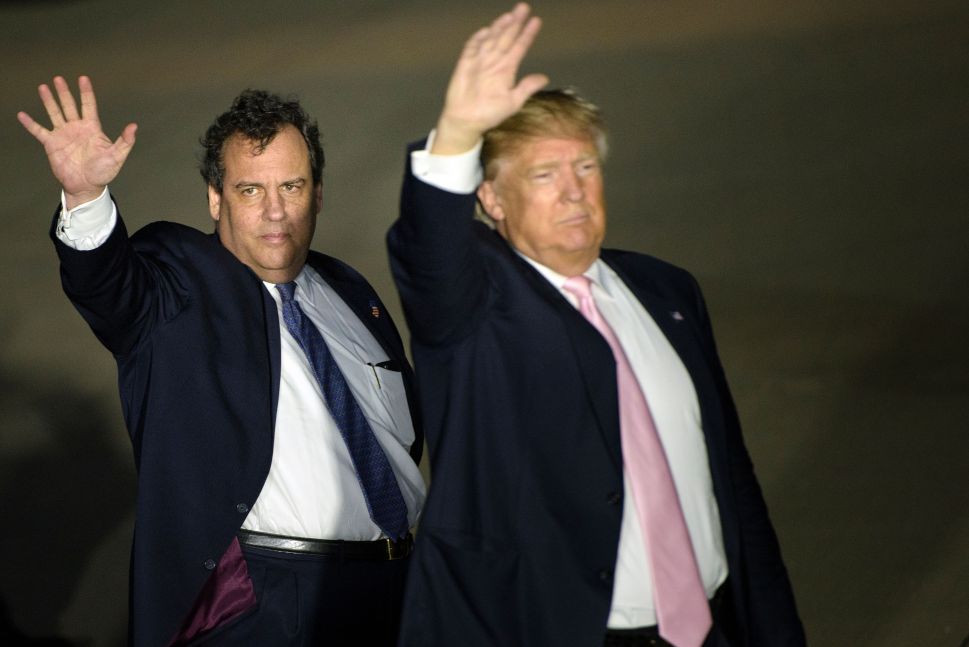 Former Gov. Chris Christie has long maintained that members of the Trump administration messed up when they removed him as the head of the president-elect's transition team and tossed the work he'd already done.
Now Trump's former campaign manager is saying the same thing.
Corey Lewandowski told NJ.com that "one of the biggest mistakes" the administration made was that it wasn't ready to go on day one. And part of the blame for that is ignoring the work Christie had done, Lewandowski said.
After Trump's election, Christie was removed as chairman of the transition team. The position was then given to Vice President-elect Mike Pence.
Lewandowski said it was a mistake to discard all of the work Christie had done once he was removed.
The former governor—one of the first prominent Republicans to endorse Trump—has said one reason he lost his post was because he recommended against hiring retired Lt. Gen. Michael Flynn as national security advisor. Flynn later resigned and has pleaded guilty to lying to the FBI when questioned about the Trump campaign's possible collusion with the Russians.
Quote of the Day: "The Trump tax law gives away the store to the rich. Why pile on and make the situation worse?" — Steve Wamhoff, of the Institute on Taxation and Economic Policy, on why he no longer supports Murphy administration efforts to overturn new limits on federal SALT deductions included in the Republican tax plan.
Trump paid big price for dumping Christie from transition, president's former top aide says
Donald Trump got off to a rocky start because he was not fully prepared to take over the government, and one reason was the ouster of former Gov. Chris Christie from his transition team, according to the president's former campaign manager.
NJ.com Read more
Analysis: NJ suit over SALT deduction would help the state's richest 1.5 percent the most
It may take more than a grain of salt to swallow this. In challenging the tax overhaul that President Donald Trump signed in December, a lawsuit filed by New Jersey calculated how much more residents will pay in federal income tax because of the new $10,000 cap on the deduction for state and local taxes, known as SALT.
The Record Read more
Assembly Republicans, avoiding the past, rip NJ Transit's communications
New Jersey Assembly Republicans didn't want to talk Wednesday about NJ Transit's yearslong descent into its current state of frequent delays and cancellations.
Politico Read more
Murphy vetoes minutes of South Jersey board allied with Sweeney
Gov. Phil Murphy this week vetoed the minutes of a South Jersey board stacked with allies of Senate President Steve Sweeney after the directors refused Murphy's request to cut ties with the agency's general counsel.
Politico Read more
Huge 'Baby Trump' balloons have landed in N.J. and they're up for adoption
The first two Baby Trump balloons have officially arrived in the New Jersey town where the president spent the first half of the month on vacation, and more are on the way.
NJ.com Read more
Flood Washes Away Cars, Why Is Mayor Blaming Dealership?
Woodland Park Mayor Keith Kazmark is blaming a car dealership for causing flooding in his town.
The Route 46 Chrysler Jeep Dodge in Little Falls was the victim of Saturday's torrential rains, which caused the Peckman River to overflow and wash away the cars in the lot. The incident was captured on video.
NJ101.5 Read more
Never Flooded Before, Did Parkway Work Cause Brick Disaster?
A neighborhood that has never flooded before found itself inundated on Monday following a fierce summer storm. Now, local officials want to know if the flooding was worsened by any man-made causes.
NJ101.5 Read more
Ratings agency moves CD3 to tossup
Following a poll that showed Rep. Tom MacArthur in a neck-and-neck race with former Obama staffer Andy Kim, the Cook Political Report has changed its rating for the third district from leaning Republican to a tossup.
New Jersey Globe Read more
2018 elections: Andy Kim comes under attack from GOP Super PAC in NJ battleground race
Democrat Andy Kim is attacked as a liberal "Washington insider" and "not one of us" in a television ad released Wednesday by the Congressional Leadership Fund, a super PAC aligned with House Republican leaders that has reserved $1.4 million in TV airtime for Kim's race against U.S. Rep. Tom MacArthur.
Asbury Park Press Read more
NJPBA backs MacArthur
New Jersey's police union is backing Rep. Tom MacArthur over his Democratic challenger, Andy Kim.
New Jersey Globe Read more
NJ marijuana legalization: Here are the North Jersey towns that have said no
Anticipating that New Jersey soon will allow anyone 21 and older to buy and use marijuana, a number of North Jersey towns are responding with a message of their own: Count us out.
The Record Read more
Toms River to hire more armed officers to protect schools
The township's police department will add 15 additional special police officers to bolster security in the Toms River Regional school district during the 2018-2019 school year.
Asbury Park Press Read more
KKK fliers dropped on Red Bank streets
Two bags containing fliers promoting the Ku Klux Klan have been left on borough streets in the last week, Police Chief Darren McConnell said.
Asbury Park Press Read more
Crime, controversy, and an FBI probe. 'Fed up' residents say mayor's got to go.
A group of residents is seeking to recall Orange Mayor Dwayne Warren from office, NJ Advance Media has learned.
NJ.com Read more
Council OKs renaming of Jersey City library branch in memory of Jersey Journal columnist Earl Morgan
Applause rang out Wednesday morning when the City Council voted to approve the renaming of the Greenville branch of the city library in honor of Jersey Journal columnist Earl Morgan, who died in June at the age of 75 after decades advocating for residents and chronicling the times.
NJ.com Read more
Mudslinging in Dover persists as judge reviews June primary voter fraud claims
Mayor James Dodd and political foes continue to sling mud more than two months after the June Democratic primary election where three of Dodd's allies lost seats.
The Record Read more
Atlantic Highlands environmental commission alternate resigns after child porn charge
An Atlantic Highlands man resigned from his post on the borough's environmental commission after he was charged with possession and distribution of child pornography.
Asbury Park Press Read more
N.J. town denies illegally blocking Orthodox group's expansion
A northern New Jersey town denied in a court filing that for years it illegally blocked an Orthodox Jewish group seeking to expand its house of worship or buy property to build a new one.
NJ.com Read more