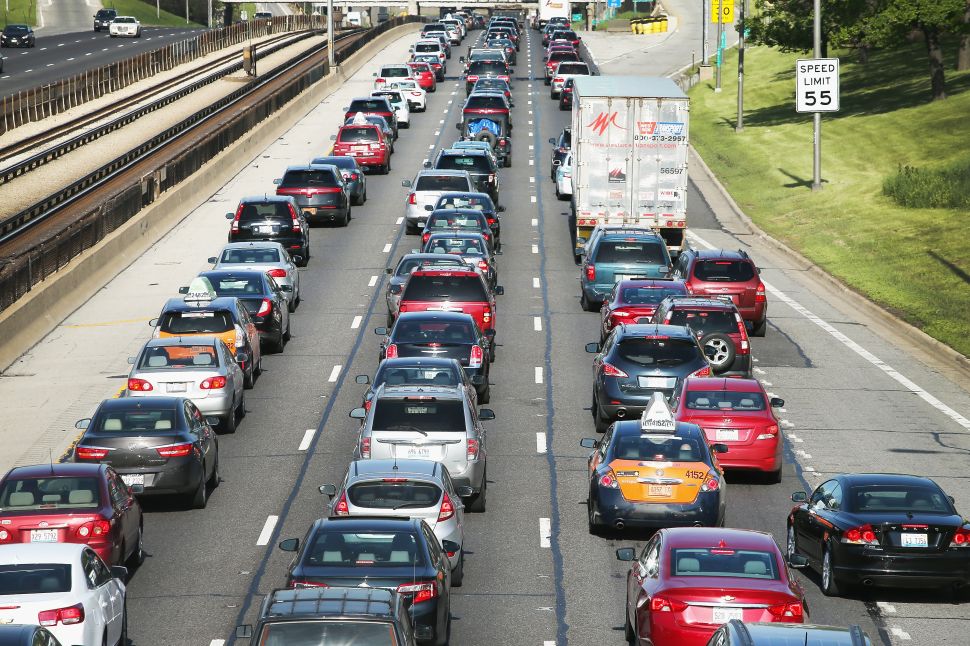 You could be facing hundreds of dollars in fines for missing a small toll because your E-ZPass transponder malfunctioned.
That's the claim of people who have filed a class-action lawsuit that contends the New Jersey Turnpike Authority is fleecing motorists with excessively high fees for small violations that aren't always their fault, according to a report in NJ.com.
The suit contends the state agency has collected more than $185 million from drivers over six years, according to the report.
The suit says it costs the Turnpike Authority $25 to process a violation, but the authority charges administrative fees well in excess of that amount. The report cites the case of a woman who missed a $3.25 toll but was billed $220—$3.25 for the toll and $217 in administrative fees.
The authority justifies the fees by tacking on the costs of things like toll lane maintenance, toll collection equipment, the fiber optic network, maintaining that equipment, transponder and staff costs, the report said. These, the authority opponents say, are normal operating costs that the authority is trying to pass off onto the backs of people with violations.
Nationally, other toll agencies charge administrative fees that are 95 percent less than the Turnpike Authority, the report said. Some state agencies charge adminstrative fees of $5, while others charge no fee if the toll is paid in 10 days, according to the report.
New Jersey officials also shouldn't be charging motorists for violations that are a result of a mistake by the system or the process, a representative of the National Motorists Association told NJ.com.
A spokesman for the Turnpike Authority told NJ.com that the agency stands by the $50 fee it charges, contending the state spends more than that to process a single toll violation.
Quote of the Day: "Either we are all crazed homicidal maniacs or our speed limit setting methodology is deeply flawed. I don't believe we're all crazed homicidal maniacs." — Sen. Declan O'Scanlon, on the need to review state speed limit regulations.
A $50 late fee for a missed toll? E-ZPass drivers say enough.
When the E-ZPass transponder malfunctioned in a car driven by a New York woman and her husband, they were unable to pay the $3.25 toll.
NJ.com Read more
New Jerseyans aren't obeying the speed limit, so a lawmaker wants to change them
The numbers confirm what your eyes are telling you: Most people driving on New Jersey's highways aren't obeying the speed limit.
The Record Read more
Surfrider Foundation lobbies against plastic, paper bag fee bill
The South Jersey chapter of the Surfrider Foundation is asking residents to call Gov. Phil Murphy's office and ask him to veto legislation that would require merchants to charge a 5-cent fee on carryout plastic or paper bags.
The Press of Atlantic City Read more
Which layer of government in N.J. needs to be cut? Depends where you live, experts say
A way to curtail some of the high costs of government in New Jersey may not necessarily be shared services — it could be about eliminating layers of government.
ROI-NJ Read more
U.S. Senate candidate Bob Hugin hosts 'Girls Night Out' fundraiser amid controversy
U.S. Senate candidate Bob Hugin met with female supporters at a "Girls Night Out" Monday in the wake of a recent controversy related to his role in excluding women from a Princeton University eating club.
The Record Read more
Here's what's behind the ads accusing Bob Hugin of 'killing off cancer patients'
Republican U.S. Senate candidate Bob Hugin had the commercial airwaves to himself most of this year, but that changed when a super PAC began airing ads calling him 'the guy who made a killing off cancer patients.'
Asbury Park Press Read more
Menendez goes on Twitter tirade over Trump's LeBron comments
Although the well-trodden cliche advises fighting "fire with fire," Sen. Bob Menendez decided to fight tweet with tweet in a Twitter tirade against President Donald Trump.
The Record Read more
Jewish leaders call on Cory Booker to speak out against Israel boycott after photo mishap
National and New Jersey Jewish leaders on Tuesday called on Sen. Cory Booker to take a public stand against the movement to boycott and sanction Israel after he posed for a photo with pro-Palestinian activists and then later disavowed a sign he was holding.
The Record Read more
NJ Senators: Banking For Marijuana The Right Way
Sen. Cory Booker says businesses that sell even medical marijuana can't get bank accounts, issue payroll checks or get loans, not even in states like New Jersey, where medical marijuana was legalized in 2010. That's because federal law classifies marijuana as a Schedule I illegal drug and federal treasury officials might prosecute.
NJSpotlight Read more
Thousands suffer in sweltering NJ Transit station after air conditioning fails, and it's not over yet
Commuters who use Secaucus Junction, NJ Transit's third busiest train station, had to sweat it out for a second sticky day after air conditioners broke down Monday in the massive building.
NJ.com Read more
NJ Transit cancellations decline Tuesday; third lawmaker calls for accountability
Disruption of New Jersey Transit service subsided Tuesday with fewer trains being cancelled than in the previous two workdays.
NJBiz Read more
More syringes are washing up on Jersey beaches. It's a problem that starts miles away.
The images were disturbing: hypodermic needles, syringes and vials of blood washed ashore miles of beaches along the Jersey Shore.
NJ.com Read more
Gov. Phil Murphy joins Barack Obama as human rights award winner
Gov. Phil Murphy has been selected alongside former President Barack Obama for a human rights award named in honor of one of their political heroes.
The Record Read more
Stormy Daniels: Expect extra security at Lace Gentlemen's Club in Wayne
Beefed-up security – with twice as many bouncers wielding metal-detection wands – will greet the herd at Lace Gentlemen's Club and Restaurant in Wayne, where adult-film star Stormy Daniels will dance on Thursday.
The Record Read more
Fishermen's Energy wind farm could start construction this winter
A small, 25-megawatt offshore wind project off Atlantic City could start construction this winter if the state Board of Public Utilities approves an application for ratepayer subsidy made by two companies Monday.
Press of Atlantic City Read more
Princeton Merger Pays Off in Property Tax Slowdown, Better Services
Five years into their experiment with municipal consolidation, current and former elected officials in Princeton are ready to declare it a success as the rate of growth in property-tax bills has slowed and the delivery of services has seemed to improve even with a streamlined workforce.
NJSpotlight Read more
Man accused of leaving caged dog to drown in Highlands turns himself in
A 36-year-old Long Branch man suspected of leaving a caged mixed-breed pit bull to drown in Highlands last week surrendered to police Tuesday morning, authorities said.
Asbury Park Press Read more
Prosecutor's office has family ties to Stockton U., but says it won't impact rape investigation
The Atlantic County Prosecutor's Office, which is prosecuting at least one person named in lawsuits alleging sexual assaults at Stockton University, said in a statement Tuesday that the office has two potential conflicts of interest, but they will not affect the investigation.
NJ.com Read more
Toms River Regional: We need your help to get more NJ school money
Saying "the future of our children and our community is at stake," Toms River Regional Schools Superintendent David M. Healy penned a letter last week to the school community, pleading with residents to write letters and make calls demanding more state aid.
Asbury Park Press Read more
Point Pleasant forces family to remove 'mailbox library' after formal complaint
Borough officials issued a removal notice to a family after a formal complaint was filed against their 'mailbox library,' according to reports.
Asbury Park Press Read more