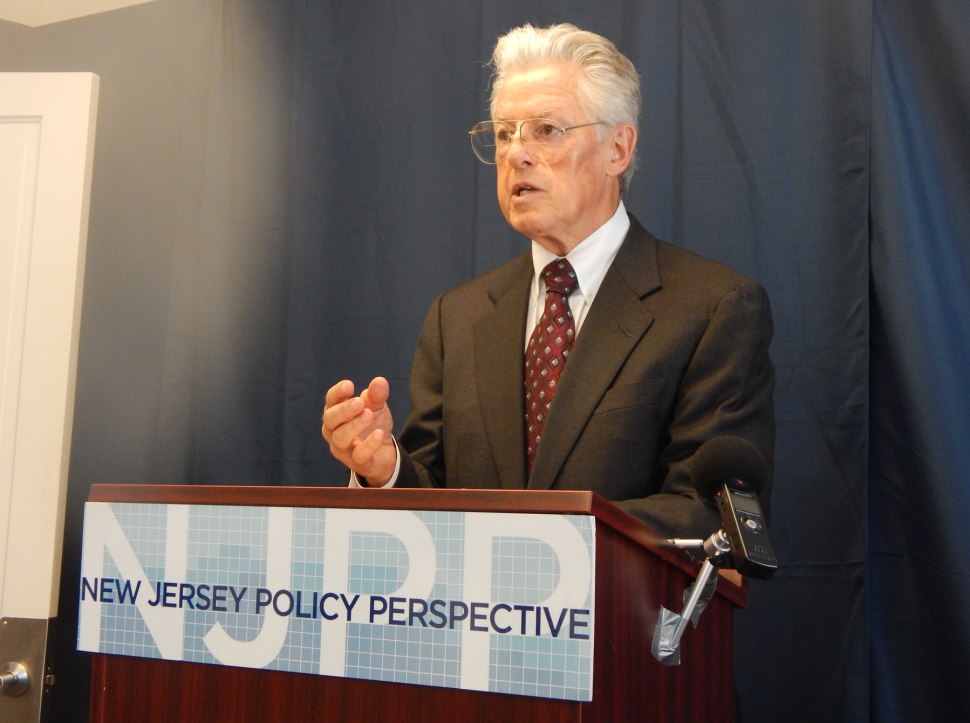 The New Jersey legislature has yet to move on measures to legalize marijuana in the state, but it appears at least one firm is going to have some high-powered help pushing its agenda.
NJ.com reports that Nuka Enterprises of Colorado, which manufactures edible cannabis products, is expected to announce today that former Gov. Jim Florio will be joining the company's advisory board and will be working to aid the company's expansion efforts in New Jersey.
The one-term Democratic governor served from 1990 to 1994 and remains a popular figure in state Democratic circles.
The announcement comes as efforts to legalize pot in the state remain stalled, with a core group of legislators from both parties resisting Gov. Phil Murphy's efforts.
Some Democratic lawmakers, led by Democratic Sen. Ronald Rice, the head of the state's Legislative Black Caucus, are instead pushing to decriminalize pot.
Last month, Attorney General Gurbir Grewal adjourned of all marijuana cases in municipal courts statewide until at least Sept. 4, saying he wanted to use the time to craft a statewide marijuana policy for prosecutors. The Murphy administration is also moving to expand the state's medical marijuana program.
In a statement obtained by NJ.com., Florio is quoted as saying that New Jersey residents "recognize the importance" of legalizing marijuana as "as a medicinal, social justice and economic issue."
Quote of the Day: "If this is truly a social justice issue, like Gov. Murphy is saying, let's focus on decriminalization and spend a few years collecting data to see how it's affecting vulnerable communities." — Ijeoma Opara, a policy adviser for NJ RAMP, which opposes legalization of marijuana.
Undocumented immigrants start to use new law offering NJ college financial aid
It took Yetzul Salazar a decade after her graduation from high school before she began classes at Passaic County Community College.
Asbury Park Press Read more
Former N.J. governor just joined up with company that makes edible chocolate marijuana
Former Democratic Gov. Jim Florio is adding a new title to his resume: adviser to a cannabis edibles manufacturing company.
NJ.com Read more
NJ marijuana legalization: NJ RAMP talks decriminalization, argues against legal weed
The most active opponents to New Jersey marijuana legalization met with Assembly Speaker Craig Coughlin on Tuesday in hopes of preventing legal weed in the Garden State.
Asbury Park Press Read more
Oliver: Essex ICE contract wasn't my department
Lt. Gov. Shiela Oliver on Wednesday said she wasn't involved in negotiating a contract between Essex County, where Oliver once worked, and Immigration and Customs Enforcement that sees the former paid for incarcerating immigrants awaiting deportation.
New Jersey Globe Read more
CD11 Flashpoint: Pence Coming to New Jersey for Jay Webber
Vice President Mike Pence is scheduled to come to New Jersey a week from this Friday to lend his support to the CD-11 candidacy of Assemblyman Jay Webber.
InsiderNJ Read more
Polluters beware: Gov. Murphy wants your money
Polluters beware – New Jersey is coming after your money.
The Record Read more
State attorney general sues SJ Gas, Deull Fuel, over Atlantic City pollution
The state is suing South Jersey Gas, the Deull Fuel Co. and other firms over contamination of a block of land near the bay where SJ Gas has been cleaning up a former manufactured gas plant site for almost two years.
The Press of Atlantic City Read more
Murphy's AG wants to keep 3D-printable guns off the Internet. Is it too late?
New Jersey's attorney general said Wednesday that the debate over 3D-printable firearms, which has ricocheted between courtrooms in Newark and Seattle as well as the White House this week, wasn't about the right to share information online.
NJ.com Read more
Hugin's deep pockets not funding local GOP parties in New Jersey
Republican Bob Hugin has put $15.5 million of his own money into his campaign for U.S. Senate but thus far hasn't been a golden goose for New Jersey's state and county GOP organizations.
Politico Read more
State creates Office of International Trade and Investment in effort to spur more economic development
Gov. Phil Murphy has long talked of his time in Germany as U.S. Ambassador and his desire to bring some of Europe's best workplace practices to New Jersey.
ROI-NJ Read more
$21M sale ends posh golf resort dorm for these college students
Stockton University has sold for $21.07 million a golf resort hotel it purchased 8 years ago for student housing.
NJ.com Read more
$1 For An Email? Another Way NJ E-ZPass is Getting Your Money
There are 21 terms and conditions for people signing up for E-ZPass, so it can be easy to miss the fine print warning you about the fee to have a monthly statement emailed.
NJ101.5 Read more
Man charged with making online threat against U.S. Rep. Chris Smith
A Plainfield man was arrested Saturday on a felony charge accusing him of making threats on social media targeting U.S. Rep. Chris Smith.
NJ.com Read more
NJ Suburbs Bounce Back as Older Millenials Go For House and Garden
A new report suggests suburban living in the metropolitan region may not be passé after all, although New Jersey's urban counties are continuing to grow even faster than the suburbs.
NJSpotlight Read more
The candidates Obama endorsed for Pa., N.J. midterm elections
Former President Obama on Wednesday released his endorsements for Democratic nominees in the upcoming midterm elections, and in Pennsylvania, one of the candidates is running for two seats at the same time.
Inquirer Read more
Grewal on DJ Suspension – I didn't Ask for Apology, I Moved On
Attorney General Gurbir Grewal says that he has "moved on" after two New Jersey 101.5 hosts made offensive remarks about his name and his turban.
NJ101.5 Read more
Monmouth County bridge renamed after former State Sen. Kyrillos
Former State Sen. Joe Kyrillos got an unusual honor last week: The West Front Street Bridge in Monmouth County was renamed in his honor.
ROI-NJ Read more
NJ orders quarantine for tree-destroying spotted lanternfly, but will it work?
New Jersey officials have instituted a quarantine for three counties in the hopes of stopping a tree-destroying insect from spreading to other parts of the Garden State.
The Record Read more
Carrier Clinic and Hackensack Meridian Health to merge, expand addiction treatment
The Carrier Clinic, a century-old psychiatric and addiction treatment provider in rural Somerset County, is merging with Hackensack Meridian Health — a combination that will be the first in New Jersey to offer a complete range of mental-health services integrated into a statewide hospital network.
The Record Read more
Civil rights group to Cumberland prosecutor: Leave shooting probes to state
A Salem County civil rights group is calling for Cumberland County Prosecutor Jennifer Webb-McRae and her office to remove themselves from investigations into fatal shootings by officers from the Vineland Police Department, citing implicit bias.
Press of Atlantic City Read more