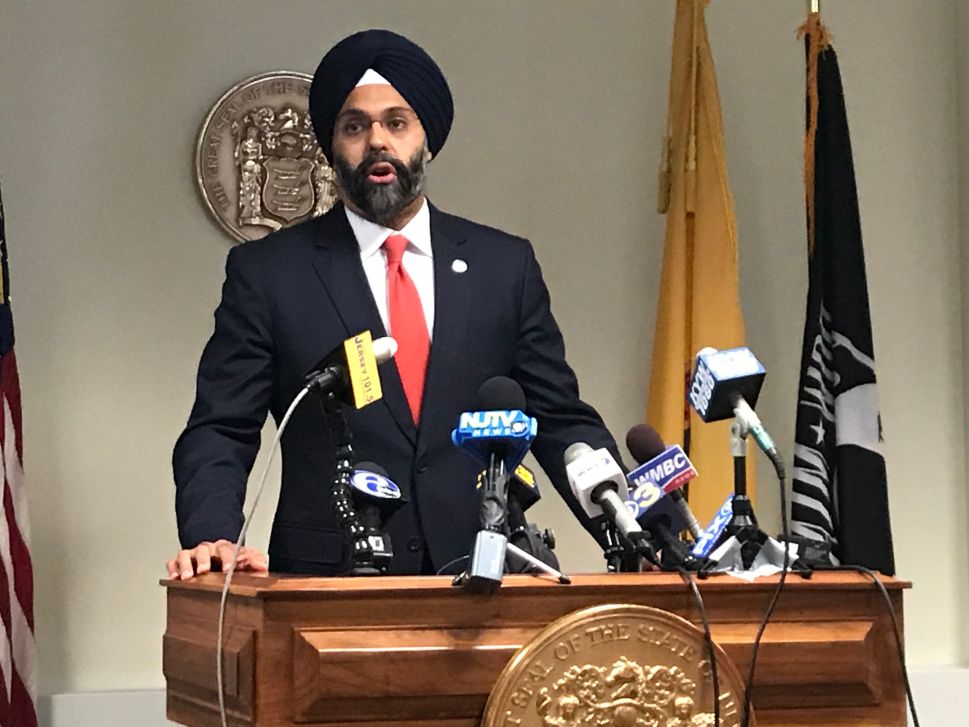 New Jersey lawmakers aren't making fast progress on changing the state's marijuana laws, and New Jersey Attorney General Gurbir Grewal has taken steps that could hold their feet to the fire.
On Wednesday, Grewal ordered prosecutors to once again resume moving forward with cases against people charged with marijuana offenses once his Sept. 4 deadline for suspending court action on pot cases expires, according to a story in The Record.
The attorney general said that while prosecutors can exercise discretion in marijuana cases, they "cannot decriminalize conduct that the legislature has criminalized," the Record reported.
Grewal's move comes after state Senate President Stephen Sweeney expressed confidence that he has the votes to pass legislation legalizing recreational use of marijuana as early as next month. Grewal's boss, Gov. Phil Murphy, has said he supports legalizing recreational marijuana use. But other members of the legislature, led by Democratic Senator Ron Rice, favor decriminalizing use of the drug instead.
Members of a 20-person panel convened by Grewal to study state marijuana laws said the attorney general's order to resume prosecutions highlights the need for the legislature to change the laws the way that Murphy would like.
Amol Sinha, executive director of the New Jersey chapter of the American Civil Liberties Union, lavished praise on Grewal "for recognizing the devastating impacts that a marijuana charge can have on individuals and their families," but said state law must be changed "to bring justice to all New Jerseyans," according to the report.
Jersey City Prosecutor Jake Hudnut, who also served on Grewal's panel, said the "racially disparate and costly arrests and prosecutions of marijuana possession will not be solved until New Jersey enacts legalization," the Record report said.
Quote of the Day: "I don't know what the legislature is going to come up with, and I don't know when they're going to come up with it. I know that there are a number of cases in municipal court and they can't be stayed indefinitely." — State Attorney General Gurbir Grewal, on his decision to resume prosecuting marijuana cases while the legislature works toward a bill to legalize recreational pot use.
With legal weed still hazy, New Jersey to resume prosecution of marijuana offenses
With lawmakers still stuck on the question of lifting criminal penalties for marijuana, New Jersey Attorney General Gurbir Grewal has ordered prosecutors to resume cases against people charged with possessing the drug, which the state's top prosecutor had paused last month.
The Record Read more
Jersey City sees 'win' in state guidelines on pot prosecutions
Mayor Steve Fulop sees a victory for Jersey City in Attorney General Gurbir Grewal's decision Wednesday to tell municipal prosecutors statewide they can use their discretion on marijuana prosecutions 'to ensure that individual justice is done in individual cases.'
NJ.com Read more
Municipal court reform: NJ attorney general demands improvements
The state's municipal court system needs policy changes, the state attorney general said Wednesday as he ordered his staff to recommend reforms that will improve the "equal, impartial and uniform administration of justice," on the heels of an ongoing Asbury Park Press investigation into local court abuses.
The Record Read more
Christie may have been paid laundered money by Malaysian fugitive, reports say
Former Gov. Chris Christie is one of a team of lawyers that may have been paid with laundered money from a Malaysian fugitive, the Wall Street Journal reports.
The Record Read more
Rep. Bill Pascrell calls Trump's 'violence' remarks 'fascism in the flesh'
President Donald Trump reportedly told evangelical leaders Monday night that there will be "violence" if the Democrats win in November.
The Record Read more
The man behind New Jersey's congressional map is teaching Rutgers students how to draw fairer districts
Being in the middle doesn't win you many friends in politics — at least that was John Farmer's experience when he helped map the boundaries for New Jersey's congressional districts.
Inquirer Read more
Menendez touts record on health care, drug prices as Hugin closes in
With a recent poll showing his lead against Republican Bob Hugin down to just 6 points, Sen. Bob Menendez on Monday met with constituents at a health care and social services center in Passaic to discuss a pair of bills he's sponsored to slow the rising cost of prescription drugs.
Politico Read more
N.J. pension fund dumps investment in ICE private prison contractor
New Jersey has dumped its small holding in a private prison contractor that runs family detention centers amid increased scrutiny of the Trump administration's immigration policy.
NJ.com Read more
Hoboken water issues put 100-year-old infrastructure under the spotlight
It was a predictable end to the day.
NJ.com Read more
Sea Level Rise Already Has Cost Billions in NJ Home Values
Flooding caused by sea level rise resulted in home value loss totaling more than $4 billion from 2005 to 2017 in New Jersey, according to a risk analysis from the nonprofit First Street Foundation.
NJ101.5 Read more
Moran: Murphy scales back bonding plan, a step towards sanity
Gov. Phil Murphy inherited a fiscal crisis that threatens to hobble his progressive agenda, and he's done almost nothing to solve it so far.
NJ.com Read more
Paramus PD puts humorous spin on coyote warnings
While warning residents about coyotes that frequent the area, Paramus police decided to have some fun.
The Record Read more
Rockaway Twp. residents start recall process against acting mayor
A few residents made their first moves in an effort to recall acting Mayor Jeremy Jedynak on Monday.
The Record Read more
Ailing Freeholder John Bartlett drops campaign, prepares to say goodbye to Ocean County
John C. Bartlett Jr., the longest-serving freeholder in New Jersey, will end his campaign for a 14th term and step down from his office at the end of the year, he announced Wednesday.
The Record Read more
Toms River Regional: Parents' petition demands more school money from NJ
Can a petition with thousands of signatures convince the state to give Toms River Regional more money?
Asbury Park Press Read more
What will Ocean City do with $9M car lot? Block high-density housing
City Council wants to buy 1.86 acres next to the Ocean City Community Center for $9 million to prevent high-density housing from going up there.
Press of Atlantic City Read more
Ex-Bridgeton official accused of stealing $22K from housing agency
A former city councilwoman and former housing authority commissioner has been charged with stealing more than $22,000 from the city's Housing Authority, court documents show.
Press of Atlantic City Read more
Jersey City school board may sue over state funding cuts
The Jersey City school board is scheduled to vote Thursday to hire a law firm to challenge the state's new school funding law.
NJ.com Read more