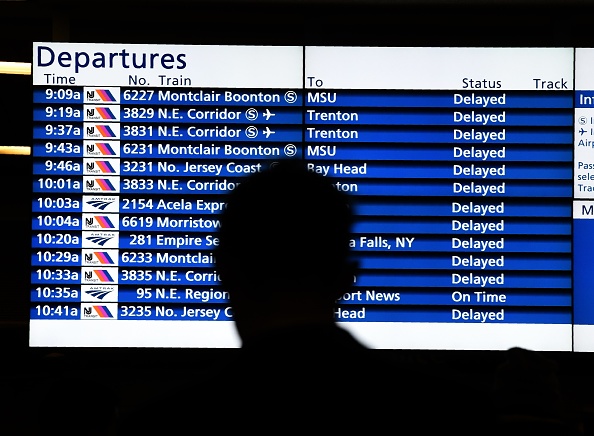 Gov. Phil Murphy has thrown his support behind a proposal to remove a state residency requirement for NJ Transit workers.
The governor called on the legislature to remove the requirement, which some legislators and officials at the embattled transit agency say would help them more quickly hire qualified workers.
Murphy's move came a week after he held a press conference to address commuters' growing frustation with numerous delays and equipment failures that have been occuring throughout the summer, according to a report in NJ.com.
Murphy made the announcement as NJ Transit officials faced legislators during a hearing on the summer's transit troubles.
Murphy, who campaigned on a pledge to improve service at NJ Transit, has blamed the problems on former Gov. Chris Christie. But Republican legislators have pointed out that Christie left office seven months ago. Legislators on Thursday took NJ Transit officials to task for not communicating with riders about daily and long-term problems, such as those that have led the agency to shut down service on the Atlantic City line.
Transit officials have said that one of their biggest problems is a lack of trained personnel to run the trains. The agency has about 400 vacancies. There are currently 330 engineers, and the agency needs 291 to run complete service, according to the NJ.com report.
That leaves the railroad struggling to cover for vacations, illness or absences.
Quote of the Day: "We are beyond frustrated at the agency and nothing seems to have changed. We've had years of conducting research and reforms." — Sen. Thomas Kean Jr., on NJ Transit's ongoing problems.
NJ Transit may get some much-needed help. Murphy to bring in workers from out of state.
Out-of-state residents may now be able to work on the railroad.
Gov. Phil Murphy wants to waive residency requirements at NJ Transit, so the agency can hire out-of-state residents to fill jobs and to stem the time of canceled trains.
NJ.com Read more
NJ Transit: Atlantic City line must shut down for safety upgrade
Suspending the Atlantic City Rail Line is necessary to make safety upgrades, NJ Transit officials told lawmakers Thursday, but they promised the shutdown was not a prelude to killing the only South Jersey train to the Shore.
Inquirer Read more
Murphy's NJ Transit blame game could expire
Gov. Phil Murphy, facing flak over a recent spate of NJ Transit delays and cancellations, has taken to a time-honored strategy – blaming his predecessor, Gov. Chris Christie – even as he says the buck stops with him.
New Jersey Globe Read more
NJ Gas Tax Likely To Increase Because Revenue Coming Up Short of Target
While a final ruling is going down to the wire in Trenton, it's appearing more likely that New Jersey's gas tax will increase by at least a few pennies later this year thanks to a 2016 law.
NJSpotlight Read more
NJ marijuana legalization: Is legal weed, medical marijuana OK at NJ colleges?
If New Jersey legalizes marijuana for recreational purposes, college students may be in for a bit of a bummer.
Asbury Park Press Read more
Meet the 'czars' trying to sell New Jersey towns on sharing services
Their rhyming names make them sound like the stars of a buddy-cop comedy.
Inquirer Read more
Offshore wind: NJ sets stage to add clean energy subsidy to your electric bill
A surcharge coming to your electric bill — one that is meant to encourage offshore wind projects near New Jersey — has begun to take shape.
Asbury Park Press Read more
Trump administration just helped N.J. preserve an important part of Obamacare
The Trump administration Thursday approved a request from New Jersey to protect an important aspect of Obamacare.
NJ.com Read more
Move in Congress to Weaken Clean Water Act Could Have Big Impact in NJ
There is a move underway in Congress to revamp a key section of the federal Clean Water Act, a step that could undermine the ability of states to block energy and big infrastructure projects.
NJSpotlight Read more
District defends deal to pay $100K to ex-superintendent charged with pooping at H.S.
The Kenilworth School District defended its decision to pay its former superintendent over $100,000 in salary, severance and unused vacation days following his resignation.
NJ.com Read more
Hey Jersey, Speaker Paul Ryan is gunning for these Democrats
House Speaker Paul Ryan is jumping into the high-stakes battle over New Jersey congressional seats that can turn from red to blue this fall in President Donald Trump's big midterm test.
NJ.com Read more
Seth Grossman: Why Am I Called a Bigot?
Last June, I surprised a lot of people. I won the Primary Election and became the Republican nominee for the Congress in South Jersey's 2nd District. I was known for helping to kill the toll hike scheme of Democratic Governor Jon Corzine in 2008.
NJ.com Read more
Web of companies would be involved in Oyster Creek decommissioning
Holtec International on Wednesday outlined a complex web of subsidiaries and joint ventures that would be involved in owning and decommissioning the Oyster Creek Generating Station in Lacey Township, if the company is allowed to buy the 50-year-old nuclear plant from Exelon Generation.
Press of Atlantic City Read more
Why this major N.J. hospital is in trouble with Phil Murphy
It almost read like an indictment with sharp accusations of mismanaging funds and breaking state law.
NJ.com Read more
Worker calls cops on nursing mom, who files intent to sue
A woman who was breastfeeding her 2-year-old daughter at a New Jersey pond when an employee called the police because she wasn't covered up might file a lawsuit.
Inquirer Read more
Feds approve $128 million gas pipeline plan in Meadowlands and upper Bergen County
Federal energy officials have approved a controversial plan to build a half-mile natural gas pipeline in the Meadowlands and upgrade existing pipes to carry more fuel.
The Record Read more
No evidence new Parkway exit caused flood in Brick, freeholder says
The new Garden State Parkway interchange at Exit 91 had nothing "or very little to do" with the floods that damaged 105 homes in the age-restricted community of Greenbriar, said Ocean County Freeholder Jack Kelly.
Asbury Park Press Read more
West Milford Mayor Bettina Bieri expects to resign Aug. 27, trigger November election
An out-of-cycle mayoral election could await local voters, as 10-year mayor Bettina Bieri said she expects to step down Aug. 27.
The Record Read more
Rockaway Township: Mayor Michael Dachisen's sudden death leaves questions about future of lawsuit
Rockaway Township Mayor Michael Dachisen's died suddenly Wednesday from a heart attack at age 58.
The Record Read more
Rockaway Township Mayor Michael Dachisen dies suddenly at age 58
Mayor Michael Dachisen died Wednesday evening of a heart attack, just days following a heart stress test and cleared to go home by a doctor, two friends said Thursday morning.
Daily Record Read more
Once a nude beach, always a nude beach? At this secluded Jersey Shore spot, 'anything goes.'
The nude man walks along the shoreline at the edge of Cape May County on this perfect beach day, the breeze off the water keeping the greenheads away. As he gets closer to another person on the beach, not nude, he unfurls a black Speedo from his hand and slips it on without missing a step.
Inquirer Read more
Paterson mayor restarts city environmental commission
Mayor Andre Sayegh announced on Thursday that he would revive the city's environmental commission as part of an effort to increase recycling.
The Record Read more
Editorial: Dashcam ruling is a blow to police transparency
Legal nuances and hair-splitting notwithstanding, this week's New Jersey Supreme Court ruling that police do not need to release dashcam videos related to criminal investigations — unless an officer uses deadly force — is a setback for public transparency, goes against the spirit of the state's Open Records laws and represents a huge blow to freedom of the press.
The Record Read more