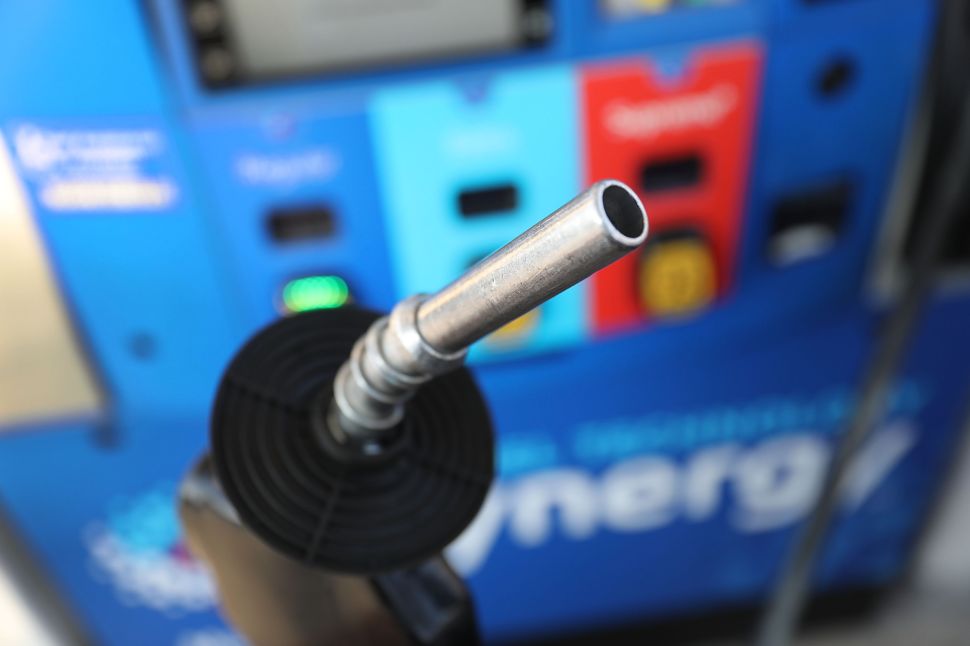 The state gas tax is set to rise an additional 4.3 cents per gallon this October, with Gov. Phil Murphy's administration laying part of the blame on former Gov. Chris Christie.
State treasurer Elizabeth Maher Muoio said 1.7 cents of the tax increase is because Christie's adminstration overestimated how much the state would collect in revenue during his tenure. Muoio claims Democrats now must close the gap in order to meet mandated funding for the state Transportation Trust Fund, according to a report on NJ101.5.
Muoio said that because state residents are conserving gas and aren't spending enough at the pumps, the state needs to raise the taxes.
Earlier this summer, Senate President Steve Sweeney failed in his efforts to remove Murphy's power to certify some state revenues. Sweeney had said the process had become politicized, with governors using their constitutional powers to manipulate revenue projections to suit their political needs.
Earlier this month, Assembly Speaker Craig Coughlin said he would oppose tax increases in next year's state budget.
The mechanism for the gas tax increase, however, is already baked into state law. This 4.3-cent increase brings state taxes to 41.4 cents on each gallon of motor fuel in New Jersey, about one-seventh of the cost of fuel now and 48.4 cents on each gallon of diesel, according to a report on NJ.com.
New Jersey increased the gas tax by 23-cents per gallon two years ago under Christie. As part of that deal, the legislature approved a small cut in the state sales tax. Murphy, however, has unsuccessfully campaigned to have that cut rescinded. The governor says residents wouldn't really notice the increase.
With the gas tax increase, the state will now have the sixth-highest gas tax in the nation, the NJ101.5 report said.
Quote of the Day: "While I understand and can appreciate and am sympathetic to the plight of residents in Leonia, there's a reason this statue says what it says." — Judge Peter Bariso, ruling against Leonia's efforts to block rush-hour traffic on city streets.
NJ Gas Tax to Increase – Again – By 4.3 Cents in October
New Jersey's gas tax will increase 4.3 cents a gallon on Oct. 1, the state Department of the Treasury announced Thursday.
NJ101.5 Read more
Leonia's road closure ordinance ruled invalid
A superior court judge invalidated Leonia's controversial road closure ordinance on Thursday, ruling that the borough needed approval from the state Department of Transportation to restrict non-resident access to its side streets during rush hour.
The Record Read more
Rutgers welcomes 7,000 first-year students, largest class in its history
At 2 months old, Sebastian Munoz emigrated with his mom, Maria, from their home in Colombia for a shot at a better life in the United States.
The Record Read more
Rutgers to reconsider punishing prof who said f— white people
Rutgers University President Robert Barchi has ordered university officials to take a second look at their decision that a white professor who said he hates white people violated university policy.
NJ.com Read more
Catholic priest sex abuse investigation called for by New Jersey lawmaker
In the wake of a searing grand jury report finding that leaders of the Roman Catholic Church in Pennsylvania covered up child sex abuse by more than 300 priests over 70 years, a state senator is calling for a similar investigation in New Jersey and changes to state law to make it easier for victims to sue.
The Record Read more
After Chabad decision, Toms River hires expert in religious land law
The township, which has weathered battles over proposed synagogues in its rapidly growing northern section, has hired an expert in religious land-use law to review Toms River's zoning regulations and development codes.
Asbury Park Press Read more
Phillipsburg father jailed for alleged threat to kill judge, court employee
A 38-year-old Phillipsburg man was ordered held in the Warren County jail Wednesday on charges of threatening over the phone to kill a Family Division judge and a child protection services worker.
Daily Record Read more
Couple who raised $400K for homeless Johnny Bobbitt have 24 hours to turn over the money
A Burlington County couple must turn over by Friday afternoon what's left of the donations from a $400,000 GoFundMe campaign that they started for homeless man Johnny Bobbitt, a judge has ruled.
Inquirer Read more
This N.J. mayor just threw serious shade at Martha Stewart
Did you know Martha Stewart was born in Jersey City? Martha Stewart was born in Jersey City.
NJ.com Read more
Hoboken files lawsuit against Suez, demands it halt all capital improvement projects
The city is demanding that Suez, the company that operates its water system, halt all of its major capital projects and focus on preventing water main breaks throughout the city, according to a lawsuit filed Wednesday.
NJ.com Read more