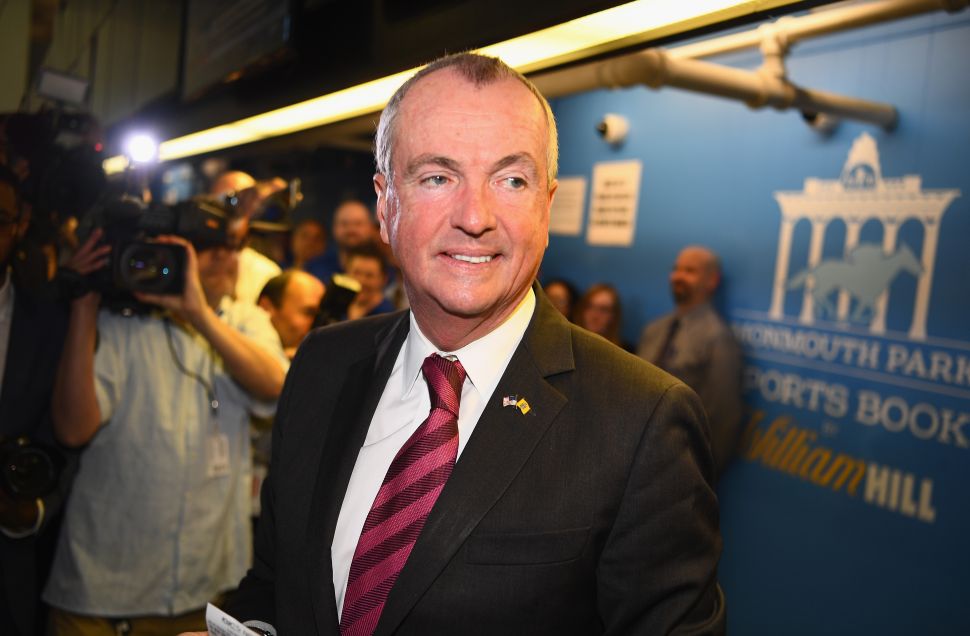 Gov. Phil Murphy wasn't telling anyone when he and his family departed New Jersey for a vacation to parts unknown.
But when a security team sweeps your plane several times and you board the plane from the tarmac, it sort of calls attention to your presence.
And so it turns out that now we know Murphy and his family are vacationing in Italy, presumably at the family's mansion in the Italian town of Parrano, according to NJ.com. Murphy bought the 23-room house and outbuildings in 2004 for more than $7 million, the website reports. A witness who was on the plane with the governor alerted the media to his presence.
Murphy is expected to be out of the state until August 8. Until that time, Lt. Gov. Sheila Oliver is serving as acting governor.
Quote of the Day: "Utilize the media to help promote people who do work in the office, give them opportunities to try and be out front where they might not otherwise be." — Former State Attorney General Chris Porrino, on advice given to him by former Gov. Chris Christie
Oyster Creek to be sold: Holtec to take down plant in 8 years
A Camden-based company specializing in nuclear and solar energy intends to purchase Oyster Creek Generating Station and decommission the nuclear plant in eight years, more than half a century earlier than previously planned.
Asbury Park Press Read more
Mystery solved: Phil Murphy is in Italy, where he owns $7.3M home
After his administration repeatedly refused to say where Gov. Phil Murphy is spending an 11-day vacation with his family, the secret is out.
NJ.com Read more
Civil Rights Coalition Calls For End to Core Element of NJ Bail Reform
A coalition of civil rights groups is calling for an end to the use of computer risk-assessment tools such as the one New Jersey uses in pretrial release decisions, saying these can worsen racial disparities in the criminal justice system and lead to greater incarceration.
NJSpotlight Read more
MacArthur and Kim go head-to-head as 3rd Congressional District race heats up
Rep. Tom MacArthur, President Donald Trump's closest ally in the New Jersey congressional delegation, cast himself as a pragmatic congressman willing to take on the president when necessary.
Politico Read more
Borgata owner MGM, NBA announce gaming partnership
MGM Resorts International, owner of Borgata Hotel Casino & Spa in Atlantic City, is the official gaming partner of the National Basketball Association, the first such deal between a professional sports league and a casino operator in the United States.
Press of Atlantic City Read more
Judge stops 3D-printed gun instructions from being posted online
A state judge Tuesday voted in favor of state Attorney General Gurbir Grewal, as a company that wants to publish instructions for untraceable 3D-printed guns has been ordered to not release the information.
The Record Read more
Get Arrested, Monmouth County Jail May Put You in Drug Rehab
A new program is being launched in one part of New Jersey to help people who have been charged with nonviolent crimes break the cycle of drug addiction.
NJ101.5 Read more
Confederate flag in front of Paris Inn in Wayne taken down by Vietnam War veteran
The Confederate battle flag that mysteriously appeared on a pole in front of the former Paris Inn in Wayne was removed on Tuesday by a Vietnam War veteran who said he could not stand the sight of it.
The Record Read more
Federal flood insurance saved hours before it was to expire, but future unclear
Hours before the program was to expire, the Senate sent a four-month extension of the National Flood Insurance Program to President Donald Trump's desk on Tuesday, and he signed it.
The Record Read more
Heading to community college in NJ? It will be free for some students come spring
Several thousand low-income students will be able to attend community college without tuition or fees next spring under a program Gov. Phil Murphy's office announced Tuesday.
The Record Read more
Controversial pro-Fulop super PAC is raising money again
A controversial super PAC originally set up to aid Jersey City Mayor Steve Fulop's aborted gubernatorial run has begun raising money again, apparently with the aim of helping Democratic congressional candidates in New Jersey.
Politico Read more
Porrino on how he used the media to help him do his job as attorney general
Chris Porrino had served as Gov. Chris Christie's chief counsel. But when he was selected to serve as attorney general, he knew it was a different situation.
ROI-NJ Read more
Murphy administration joins fight to challenge abortion 'gag rule'
New Jersey is joining the fight to challenge a rule proposed by the Trump administration which aims to deprive funding for health clinics that refer women for abortions, Attorney General Gurbir Grewal announced Tuesday.
NJ.com Read more
Fed grant to Hudson County on hold because of ICE-related restrictions
The state attorney general's office has asked Hudson County not to move forward with a $237,449 federal grant because the money would have required the county to assist in immigration enforcement.
NJ.com Read more
Court Approves Green Acres Swap to House Seaside Heights Carousel
A state appeals court yesterday upheld a disputed deal that transferred 1.37 acres of municipally owned beach property in Seaside Heights to the owner of a local pier to allow it to be rebuilt following Hurricane Sandy.
NJSpotlight Read more
Meadowlands Hotel Room Tax Quietly Expands Beyond Strict Limits
A revamped version of a special room tax on hotels in the Meadowlands district is set to take effect tomorrow, and it has the potential to put an end to sizable state bailouts for the region's longstanding tax-sharing arrangement.
NJSpotlight Read more
Tax relief, new programming for River Edge schools thanks to additional state aid
A significant increase in state aid to the school district will mean new programs for students, and tax relief for homeowners.
The Record Read more
Should the Seeing Eye dog be New Jersey's official state dog?
The horse is New Jersey's official animal. The blueberry its official fruit and the common blue violet its official flower. New Jersey is very close to having official bacteria – streptomyces griseus. What it does not have is an official state dog.
Daily Record Read more
Editorial: Don't condemn NJ bail reforms without the right data
One good reform deserves another.
That seems to be the theme behind an effort by a coalition of civil rights groups to scrap a computer-based algorithm that serves as a key tool in the state's widely praised bail reforms. The coalition fears that the program, which determines risk for pretrial release, will maintain or even increase existing racial disparities in the criminal justice system.
The Record Read more