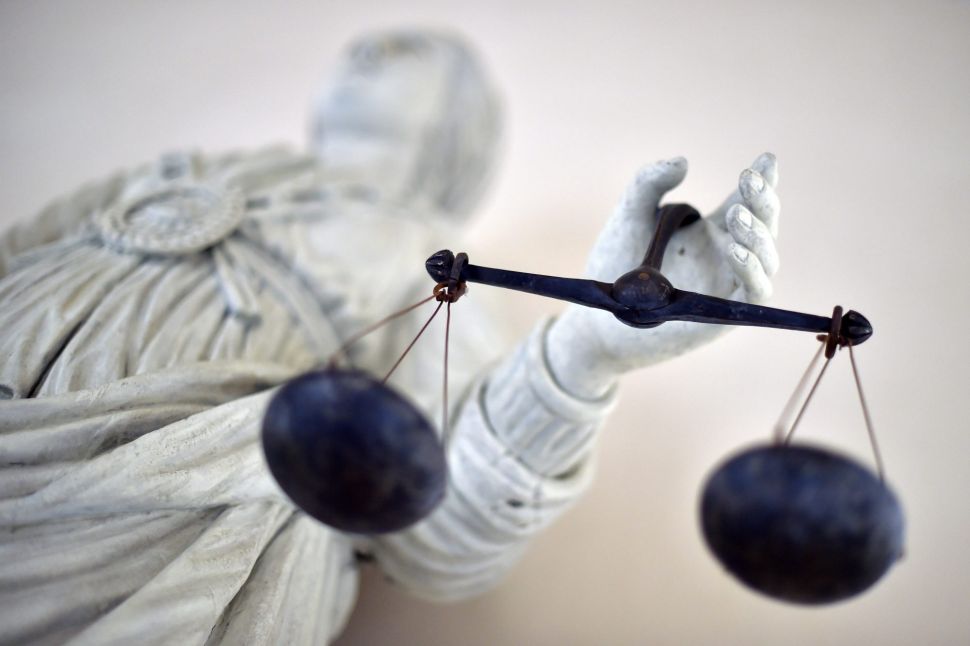 The state Supreme Court has sided with police in whether or not the public should be able to view dashcam video that might show officers acting inappropriately.
The court ruled 4-3 that state open public records law does not require dashcam videos to be made public, according to a report in The Record.
An advocate for transparency in public records expressed disappointment in the high court's ruling, saying dashcams either show the officers acted as required by law, or broke the law. In either case, the video lets the public decide if police actions were appropriate.
Preventing the public from viewing—and being outraged by—possible police misconduct "defeats the entire purpose of why the cameras were instituted in the first place," said open records advocate John Paff.
In their decision, the high court sided with a Tuckerton police officer whose dog attacked a woman during her 2014 arrest, according to the report. The officer was indicted, but criminal charges were dismissed by the Ocean County Prosecutors Office. The prosecutors office said it was happy with the court's decision, "which did an excellent job in construing the legislature's intent" to prevent the public from seeing such records, according to the report.
As a report by NJ101.5 points out, the ruling means the public will not be able to see such infamous New Jersey videos as police arresting a lawyer for invoking her right to remain silent, a video of an allegedly drunk off-duty state trooper who allegedly crashed into a woman's car and the infamous video of then-Port Authority Comissioner Caren Turner berating officers after her daughter was involved in a traffic stop.
In it's decision, justices said state Attorney General Gurbir Grewal or the legislature "can undo the damage caused by today's decision" by establishing whether and how police video recordings are made and maintained. The attorney general's office has already established such protocals for determing when videos involving police use of force—such as fatal shootings—should be released.
But, as NJ.com reports, Grewal had joined in the case to support barring public release of most other police videos.
Quote of the Day: "Most of the videos in that category that would either confirm that the officers acted appropriately or dispute that they acted appropriately are going to be shielded from public view. And that defeats the entire purpose of why the cameras were instituted in the first place." — Open records advocate John Paff, on a state Supreme Court decision exempting most police dashcam videos from public scrutiny.
Police dash camera recordings not public under state law, NJ Supreme Court rules
The public has no right under state law to review police dashcam videos to determine if a police officer acted properly during a high-speed chase or if the officer was justified in using non-lethal force to subdue a suspect, the state Supreme Court ruled Monday.
The Record Read more
Hero Cops, Wild Chases, Drunk Officers – Stories Dashcams Made Possible
A divided New Jersey Supreme Court has ruled that police dash camera video recordings are not available under state public records law — a ruling that could have a major impact on media organizations' ability to shine light on police activity.
NJ101.5 Read more
NJ Tossing Deportation Cases, Ruling Has 'Massive' Consequences
New Jersey courts and others are tossing out immigration cases after a recent U.S. Supreme Court decision, bringing more chaos to a system that was already besieged by ballooning dockets and lengthy backlogs.
NJ101.5 Read more
Trump just protected a big military base that's Jersey's 2nd-largest employer
Legislation sending new refueling tankers to Joint Base McGuire-Dix-Lakehurst, New Jersey's second largest employer, was signed into law Monday by President Donald Trump.
NJ.com Read more
Murphy tours flooded North Jersey area, promises help for those hardest hit'
Governor Phil Murphy toured flood-devastated homes along Jackson, Harrison and Cedar streets Monday evening.
The Record Read more
North Jersey flooding is worst since Floyd, says Little Falls mayor
Dana Gutschmidt wore jeans shorts and work boots Sunday morning as she picked through the ruined remains of her Cedar Street home.
The Record Read more
State Actions Help Keep Lid on NJ Health Insurance Rate Hikes
Although health insurance premiums are slated to increase in New Jersey next year, they will increase by less than half the amount they would have gone up without recent state policy reforms that were implemented to guard against the impact of federal changes to the Affordable Care Act, state officials said.
NJSpotlight Read more
Feds Are Planning NJ Medicare Crackdown
Look out, healthcare fraudsters in New Jersey: Federal prosecutors are coming for you, and they're bringing algorithms.
NJ101.5 Read more
New Jersey diner taken by surprise by Secret Service, Vice President Pence's visit
Partisan politics is dividing the nation, but the left and right have found a tasty middle ground at the Florham Park Diner.
Daily Record Read more
Atlantic City's Resorts sportsbook set to open Wednesday
Resorts Casino Hotel on Wednesday will become the fifth sportsbook to open in Atlantic City.
The oldest of AC's casinos, Resorts is celebrating its 40th anniversary throughout the summer. Last week, DraftKings, which operates the sportsbook operation for Resorts, became the first to offer mobile sports betting in New Jersey.
Inquirer Read more
What does N.J. think of Phil Murphy? Here's what his internal poll says.
Gov. Phil Murphy has reason to be pleased about New Jersey voters' impressions of him from his pollster's mid-year internal survey.
NJ.com Read more
Former Dem. House candidate backs Webber
A former 11th-district Democratic House candidate chose not to back his own party on Thursday and endorsed Republican Assemblyman Jay Webber over Mikie Sherrill for retiring Rep. Rodney Frelinghuysen's seat.
New Jersey Globe Read more
Map Zeroes in on Pollution in Delaware River Watershed
It is the longest free-flowing river east of the Mississippi, the source of drinking water for more than 15 million people and a dynamic natural resource providing billions of dollars in economic activity.
NJSpotlight Read more
'Super pooper' case: Court hearing gets heated over evidence arguments
A hearing in the case against a now-former superintendent accused of defecating near the town's high school football field got heated during arguments about what evidence could be used during the municipal trial.
Asbury Park Press Read more
Major victory for group hoping to stop relocation of Katyn statue
The group seeking to keep the Katyn monument at Exchange Place cleared a major hurdle on Monday when City Clerk Robert Byrne certified it has submitted enough valid signatures to halt the council's recent action that authorizes moving the statue to York Street.
NJ.com Read more
Biracial student was told 'KKK is coming for you,' but district did nothing, suit claims
A West Milford High School student and her parents are suing the school district for not taking appropriate action for a pattern of pervasive harassment, including physical assaults and racial taunts, over a seven-year period, according to a superior court complaint.
NJ.com Read more
NJ's first case of West Nile virus confirmed; more mosquitoes test positive
The first case of human West Nile virus has been confirmed in New Jersey, which is also seeing a sharp rise of mosquitoes that carry the infection.
The Record Read more
Murphy Names NJ's First Chief Innovation Officer
Governor Phil Murphy today named New Jersey native Beth Simone Noveck as the State's first Chief Innovation Officer (CIO). The move aims at advancing the Governor's promise to spur and expand innovation across the Garden State and within State government.
InsiderNJ Read more
Investigation: Monmouth Park owes $30 million to management firm
The nonprofit horsemen's group that controls Monmouth Park owes $30 million to a company it hired to manage operations at the landmark Oceanport thoroughbred racetrack, public documents examined by the Asbury Park Press and USA TODAY NETWORK New Jersey show.
Asbury Park Press Read more
Cop accused of leaving scene of crash files counter charge against crossing guard
A Jersey City police officer accused of leaving the scene of a Hoboken crash has filed a counter charge against the driver of the other vehicle, alleging she failed to yield to an emergency vehicle.
NJ.com Read more