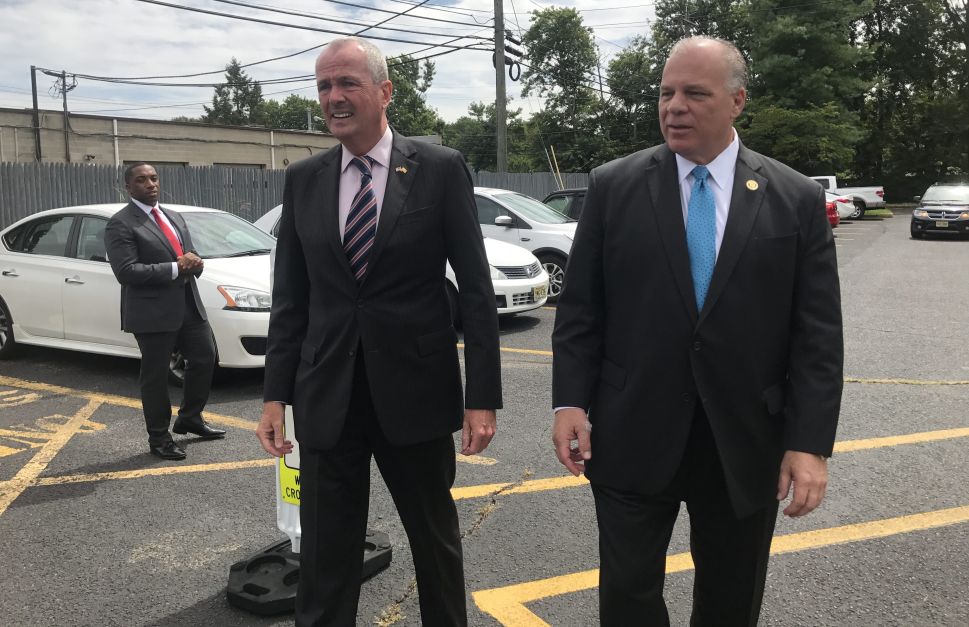 Senate President Steve Sweeney is pushing a plan to radically reshape the state's finances to head off what he says is an oncoming financial catastrophe.
Next week, he'll try to sell the proposal to Gov. Phil Murphy.
Sweeney told the Star-Ledger editorial board on Tuesday that he and Assembly Speaker Craig Coughlin plan to meet with Murphy next week.
The plan formulated by a blue-ribbon panel convened by Sweeney calls for restructuring public worker pensions, cutting benefits, new tolls and merging school districts. The aim is to address the state's looming pension crisis and to deal with structural instability in state funding.
New Jersey residents frequently complain about the state's crushing tax burden, but Sweeney will likely have a tough time getting Murphy, who is closely aligned with the state's powerful public workers unions, to back the plan.
Murphy's first state budget raised spending by more than $2 billion and proposed a variety of new, expensive programs such as free community college for low-income residents and expanding pre-k services. The governor contends residents, who bear one of the highest tax burdens in the nation, won't mind paying even more in taxes if they feel they are getting their money's worth.
Quote of the Day: "I want to give him a chance to digest what we've presented, take a look at it and I'm going to have a very straightforward conversation with him." — Senate President Steve Sweeney, on his upcoming meeting with Gov. Phil Murphy to discuss a plan to revamp the state's finances.
Top N.J. Democrats to meet on plan for huge changes for pensions, property taxes, tolls
New Jersey's top Democratic lawmakers plan to meet with Gov. Phil Murphy as soon as next week to discuss possible major changes to the way the Garden State's government operates — including reforming public-worker pensions, merging school districts and creating more tolls.
NJ.com Read more
New Plan for NJ Public Infrastructure – Let Developers Build It
What's a cash-strapped government in New Jersey to do when it wants to upgrade its infrastructure? Under a law signed Tuesday, they can partner with private developers to build things from roads to libraries to schools to information technology systems.
NJ101.5 Read more
Murphy declares state of emergency in Bergen, Essex, Monmouth, Ocean and Passaic counties
Gov. Phil Murphy has signed an executive order declaring a state of emergency in Bergen, Essex, Monmouth, Ocean and Passaic counties to allow state resources to deploy to communities ravaged by this past weekend's devastating flooding.
The Record Read more
Democrat lawmakers want ICE spokesman in New Jersey dismissed
Democrat lawmakers in the state demanded the dismissal of the spokesman for Immigration and Customs Enforcement in New Jersey citing his ties with anti-Muslim hate groups.
The Record Read more
Tougher Ethics Rules for Council That Has Key Role Investing NJ Public Pensions
When members of the State Investment Council, a panel that plays a key role in the handling of New Jersey's public-worker pension assets, hold their next public meeting they will be working under tougher ethics rules thanks to a bipartisan bill Gov. Phil Murphy recently signed into law.
NJSpotlight Read more
FERC Rebuffs Requests For It to Reconsider Approval for Penneast Pipeline
The Federal Energy Regulatory Commission has brushed aside requests to reconsider its approval of the PennEast pipeline, a step that allows opponents to challenge the project in court.
NJSpotlight Read more
Midterm election poll: Tom MacArthur, Andy Kim are in a virtual tie
In a battleground district for Democrats hoping to capture control of the House in November, Republican Rep. Tom MacArthur and Democratic challenger Andy Kim were virtually tied in a Monmouth University poll released Tuesday.
The Record Read more
Atlantic City train shutdown feeds fears for the future
Amid lengthening lines of business travelers carrying briefcases and wheeling suitcases in 30th Street Station's concourse last week, two tanned, middle-aged men, dressed like it was a lazy Saturday, boarded a train from a virtually empty platform.
Inquirer Read more
NJ gaming revenue up 12.8% thanks to internet, sports betting, new casinos
Total New Jersey gaming revenue increased 12.8 percent in July, to $302 million from $268 million in 2017, thanks to the growth of internet gambling, the introduction of sports betting and the opening of two new casinos in Atlantic City.
Inquirer Read more
The Murphys want to give the NJ governor's mansion a makeover. And maybe even move in
For a stately Greek Revival set on 11 acres featuring Italianate gardens, the governor's mansion in Princeton had a strikingly loose parking policy when hosting large numbers of visitors.
The Record Read more
NJ sports betting: Meadowlands has top revenues in July; Monmouth Park tumbles
The FanDuel Sportsbook at The Meadowlands Racetrack in East Rutherford is out of the starting gate quickly, needing just 18 days to become the leader in gross revenues among the five sports books that operated in the state last month.
The Record Read more
Their First Temple Was a Tent. Now Sikhs Walk New Jersey's Halls of Power.
In the 1980s, when Sikh immigrants from India began arriving in New Jersey in significant numbers, they lacked a proper house of worship, so they set up a tent on a patch of dirt and began to pray.
New York Times Read more
N.J. capital city's water has lead in it, and the utility ignored an order to fix it
New Jersey's capital city has to pay the state a $13,000 fine after failing to make mandated improvements to its water system — an outdated infrastructure that is contaminating the water residents use.
NJ.com Read more
Passaic Councilwoman Zaida Polanco laid to rest, remembered for helping 'a lot of people'
Passaic Councilwoman Zaida Polanco, who died at age 41 last week, was laid to rest Tuesday morning.
The Record Read more
Long-time FDU engineering professor claims retaliation in suit
A long-time engineering professor at Fairleigh Dickinson University has filed a lawsuit against his employer claiming he was retaliated against after he objected to the reassignment of his assistant to a teaching post, even though the assistant held an immigration visa specifically to do research.
The Record Read more
Group seeks to shift Asbury Park to 3 ward system
A grass-roots group wants to shift the city's government to a three-ward system with a city council member elected directly by each ward.
Asbury Park Press Read more
Merchants on Paterson's Union Avenue say they will hire off-duty cops for high crime zone
Merchants along a crime-plagued stretch of Union Avenue said they would be willing to pay for off-duty police officers to patrol their streets as an alternative to having the area designated a "hot spot" where businesses would have to close at midnight.
The Record Read more
Middletown 'town center' plan advances after public input denied again
Monday night's meeting of the township planning board began with residents loudly booing a decision to deny public comment on a proposed 400,000-square-foot retail center and its accompanying 400 residential units and the scene only got more chippy as the night went on.
Asbury Park Press Read more
Electric scooters come to Hoboken — but don't get too charged for their return
Hoboken residents whizzed around Pier 13 on electric scooters last week, but they may need to wait a while before they can ride one again.
NJ.com Read more