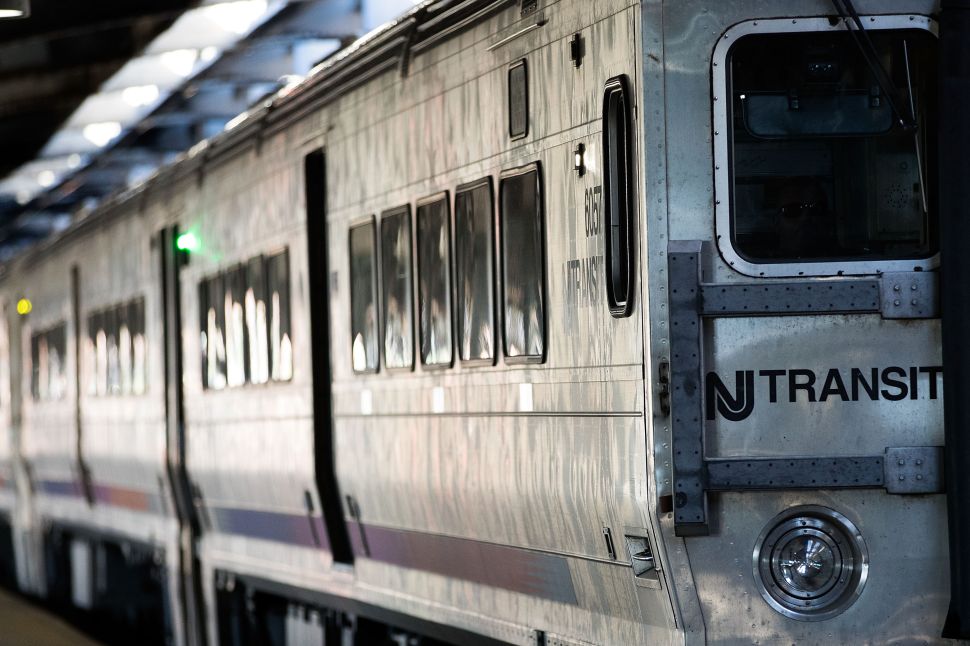 Gov. Phil Murphy's response last week to the ongoing problems at NJ Transit was to call on the legislature to remove state-residency requirements for engineers. But, Senate President Steve Sweeney says Murphy doesn't need additional legislation.
NJ Biz reports that Sweeney says Murphy's administration already has a Residency Review Committee, which has the power to waive the residency requirements. The requirements, Murphy says, makes it difficult to hire people for open engineer positions.
Sweeney put out a statement urging the governor to take advantage of that authority as "the most effective way to quickly put more engineers to work and to alleviate a shortage that has been a problem in the making for years."
NJBiz reports the legislature had also already been moving on legislation long before Murphy called for it, with both the state Senate and Assembly taking initial action on it in early June.
Murphy campaigned on a pledge to fix the problems with NJ Transit, but now—seven months into his term—has said he didn't realize what bad shape the agency is in. He has blamed this summer's woes on former Gov. Chris Christie.
Commuters, however, complain that service this year is worse than during last year's so-called "Summer of Hell." They say a large part of the problem is that agency this year does not communicate problems and cancellations in a timely manner, leaving would-be riders stranded at the last minute.
Murphy and transit officials have promised to improve communications.
Quote of the Day: "Chris and I figured out what we could agree on, and we worked together to get it done. I had some of the brutal fights of my life with him, but we're friends." — Senate President Steve Sweeney, on his relationship with former Gov. Chris Christie.
In Murphy vs. Sweeney, New Jersey needs to come out on top
Gov. Murphy insists he and Steve Sweeney, the New Jersey Senate president, have a "good relationship."
Inquirer Read more
Sweeney Says It's Time to Get Serious on Consolidating Schools
The debate over consolidating public schools in New Jersey is almost as old as the public schools themselves, with skirmishes over the issue dating back to the 1890s.
NJSpotlight Read more
Explainer: Platinum vs. Gold Health Insurance Plan for NJ Public Workers
Proposals to trim healthcare benefits for New Jersey's massive public workforce are again a topic for debate, thanks to recommendations from a bipartisan panel assembled by Senate President Steve Sweeney to tackle some of the state's largest fiscal woes.
NJSpotlight Read more
Moran – Why progressives should back Sweeney's spending cuts
Progressive voters gave Phil Murphy a decisive win last year after he promised a muscular expansion of government that would guarantee every child a shot at college, every toddler a quality preschool, and every commuter a reliable train or bus at affordable rates.
NJ.com Read more
Mulshine – NJ Transit: Murphy's being chased by a runaway train
Murphy's being chased by a runaway train
As I watched that Trenton hearing last week on NJ Transit, an image came into my mind.
NJ.com Read more
Sweeney: Committee can waive residency requirement for NJ Transit engineers
The Legislature's top Democrat is pushing back against Gov. Phil Murphy's calls for a bill that would remove the state-residency requirement for New Jersey Transit engineers, saying his administration already has the ability to waive the requirement.
NJBiz Read more
Murphy urges Lincoln Tunnel commuters to pursue other options
Gov. Phil Murphy didn't sugarcoat how difficult it could be for commuters traveling to the Lincoln Tunnel once road construction begins this weekend.
NJ.com Read more
New Jersey receiving $10M grant to upgrade voting machines
New Jersey will receive nearly $10 million from the federal government to upgrade its election equipment and improve security, the U.S. Election Assistance Commission and Gov. Phil Murphy's administration announced Friday.
Politico Read more
11 ways Cory Booker is wooing progressives as he eyes a run for president in 2020
Will he or won't he?
U.S. Sen. Cory Booker, D-N.J., faces a decision after the midterm elections on whether to seek the Democratic nomination for president in 2020, where he is considered a top-tier choice to take on President Donald Trump.
NJ.com Read more
NJ GOP Leader Not Worried About Losing Key Congressional Races
Democrats hoping to take control of Congress in November's midterm election are eyeing five key congressional seats in New Jersey currently held by Republicans. But Doug Steinhardt, chairman of the New Jersey Republican State Committee, conceded nothing as he discussed his party's fight to hold onto those seats with Michael Aron, chief political correspondent of NJTV News.
NJTV News Read more
Gabby Gifford's gun group endorses Lance
Giffords, the gun-safety organization founded by former Rep. Gabby Giffords, on Friday endorsed Rep. Leonard Lance over former assistant Secretary of State Tom Malinowski.
New Jersey Globe Read more
Will Lincoln Tunnel backups from Route 495 construction mark the final straw?
If traffic on the main Manhattan access to the Lincoln Tunnel helix gets as nasty as police are predicting, might we be seeing the beginning of the end of North Jersey's long love affair with the car?
The Record Read more
Murphy gives go-ahead for N.J. to sell former disabled institution to Woodbridge
The state of New Jersey will soon get $5 million from its sixth-largest town for a piece of land that housed an institution for the disabled closed by Gov. Chris Christie four years ago.
NJ.com Read more
Jersey businesses say tariffs hurt; legislators weigh relief
New Jersey businesses say steel and aluminum tariffs imposed by President Donald Trump's administration are beginning to pinch, and lawmakers are pushing measures to ease the pain.
Associated Press Read more
Brick flooding: Gov. Phil Murphy vows to 'do everything we can' to help residents recover
Water poured into Jon Huston's Vaughn Court home, reaching his knee — 24 to 28 inches — in what seemed like an instant.
Asbury Park Press Read more
A school board candidate's history of racist Facebook posts
Richard Jankowski used Facebook to spew plenty of race-based vitriol – against former president Barack Obama, NBA player LeBron James or anyone supporting affirmative action – but in August 2014, as protesters poured into the streets over the police shooting of Michael Brown in Ferguson, Missouri, Janowski boiled over.
Inquirer Read more
Trenton's first openly gay mayor an early backer of medical marijuana, marriage equality
As a New Jersey lawmaker, Reed Gusciora led battles to legalize gay marriage and medical marijuana long before the two causes won popular approval across the country. In 2012, Gov. Christie singled him out for ridicule before following through on a threat to veto the Democratic assemblyman's hard-fought marriage equality bill.
Inquirer Read more
Palisades Interstate Parkway Police Chief Michael Coppola resigns following drug arrest
The embattled chief of the Palisades Interstate Parkway Police Department resigned this week, just days after authorities arrested him for allegedly buying cocaine and having it shipped to his post office box.
The Record Read more
Should Asbury Park split into three wards? Voters will decide
In November voters here will be handed a referendum to decide if the city should shift to a three-ward system or maintain the status quo of council members representing the whole city.
Asbury Park Press Read more
Toms River Regional superintendent's $10K bonus delayed
Toms River Regional Superintendent David M. Healy's $10,150 merit bonus was put on hold Wednesday night when the absence of two Board of Education members meant there weren't enough votes to approve it.
Asbury Park Press Read more
Rockaway Township Mayor Michael Dachisen funeral arrangements set
Visitation and funeral arrangements are set for Mayor Michael Dachisen Sr., who died unexpectedly Wednesday of a heart attack.
Daily Record Read more
Lakewood Eagle Ridge fraud lawsuit: Conspiracy must be spelled out, judge says
Residents opposed to construction of homes on Lakewood's Eagle Ridge Golf Club need to refile their consumer fraud lawsuit against the developer, a judge said Friday.
Asbury Park Press Read more
Editorial: Residency requirement is slowing down NJ Transit
A residency requirement for essential jobs such as train engineers at NJ Transit hearkens back to horse-and-buggy days. Maybe it was a good idea in someone's mind once, but it has no place in our fast-paced world, and especially in the metropolitan area, one of the hubs of the global economic swirl, where every second counts when moving goods, services – and people.
The Record Read more