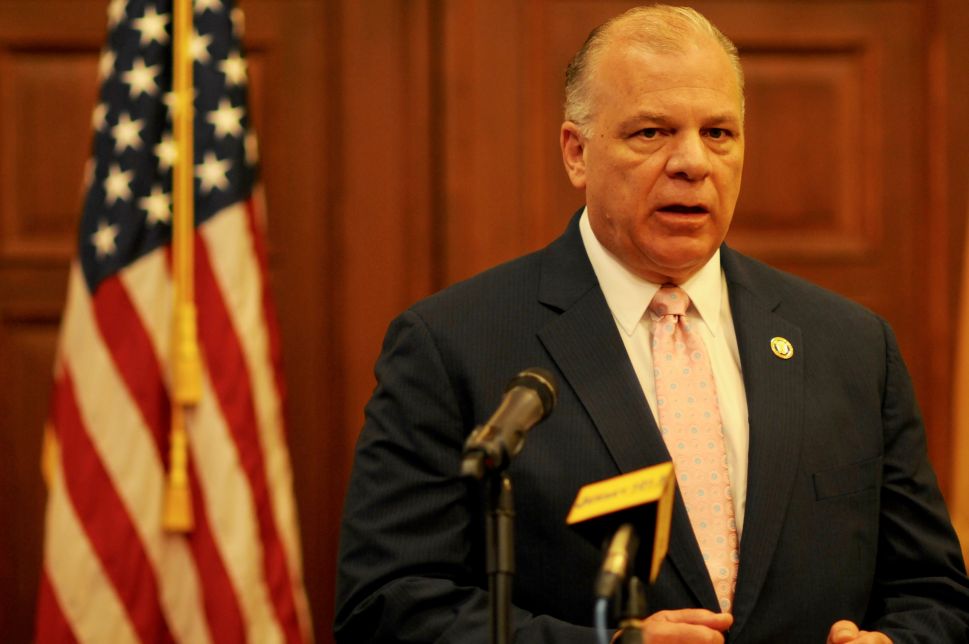 New Jersey's Constitution makes its governor one of the most powerful in the nation. But, this year, the talk in Trenton is about the power of another Trenton leader—Senate President Steve Sweeney.
As an NJ.com article points out, Sweeney is thought to have come out on top when the two men clashed over the state budget earlier this summer. He also saw a plan he had long pushed to reform school funding in the state adopted. Now, the senate president is looking to remake state finances with a broad series of proposals recommended by a bi-partisan blue ribbon panel he convened.
The plan calls for everything from using tolls to pay down the state's pension deficit to reforming the public worker pension program and reducing worker benefits.
The proposals are likely to put him into conflict with Murphy, who is closely alligned with the state's powerful public workers' unions.
Sweeney has said he'll take his plan on the road to sell it directly to New Jersey residents, who struggle with one of the highest tax burdens in the nation. He's noted that while public workers make up 20 percent of the state population, that leaves 80 percent who could support his plan.
It's hard to say how successful Sweeney will be. Murphy has his constitutional powers to fall back on, and Sweeney might find it difficult to muster support from within his party for tackling tough issues and taking on the public unions.
A report in ROI-NJ also has critics noting that the report by Sweeney's panel issued recommendations, but no plan for action, and so it could just be shelved like other calls to get New Jersey's financial house in order.
But, as Carl Golden, the former press secretary for Republican Govs. Tom Kean and Christie Whitman, told NJ.com, Sweeney is talking about affordability issues that most state residents have long complained about.
"He really has taken control of the agenda," Golden said in the report. "He's taken it totally away from the governor. No question that Sweeney has now emerged as the strongest political figure in Trenton, at least for the moment."
Quote of the Day: "Recommendations that do not include costs to implement and expected savings, along with a timeline of implementation, is not really a plan; but, rather, another committee report." — Regina Egea, president of the Garden State Initiative, on the report by the state Economic and Fiscal Policy Working Group .
NJ taxes: 5 ways experts think we can cut them
Advertised as an honest reckoning with New Jersey's gravest fiscal woes, a report on state and local government arrived Thursday with its fair share of thought-provoking proposals.
Asbury Park Press Read more
Is this Democrat (and not Phil Murphy) New Jersey's strongest leader?
Traditionally, the state Senate president is the second-most powerful elected official in New Jersey — with only the governor out-ranking him.
NJ.com Read more
Did Economic and Fiscal Review go far enough?
The report the Legislature's Economic and Fiscal Policy Review Committee released on New Jersey identified a number of areas the state needs to address, offering suggestions on some.
ROI-NJ Read more
Sorry, angry NJ Transit riders: Broken agency could take years to fix
In the 1990s, NJ Transit was considered an exemplar of public transportation throughout the country.
The Record Read more
Kean: Lifting residency requirements would help NJ Transit staffing issues
State Senate Republican Leader Tom Kean Jr. believes lawmakers can help address problems at NJ Transit by lifting residency requirements for state officials, although state Senate President Steve Sweeney remains skeptical.
Politico Read more
NJ senators oppose Supreme Court nominee Brett Kavanaugh as confirmation hearing set
Senators Cory Booker and Bob Menendez both issued statements Friday against the nomination of Judge Brett Kavanaugh to the Supreme Court on the day his confirmation hearing was scheduled for next month.
The Record Read more
N.J.'s Bob Menendez is top foreign relations Democrat in Senate. His campaign chief is a lobbyist for Qatar.
Michael Soliman is a longtime aide and confidant to Sen. Bob Menendez. Now the New Jersey Democrat's campaign chairman, he naturally wants his boss to win reelection this year.
Inquirer Read more
Kenilworth 'super pooper' suspect: $48K payout, 5 months paid leave and no talking
How much does it take to get rid of a superintendent accused of illegal defecation at another school district's athletic field?
Asbury Park Press Read more
Back to school bonus: Mandatory recess is now law in New Jersey
Students across New Jersey who think they have too much schoolwork may look forward to at least this when they return to class next month: Recess will be a requirement.
Asbury Park Press Read more
Suspects Have Tried to Kill NJ Cops at Least Four Times This Summer
The shocking ambush of two Camden metro police officers during National Night Out wasn't the only time this summer that police officers in the Garden State almost lost their lives.
NJ101.5 Read more
Court Rules Jersey City Can Keep Some Funds from Failed Journal Square Project
A municipality cannot force a developer to prepay fees before construction that would come due as part of a tax abatement, but it can require and keep payments to an affordable-housing trust fund — even if the project is never built — a New Jersey appeals court panel ruled on Thursday.
NJSpotlight Read more
Town didn't want church to sit empty. So it bought it and will turn it into a bistro (with booze!)
St. Gregory's Catholic Church stood like a sentinel at the corner of the White Horse Pike and Somerdale Road in Magnolia for nearly six decades.
NJ.com Read more
People who don't live in his city are helping pay top cop's $200K salary
Newark's public safety director Anthony Ambrose will to continue to oversee the city's police and fire departments for a second term — but won't receive a penny from city coffers.
NJ.com Read more
Renters getting evicted will soon get free lawyers in N.J. city
Newark has taken the first step to codify into law its intent to provide low-income tenants facing eviction with free legal help.
NJ.com Read more
Parkway cops chief allegedly used company P.O. box in mail order cocaine scheme
The post office box allegedly used to receive shipments of cocaine by a police chief arrested earlier this week is registered to a company owned by the chief, according to the police reports.
The Record Read more
Editorial: We're not going to 'Abolish ICE.' So why is this Republican lying?
Jay Webber is falsely accusing his Democratic opponent for Congress, Mikie Sherrill, of saying she wants to abolish the U.S. Immigration and Customs Enforcement agency.
NJ.com Read more