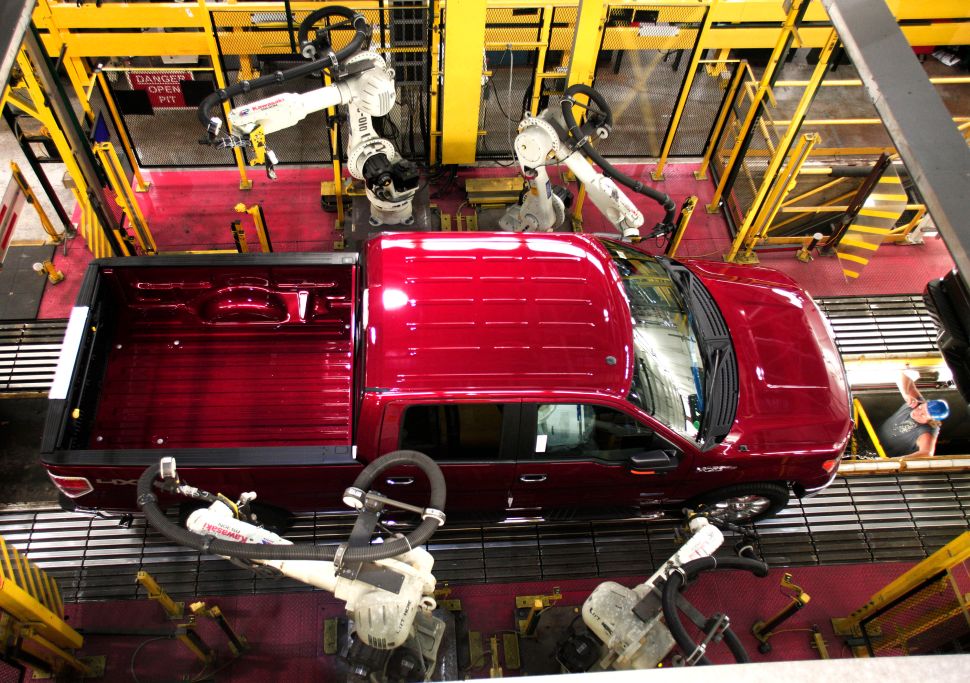 As the trade delegates from the U.S. and China met in Washington this week to resume negotiations over trade terms—a meeting from which President Donald Trump didn't "anticipate much" in terms of results—a fresh round of tariffs on $16 billion worth of imports from each country took effect in both directions on Thursday.
Similar to the Trump administration's previous tariff battle against the EU, this round of tit-for-tat with China will do the worst damage to the American automobile industry, a sector already beleaguered by heightened metal tariffs earlier this year.
Automobiles account for over half of the American products subjected to new Chinese tariffs in this round. In the past, automobile imports were only charged a 2.5 percent tariff. Per the new rates, an additional 25 to 40 percent will be slapped on every category from compact cars to SUVs to cargo trucks.
That will affect even the most iconic made-in-America, sold-in-America models, like Ford F-150, which Ford began to sell in China last year and has since been marketing heavily.
In fact, the Ford F-150 was already a victim of Trump's trade war before the latest round of Chinese tariffs was announced.
Like many American carmakers, Ford saw a surge in production costs following the tariff hikes on all aluminum and steel imports, which were announced in March and took effect in June of this year. A top automobile logistics manager in Michigan recently told The Economist magazine that the F-150 was "hit hard" by the raised tariffs on Canadian aluminum.
Despite the fact that F-150 is assembled in the U.S. and uses more American parts than most other cars, about 30 percent of each truck is made of foreign material, half of which come from Canada and Mexico, according to The Economist's analysis.
Unlike Ford, other American carmakers use a much larger percentage of foreign parts than F-150—and face intense cost pressure as a result of trade disputes.
After visiting a number of automobile plants in Michigan recently, a group of Economist reporters found that, although most executives in the auto industry support Trump's trade goals, they were frustrated with his tactics. "The metal tariffs are hurting the state's car-parts firms," the reporters observed. "'All prices are going up,' says a supplier of valves. A steel-mill owner expects to charge customers more and urges those with cash to 'carry some inventory.' A machine builder who uses lots of steel fears that higher costs could make his clients less competitive, crimping their production and in turn demand for his product—a 'downward spiral for us and our customers.'"
In its second-quarter earnings report last month, Ford blamed the trade war for $145 million in extra cost and a 50 percent drop in profit. Ford's worst-performing market for the quarter was China, where it recorded $483 million in losses.
Ford estimated that for the entire year the trade tensions would result in $500 million to $600 million in extra cost. The eventual impact will likely be much larger, because that estimate was made before Beijing announced tariffs on $16 billion of U.S. products (on August 8).