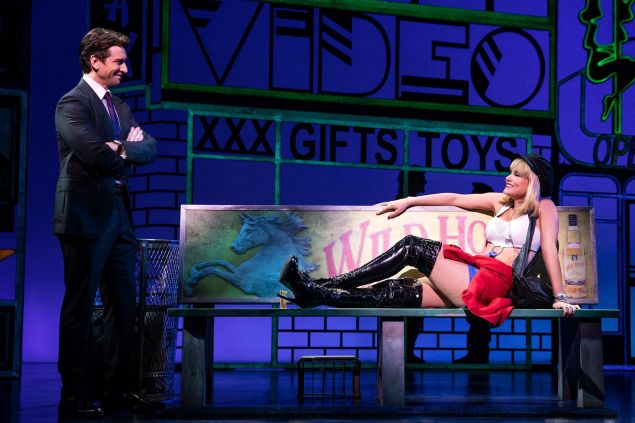 Beyond Julia Roberts' unrelenting charm and repeatable lines like "Big mistake. Big. Huge" and "Cinder-fuckin-rella," 1990's Pretty Woman is perhaps most remembered for its outfits, costume-designed by Marilyn Vance. The blonde wig, cutout minidress, "so-'90s-it-hurts milk chocolate belted dress covered in white polka dots" and off-the-shoulder red gown with a sweetheart neckline are chief among them. Much like the glass slippers in the servant-to-served fairy tale it emulates, the outfits in this "hooker"-to-haute-couture story do not subtly hint at a character's elevated status. No, they beat you over the head with each changing chapter.
This protagonist—a sex worker named Vivian—meets a grotesquely wealthy businessman who dismantles and sells pieces of foundering companies, and is offered a lump sum, and ultimately a whole new wardrobe, to spend the week with him. Their transactional relationship becomes emotional (for him, that seems largely to develop based on how she pulls off expensive looks) and turns into love. Her clothes across this week shape a narrative, ambivalent as to whether it's a regressive male fantasy or example of early third wave feminism…luxury porn or mild critique of class divides. These confusions are at least partially the result of the film itself being a candy-coated rebrand of a much darker script with a wholly different ending. Pretty Woman: The Musical (starring Samantha Barks as Vivian and Andy Karl as Richard Gere's Edward) takes a film—which, even with all of those complications, can still be enjoyed as a fascinating time capsule bearing moments of surprising nuance—and barely adapts it. Rather, it flattens it, replacing any of its emotional complexity, (vanilla) grit, and amusing datedness with saccharine music—until all that remains is a conservative story of class symbols told in an escalating catwalk of expensive dresses and jewels.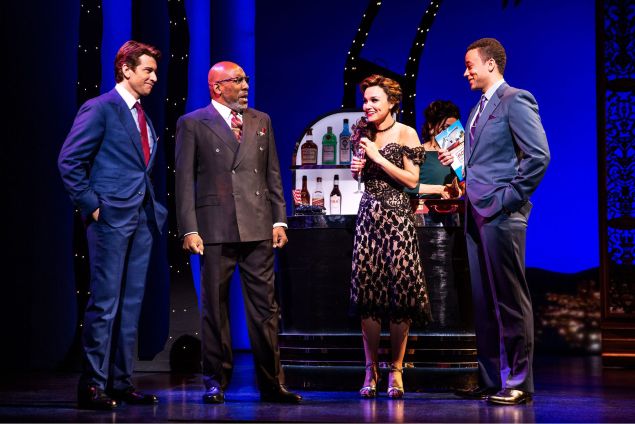 The musical's costumes (designed by Gregg Barnes) reference and mildly update the original outfits to be more palatable to contemporary sensibilities (fewer shoulder pads, less busy lace, no Bahama short suit). But in lightly muting their '90s specificity, the story's reflections of an actual moment in American time falsely read like they're meant to be timeless.
Pretty Woman: The Musical almost totally maintains the famous original outfit Vivian wears: the cutout blue and white mini-dress (with a slightly altered cut for the top), patent leather thigh-high stiletto boots, banged blond bob wig and red blazer. Just like in the movie, the big reveal here is that the morning following her and Edward's first night of transactional flirtation, strawberries and oral, Edward wakes up to an unexpected sight. Somehow he hadn't realized that wig-like blonde hairdo was in fact a wig, and what he now sees are her wholesome, unsheathed brown locks: the "pretty woman" that's been hiding beneath the "hooker." And so, before she leaves, he asks her to stay the week with him. Though of course she'll need some dresses first.
The first outfit we see Vivian wearing post-transformation is the "black Armani cocktail dress with the lace trim"—recommended to her by a hammy hotel manager-cum-fairy godfather kind enough to treat her like a person. (After a pair of snobby Rodeo Drive retail workers reject her, the hotel manager facilitates a non-traumatic shopping experience to procure the dress.) Framed by the luxury of the Beverly Wilshire lounge, her reveal is a test of sorts that she passes with flying colors. "You're late," she tells Edward. "You're stunning," he replies. It begs the question: What if she didn't so immediately transform from the picture of a Hollywood (or Broadway) version of a sex worker into the picture of Hollywood feminine elegance? Would she be out on the street?
Once Edward finds out about how she'd been kicked out of a store, he takes her on yet another shopping trip on Rodeo Drive, where the ensemble performs the famous movie montage of, er, empowering costume changes, while retail workers bleat "Black dress/white dress/stay out all night dress!" Now in white gloves, a sun hat and stiff buttoned dress, she revisits the Rodeo Drive boutique that snubbed her the day prior, mountains of purchases in hand, and delivers the famous lines: "Big mistake. Big. Huge." She can now rub the commission the classist saleswomen won't get in their faces by showing how abruptly she's surpassed them on the social ladder—evidenced by the boutiques she's been shopping at.
When Edward flies Vivian to San Francisco to see La Traviata, the scene is completed with a replica red gown (a bit more relaxed in the Broadway production—less corset-like and cumbersomely '90s.) Of course, all she lacks is an unfathomably expensive necklace. He presents it to her, and, as in the film, as she reaches out to touch it, he snaps the box shut and she quickly withdraws her hand, laughing. This tiny-turned-iconic improvised moment in the film is here robotically repeated. While the chemistry of the actors in the film sold it as charming and playful, here, lacking that, it just feels like it dangles wealth like a carrot over Vivian—and snapping that box shows just how easy it'd be for this fairy tale mobility to either vanish, or bite back.
Vivian's summery silhouettes become less traditionally girly toward the end of both the film and the musical, trying to suggest that a pragmatism has started to permeate her outlook on her hired situation. (Both film and musical clearly equate agency with the less-feminized outfits she wears later in the story, which, interestingly, wander backwards into a very '80s feminist notion of gender, power and labor.) As she contemplates who this "really work[s] out for," she wears a Working Girl on vacation short suit in the movie, but the musical gives her a full, more contemporary power suit: white and high-waisted pants and a white blazer, removed to reveal a satin halter top. In a scene by the hotel pool, she speaks with her best friend Kit, a sex worker who has conversely not been taken under a business tycoon's wing. In a studded leather jacket, with a dangling crimped strip of hair, Kit is as conspicuous at the Beverly Wilshire as Vivian herself (now nonchalantly exuding formality) would have been a mere week prior.
As with any rags-to-riches story, the outfits declare rather than reflect the arc. They each advertise a new chapter in a story of unlikely class-mobility, one that nods towards capitalism-skepticism while sustaining a through-line of capitalism-reverence. With their '90s kitsch value dulled, the costumes in the musical somehow trigger nostalgia—and thereby its regressions—without evoking the period-specific fun of nostalgia. They reveal a musical trying to emphasize a woman's agency, but mostly doing so by her access to material goods.
The "bibbidy bobbidy boo" factor of a person's sudden visual transformation, via the acquirement of new commodities impacting their social and self-worth, underscores how, in a society where there's now a billionaire boom, where the "three richest Americans have the same amount of wealth as the poorest half of the U.S. population," mobility is a matter of an elaborate fantasy of passing. (See Queer Eye for the lovely, compelling, "woke" and still absurd version of this narrative.) It's a story that ultimately says if you're poor in a deregulated corporate society without safety nets, only fairy tale logic (paired with good looks, good dresses and, in this case, being white) will save you. Even as it ends on a vaguely progressive note of mutual rescue (Edward himself is rescued from all the vacuity and escargot, and becomes a slightly less mean capitalist), it ultimately doesn't critique so much as perpetuate the sale of that logic.
In translating Pretty Woman from a film—with its ability for nuance-revealing close-ups—into a Broadway Spectacle, it becomes easier to look toward costume than actors' expressions for narrative and commentary. Lacking the distraction of character depth, the musical feels even more rooted in the idea that the main character's worthiness of upward mobility lies in her ability to pass in whatever wealth-exuding outfit is thrown her way. Luckily she does pass, and the musical strains to stress her agency. But it also, far more than the film, strikes a fairy tale tone. And the fairy tale—where the protagonist must impeccably perform a series of superficial social, sartorial, (and sexual) tests to prove worthy of a life without hardship—mostly seems like a familiar capitalist patriarchal nightmare, with show tunes.