Is summer becoming the new cuffing season? We've recently seen Chris Pratt and Katherine Schwarzenegger enjoy a maybe, definitely staged picnic, and Ashley Benson and Cara Delevingne pair up, but let's not forget the rapid-fire relationships that ignited it all. First came Ariana Grande and Pete Davidson, then Justin Bieber and Hailey Baldwin, and now Priyanka Chopra and Nick Jonas have gone from "casual dating" to a diamond ring in two months.
The former Bollywood star and middle JoBro are reportedly engaged now. Jonas apparently shut down Tiffany & Co. to select the perfect bauble, which he presented to his girlfriend on July 18, her 36th birthday.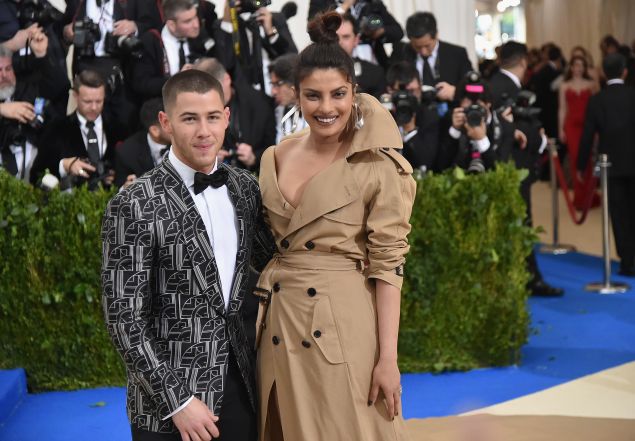 The couple hasn't publicly confirmed their relationship status, but they're rumored to be making a big announcement this weekend. According to DNA India, Chopra and Jonas are throwing an engagement party in Mumbai on Saturday, as the Quantico and Baywatch actress requested that her friends and family reserve August 18 for the celebration, which may include a—gasp!—acknowledgement of the massive diamond ring recently spotted on Chopra (she's already flashed the sparkler on Instagram).
It's not like they've been trying to hide their relationship—they attended a live performance of Beauty and the Beast over Memorial Day weekend, and shortly thereafter went to a Los Angeles Dodgers game. Also, they rode Citi Bikes over the July 4 holiday, and in 2018 that is a big step.
The pair also took a jaunt to London, which is where Jonas is believed to have proposed and where they went on a very public double date with Joe Jonas and his fiancée, Sansa Sark/Sophie Turner. Less photographed was their trip to see Chopra's pal Meghan Markle and Prince Harry at their home in the Cotswolds.
Chopra and Jonas have even had their meet-the-parents moment. Chopra attended Jonas' cousin's wedding in New Jersey, while the 25-year-old met Chopra's mom when he went to her friend's wedding in Mumbai earlier this year—that makes this second getaway to Mumbai seem like as good a place as any for an engagement announcement.
Jonas' entire family is expected to come along on the trip so that the future in-laws can all meet (Chopra is already there, filming a movie). No word yet on if the Duchess of Sussex and Prince Harry will be heading to India for the possible extravaganza.
Chopra did make the invite list for their nuptials in May, so we're assuming the former Suits actress will be in attendance if Chopra and Jonas tie the knot. Given the warp speed at which they're moving, the wedding could be very soon. But Chopra should make sure her date doesn't overlap with Princess Eugenie's big day on October 12.