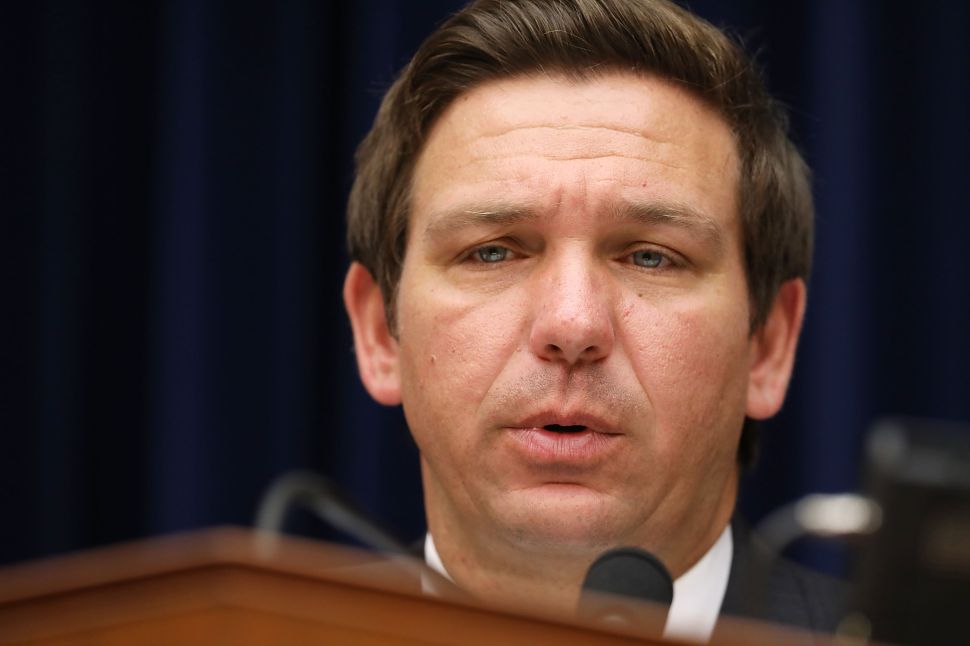 Florida's Republican candidate for governor, Ron DeSantis, made it almost 12 hours into his general election race with Democrat Andrew Gillum before being extremely racist on live television.
Gillum, the current mayor of Tallahassee, is a black, progressive candidate who swept to the top of the Florida Democratic primary on Tuesday night in a massive upset that stunned party insiders, riding a wave of grassroots support and an endorsement from Bernie Sanders. DeSantis is a Trump-endorsed congressman best known for his extremely weird campaign video of his daughter "building the wall" with play blocks, who also allegedly likes to rant about conspiracies to Fox's TV makeup artists. On Wednesday morning, DeSantis sat down with Fox News and decided to blow an extremely loud dog whistle to every racist south of Georgia during a live interview.
"The last thing we need to do," De Santis said, "is to monkey this up and try to embrace a socialist agenda."
Florida's Democratic apparatus was pretty quick to call it what it was.
"It's disgusting that Ron DeSantis is launching his general election campaign with racist dog whistles," Terri Rizzo, the chair of the Florida Democratic Party tweeted, linking back to the clip. 
Rizzo pointed out that DeSantis' weird use of "monkey" is a perfect example of a "dog whistle," a rhetorical technique that's been getting a whole lot of use lately.
A dog whistle, the analogy goes, is something that dogs can hear but people can't. In rhetorical terms, it's a statement meant to appear innocuous or plausibly deniable to the general population, but meant to be a clear signal to a different group of people (in this case, racists). DeSantis is dropping the term "monkey" into his speech to signal to all the good old racists in Florida that he's not going to let a black guy take over the state. (Gillum would be the state's first black governor.)
The Gillum campaign did not immediately return Observer's request for comment on DeSantis' statements.
As a public official, speaking on a national news show, DeSantis has to know that using the word "monkey" in any context is going to look weird as hell, seeing as monkeys have nothing to do with the Florida gubernatorial race, aside from the fact that his opponent is a member of a group that racists often compare to primates. In general, monkey is not a word that comes up very often in standard political discourse—the exception, of course, being when racists (surprise!) used it to describe Michelle Obama—so maybe don't say it during TV interviews.
Resident media statistics nerd Nate Silver even crunched the numbers on "monkey this up," proving that, yeah, it's not a term that anyone in the public sphere uses with any kind of frequency.
To their credit, fellow Florida Democrats quickly rallied around Gillum. Florida Dems hosted a press call after the Fox segment, during which Democratic Congresswomen Frederica Wilson and Lois Frankel did not exactly mince words about what they thought of De Santis' comments.
"I've learned dealing with the affiliates of the Trump administration that they always find a way to add some sort of insult to African Americans and make it racist," Wilson said. "So 'monkeying this up' is clear, to me, that [racism] is being communicated. Now someone else may see it a different way, but as an African American woman that is exactly the way I interpreted it."
"I'm not African American, but I'll tell you that was more than a dog whistle," Frankel said. "That was absolutely a racist disgusting statement; I don't think there was any other way to interpret it."
The DeSantis campaign, of course, immediately claimed that "monkey this up" was a completely normal thing to say and that presenting the phrase in any other context was inaccurate. DeSantis' communications director Stephen Lawson told CNN that the candidate was "obviously talking about Florida not making the wrong decision to embrace the socialist policies that Andrew Gillum espouses," and that "to characterize it as anything else is absurd." (Earlier in the segment, DeSantis noted that Gillum was an "articulate spokesman for these far-left views.")
This is exactly the point of a dog whistle.
It lets you say something that's clearly and obviously racist, with the plausible deniability that "duhhhh, he was just goofin' his words," when someone calls you out on it. This defense is always in bad faith, and the people giving it know that. Watch the clip of DeSantis' Fox broadcast, first highlighted by Media Matters For America's Steve Morris; the monkey comment is about 30 seconds in. It's not a weird Freudian slip, you can practically see him thinking over the word before he uses it.
DeSantis is far from the first major Trump-endorsed Republican to blow a racist dogwhistle on the national stage. It's almost become a calling card of the Trump brand of politics, allowing candidates who can't explicitly say "hey, I'm a white nationalist," to subtly (or not so subtly) let people know which side they're on.
Just last week, Trump tweeted, seemingly out of the blue, about the plight of white farmers in South Africa, where new government policies are slowly redistributing land to black farmers as part of a series of measures attempting to balance out the drastic racial inequality caused by the system of apartheid. The topic made its way to Trump's feed through an extremely racist grapevine of conservative voices. As Carol Schaeffer wrote in The Nation, white nationalists and overt Nazis immediately made the issue a major talking point, distributing petitions on the Nazi messageboard Stormfront. That storm of shit, as it so often does, eventually made it to Tucker Carlson's show on Fox, which experts note is mostly a full symphony of dog-instruments blowing a white nationalist tune. President Trump, as he often does, watched Tucker's show, liked what he was hearing, and decided to amplify the message with a personal tweet about the issue. The Nazis at Stormfront, Schaeffer reports, rejoiced.
And what DeSantis, Trump, Carlson and so many others in the party are doing isn't even new—the dog whistle technique has peppered political discourse for years, especially during the period of time when America had the audacity to elect a black guy as president (big surprise: the term "monkey" and "ape" got thrown around a lot).
The dog whistle is so effective because no matter how strong someone calls it out, the perpetrator almost always gets away with it.
The Nazis at Stormfront and alt-right wastoids online will see it for what it is—tacit support of white nationalist or racist talking points. Opponents, like Congresswomen Wilson and Frankel, can call it out, but no matter how forceful they are, there's still a certain oblivious segment of the American public who will swallow the DeSantis campaign's bad-faith denial of any ill intent, and then get mad at Gillum or Wilson for "playing the race card" or "making it all about race."
There's a good chance that Tucker Carlson is preparing a segment on exactly that right now.