It's O.K. if Be More Chill doesn't turn you into a fan. It has tons of those: 150 million and counting. That's how many times the cast album has been streamed since it was released in 2015, following a lukewarmly received debut at Two River Theater in New Jersey. The show, about a nerdy high-schooler who ingests a supercomputer embedded in a pill to make him popular, has become a viral obsession among online hordes who never saw it. Until now. If, like me, you didn't know the piece had a fervent following even before it hit Off Broadway, you'd be bewildered by squealing teens in the audience who seemed to know the material in advance.
All that hype and zeal made me feel like an outsider. And not one who wanted to belong. I found Be More Chill to be dopey, shrill and manic, amped to earbleed level. Joe Iconis' pop-rock score is skillful, but generic and overly camp. It has a few decent songs and a dollop of heart, but doesn't stand out from the crowd—which at this point includes other misfit-teen tuners Dear Evan Hansen and Mean Girls (and the first act of Wicked, technically). If school, like showbiz, is a popularity contest, I'd rather hang out with those guys. So who's to blame? The rabid fandom that revivified a so-so musical, or producers exploiting a cult phenomenon? Put it this way: If everyone who downloaded the album bought a ticket, Be More Chill would play to full houses on Broadway for three hundred years. Who cares about a grumpy old like me?
Based on the 2004 young-adult novel by Ned Vizzini, the premise is a zeitgeisty stew of teen angst, social critique and cyberpanic. Jeremy Heere (Will Roland) is your average, frustrated teen: so normal, he feels invisible. He's default geeky, but not as much as best buddy, Michael (George Salazar), retro collector and fellow gamer. As for love interests, Jeremy's is Christine (Stephanie Hsu), drama-club queen. (In a nice avoidance of cliché, Christine's not the "perfect," popular girl, but closer to Jeremy's status—yet he romanticizes her.) One day in the bathroom, Jeremy is confronted by bully-ish Rich (Gerard Canonico), who confides that he, too, used to be a loser. But then he discovered the Squip, "a quantum computer in a pill that travels through your blood until it implants in your brain." Jeremy, with Michael's worried encouragement, lays down cash, consumes the Japanese-made device, and soon he's being Eliza Doolittled by a voice inside his brain (Jason Tam, drolly suave). Will our hero conform in order to excel, will he destroy his true self to become a hypothetically happier person?
To give full credit, director Stephen Brackett's multi-ethnic cast and the message of self-acceptance are both welcome and healthy elements. And despite the fact that watered-down pop and rock have become ubiquitous show tune idioms, Iconis can crank out an effective number. Christine's dreamy-sweet "I Love Play Rehearsal" is a paean to the pleasures of pretend and escape. Jeremy's empowerment anthem "Loser Geek Whatever" honestly addresses the frustration beta kids feel in the teenage rat race. Best of all, the breakdown ballad "Michael in the Bathroom" gives the passionate Salazar a chance to shine. A fine example of the musical number as mini-drama, the song encapsulates the anguished defiance of a person abandoned by at a party, hiding out from public embarrassment.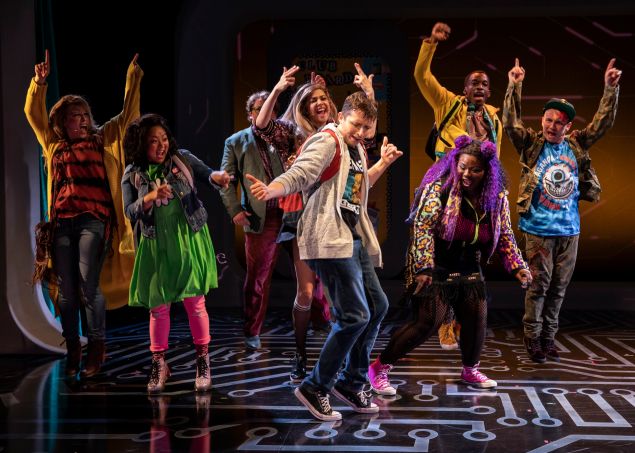 It's a hard-working cast executing a lot of strenuous choreography (by Chase Brock) and singing their hearts out. But there are still tonal issues with the direction and songs, which tend to err on the side of cartoonish mania and goofy laughs at the expense of pathos or (heaven forbid) nuanced emotions. This is, after all, a show that begins with our hero unsuccessfully masturbating to Internet porn. Relatable, but not an auspicious introduction.
Ultimately, Be More Chill doesn't have either the yearning and pain of Dear Evan Hansen, or the whip-smart satire of Mean Girls. Had the creative team trusted their audience to go darker or weirder, the material might have resonated beyond a Nickelodeon allegory of social conditioning and the dangers of corporate technology.
Roland, who recently played the comic-relief sidekick in Dear Evan Hansen, is an appealing presence with a nice pop tenor, but he has trouble carrying a show with a character whose stakes, let's face it, are pretty superficial. Besides Salazar, the production's biggest delight is Stephanie Hsu, who makes her smart, sensible Christine engaging and vibrant, despite having too little to do. Joe Tracz's sketchy, thin book should delve more into her life and Michael's. Here's yet another musical where a couple of songs might have been cut in favor of book scenes to strengthen the overall narrative.
Still, I can understand why so many young (and not so young) people are drawn to Be More Chill. It's broad but earnest, reflecting them as they cower in a bathroom or wish a magic capsule would endow confidence. It's not depressive like Dear Evan Hansen. It actually seems to like teens and teen culture. I just hope the juniors that flock to this, Frozen, and SpongeBob SquarePants can grow up and appreciate more demanding stuff. Because that would be really cool.