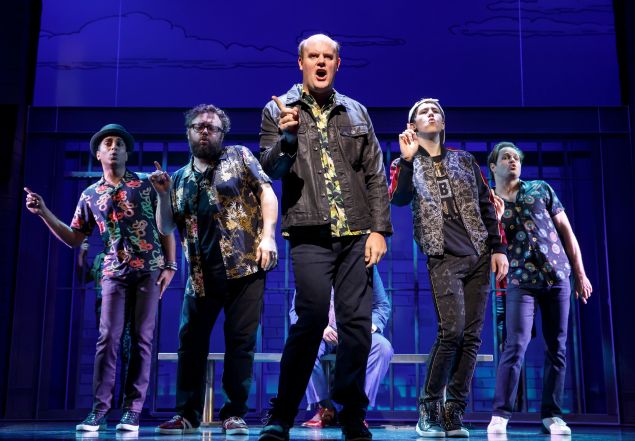 Having sat through the sweaty, janky garbage fire Gettin' the Band Back Together, I strongly suspect that producer and book writer Ken Davenport has a chest tattoo that reads (in Gothic script), "No one ever went broke underestimating the intelligence of the American public." Davenport, who is also responsible for My First Time (about losing your virginity), The Awesome '80s Prom and That Bachelorette Show, seems to never hesitate in grabbing, shall we say, the fruit that hangs low. I wish the man's bank account well, but if dreck such as GTBBT finds success, it'll be even more depressing than the deluge of branded fare such as Mean Girls, Frozen and The Cher Show we're currently weathering.
GTBBT is being touted as a "totally original musical," which just goes to show how relative a term that is. The plot feels like a bottom-shelf Ben Stiller–Owen Wilson vehicle from 2006, one that ranks below Little Fockers at that. Fortyish stockbroker Mitch (Mitchell Jarvis) finds his cushy Manhattan life upended when he's fired and forced to return to his home town, Sayreville, New Jersey. (No savings? No connections? The book—constructed through improv and personal histories—is not big on credible detail.) Unemployed, living with his mom (perky TV vet Marilu Henner) and still crushing on senior-year sweetheart Dani (Kelli Barrett), Mitch can't help but flail and regress. Threatening Mitch and his mom with foreclosure is Tygen Billows (Brandon Williams), high-school rocker turned jacked, goateed one-hit wonder. "I own seventy-three percent of the real estate in downtown Sayreville, my hairline is advancing, and I drive a Pontiac Solstice," Billows brags in one of his better lines.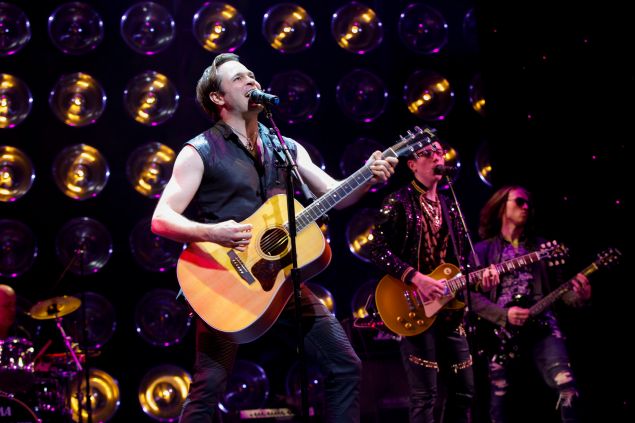 In fact, Williams's straight-faced turn as the vain, inept villain is one of the funnier things on display, along with the grown members of Mitch's former band: drummer Sully (Paul Whitty), a cop-in-training who secretly loves musical theater; bassist Bart (Jay Klaitz), a high-school math teacher with eyes for Henner's MILFy matriarch; and keyboardist Robbie Patel (Mau Narayan), a dermatologist unhappily facing an arranged marriage. When they rock out in the garage and prep for a Battle of the Bands to save Mitch's childhood home, these characters are revealed to be highly likable performers, individually and together. Klaitz, wild-eyed and roly-poly, gets a tacky but enjoyable Meat Loaf-ish wailer about sleeping with Mitch's mom, and Whitty's romantic jail-cell confession, "Life Without Parole" is a goofball charmer.
Such moments, if there were more, could have saved the show, especially with a cast this appealing and given John Rando's bright, comic staging. But there's the music. Such crummy music. Mark Allen's ersatz score sounds like rock, it resembles rock, but in its robotic squareness and thuddingly stupid lyrics, seems more like an algorithm synthesizing Top 40 hits of the past several decades. To put it in Billboard terms: Nickelback is generally regarded as the shittiest rock band in history, right? Gettin' the Band Back Together is Broadway Nickelback. By not taking the characters seriously or trusting the audience to invest in quality original rock (as Once, Spring Awakening and others did), the creative team thinks bro-mantic farce, bombastic stage effects and chorus girl T&A will tap a huge market.
Because in the end, Davenport and his crew are going after the Holy Grail of theater demos: men, aged 40 to 60, presumably straight, mostly white, longing to feel "represented." The sort of guys who moved Rock of Ages to Broadway and kept Jersey Boys afloat for a dozen years. They still fondly remember The Wedding Singer and brought their kids to School of Rock. These are the dudes shelling out $800 (at least) for Springsteen tickets four blocks north at the Walter Kerr. Are there enough of these fellas willing to spend their paychecks on two and a half hours of mock rock and sitcom punch lines, just to feel that warm 'n' fuzzy payoff at the end, when the underdogs rock out for the trophy? The deus ex machina of this already ridiculous narrative involves Aerosmith axman Joe Perry and a surprise check for royalties on the hit, "Back in the Saddle." You remember "Back in the Saddle," don't you? Sure you do. Will you remember a single track from GTBBT? Nope. Would I rather see an Aerosmith jukebox musical than this "original" rubbish? Hell yes.