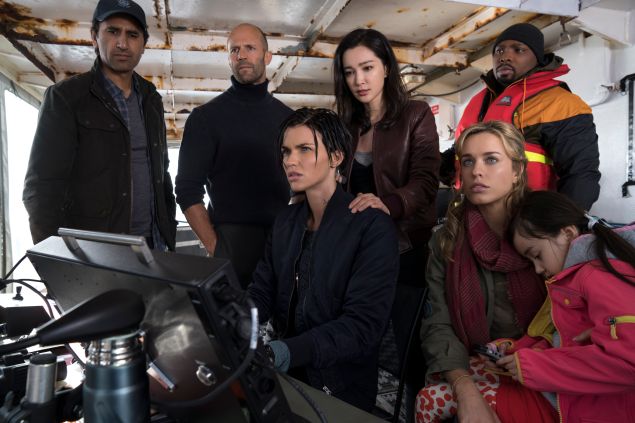 On the surface, The Meg, a movie about an apartment-building-sized shark—released at the height of what has traditionally been shark panic season—is Hollywood filmmaking at its most cynical. After all, its cast was clearly chosen with at least an eye towards the overseas box office, and much of its dialogue and many of its ideas seem borrowed from more accomplished films. In essence, it could have been the result of the world's shortest and least inspired elevator pitch: "Jurassic Shark."
But on another, equally surface level: Oh, hell, yes.
The Meg is an old-fashioned drive-in creature feature souped up with CGI—one that proudly wears Roger Corman's heart on the sleeve of its blood-splattered, body-hugging wet suit. Humor and smooth competence win out over originality. It relies on its charismatic leads, Jason Statham and Li Bingbing, to hold interest rather than waste its efforts on crafting realistic characters. This is an air-conditioned piece of entertainment that asks little more of you than to strap in, put away your phone and enjoy watching a freakishly huge prehistoric eating machine terrorize some scientists before it turns its appetite to a beach full of frolickers on floaties.
---

THE MEG ★★1/2
(2.5/4 stars)
Directed by: Jon Turteltaub
Written by: Dean Georgaris, Jon Hoeber, Erich Hoeber (screenplay) and Steve Alten (book)
Starring: Jason Statham, Li Bingbing, Rainn Wilson, Ruby Rose, Cliff Curtis and Winston Chao
Running time: 132 mins.

---
The catchy title is taken from Steve Alten's pulp novel series, which has been mired in a Hollywood development deep freeze since even before the first book's 1997 publication. (They added the to the title of the movie, which not only implies there's only one, but also gives the Meg in your office the perfect T-shirt idea for the next coworker happy hour. It's short for Megalodon, a species of whale-sized sharks thought to have gone extinct more than two and a half million years ago.
The title also gives the characters an excuse to call the monster "she," though they don't know its sex or much else about it, except for the fact that it had been content before to just while away the millennia more than seven miles below in a thermal zone. It joins our world when a group of sea explorers, operating out of a state-of-the-art research facility funded by a bratty billionaire (Rainn Wilson), breaches its world in a submersible and the thing follows them back.
Statham, playing a rescue diver who's had a run-in with Meg before, has never seemed more like Popeye. He is having almost too much fun, and so is everyone else in this profoundly unserious spectacle. Despite taking place in the deepest part of the ocean, The Meg seems to revel in its own shallowness. Fortunately, it offers just enough B-movie visual wit—like when a tiny Maltese with a pink ribbon faces off against the beast—that there is a good chance audiences will too.