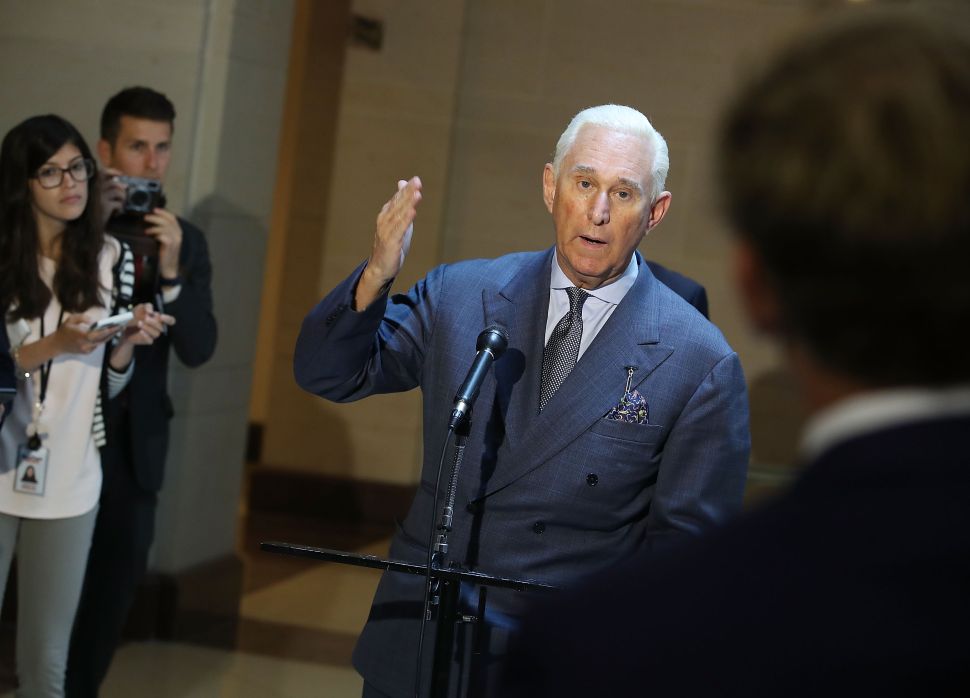 Machiavellian politico Roger Stone shared an image of himself in a space suit emblazoned with a swastika.
In the photoshopped image, Stone sits alongside President Donald Trump, Vice President Mike Pence, former Manhattan mayor Rudy Giuliani, White House press secretary Sarah Huckabee Sanders, California Congressman Devin Nunes and Fox News host Sean Hannity. All parties are wearing orange suits outfitted with swastikas.
"Space Force. In space no one can hear you lie…" reads the caption.
"I love this – proud to be in this crew – but the only lies being told are by liberal scumbags," wrote Stone when he posted it to his Instagram on Monday evening.
Although Stone quickly deleted the photo, presumably when he realized he had unintentionally promoted Nazism, the image was screen-grabbed by reporters and blasted throughout the Twittersphere.
"Uh, Roger, what are you doing?" asked Washington Examiner's Siraj Hashmi.
"When Omarosa's getting all the headlines and you need those hate clicks," quipped The Daily Beast's Lachlan Markay.
Stone is a key character under investigation by Special Counsel Robert Mueller in the Russia investigation. Recent indictments by the Justice Department revealed the former Trump advisor communicated with a Russian intelligence officer, operating under the moniker Guccifer 2.0, ahead of Wikileaks' release of hacked DNC emails.
Stone did not respond to Observer's request for comment by the time of publication.