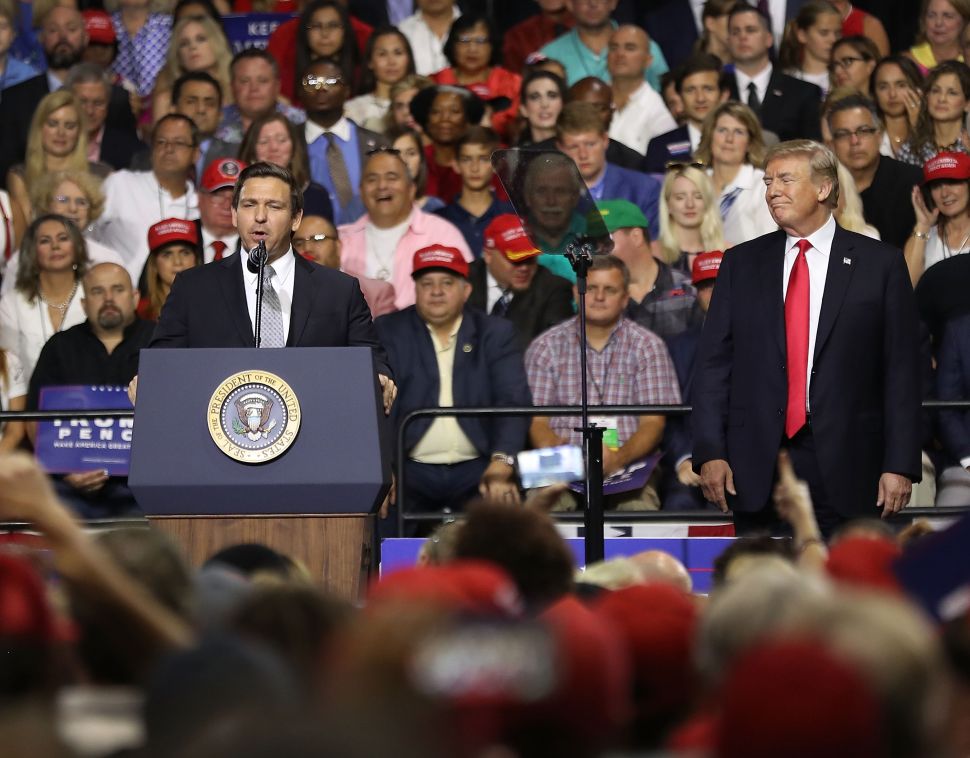 On Tuesday evening, President Trump's endorsed candidate Ron DeSantis secured the Republican nomination in Florida's gubernatorial race. This victory was short-lived, however, as the very next morning DeSantis' campaign erupted in controversy over an ill-fated Fox News interview.
Speaking about his political opponent—the Democratic nominee Andrew Gillum—DeSantis appeared to use racist language.
"The last thing we need to do is to monkey this up by trying to embrace a socialist agenda with huge tax increases and bankrupting the state," DeSantis said of Gillum, who is African American.
Florida's Democratic party leaders were swift to condemn the remark. "It's disgusting that Ron DeSantis is launching his general election campaign with racist dog whistles," said Florida Democratic Party Chairwoman Terrie Rizzo in a statement, which Gillum's team referred to when reached for comment, according to CNN.
"On the first day of the general election, Ron DeSantis showed Floridians who he really is," echoed David Turner of the Democratic Governors Association  "Resorting to dog whistle politics within hours of winning the GOP nomination shows a desperate candidate who will stoop to new lows in order to court and give voice to fringe elements of society. Floridians want a leader who will bring them together; Ron DeSantis has shown that he would only divide Florida."
As outrage accumulated on Twitter, the DeSantis campaign released a statement, calling it "absurd" to characterize "monkey this up" as racist. "Ron DeSantis was obviously talking about Florida not making the wrong decision to embrace the socialist policies that Andrew Gillum espouses," said a spokesperson for the candidate.
But even Fox News, a network which showered DeSantis with favorable coverage, wasn't quite buying it.
"We do not condone this language and wanted to make our viewers aware that he has since clarified his statement," announced Fox News anchor Sandra Smith on-air following DeSantis' appearance. "Also, Mayor Gillum will be on with Shepard Smith today at 3:00 p.m."
Florida's race for Governor Rick Scott's seat has been framed as a referendum on Trumpism versus progressivism—with DeSantis representing the former, and Gillum the latter. DeSantis' remarks, however, prove the limits of Trumpism in a general election that will ultimately be decided by millions of voters who are not registered Republicans.