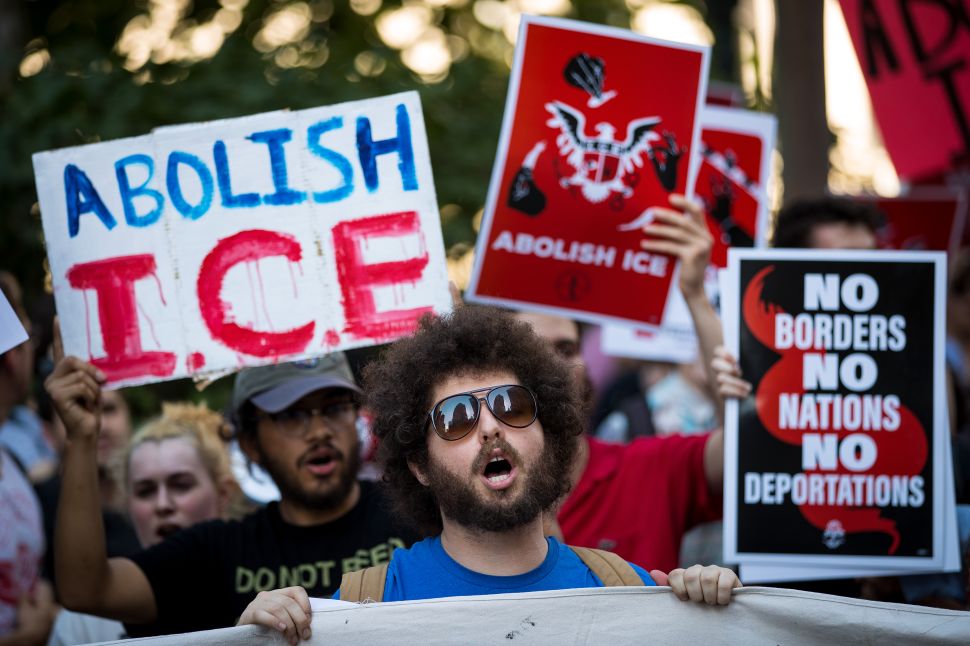 In the wild west of social media, the 2018 midterm elections are already underway—and Facebook says that foreign elements like the Russian Internet Research Agency are already laying their traps.
On Tuesday, Facebook reported that it had removed 32 pages and fake accounts from its service, which it says were engaged in "inauthentic behavior." In total, the accounts had about 290,000 followers—not an enormous number considering Facebook's massive userbase, but enough so that their content could have a reasonable reach across American users of the service. But one troubling detail stuck out: according to Facebook, several of the accounts posted content related to or in support of the social campaign to abolish ICE, the Department of Homeland Security's immigration enforcement arm that has repeatedly used violent and racist tactics against American citizens and documented and undocumented immigrants alike.
But what would malicious trolls want with the campaign to abolish ICE?
#AbolishICE, as it's often notated on Twitter, is a simple concept: completely eliminate the Immigrations and Customs Enforcement (ICE) office, a subsidiary of the Department of Homeland Security that was created in 2003 during the Bush administration. The concept isn't new—immigration activists have been calling to eliminate the agency since it was founded— but the slogan "Abolish ICE" was pushed into the public consciousness on Twitter by activists like Sean McElwee in the past 18 months or so. This doesn't mean that the U.S. would all of a sudden have completely open borders, or an anarchic immigration policy—the U.S. immigration system existed before 2003—but supporters believe that the specific institution of ICE should be abolished.
The argument is that ICE, in its current form, is an inefficient, brutal and amoral institution whose policies are actively hurting the country, and it should be eliminated entirely and its duties absorbed into other, better-regulated and administered branches of the government.  
The problem is, saying so has become somewhat of a political firebrand. Abolish ICE, like Black Lives Matter, has become a progressive political slogan and a movement in and of itself—which means that it's ripe for exploitation by malicious actors.
In 2016, during the leadup to the 2016 election, operatives at Russia's Internet Research Agency took a specific interest in Black Lives Matter, creating fake accounts on Twitter and Facebook pretending to be black Americans, as well as many claiming to be right-leaning or conservatives. The accounts did everything from meme-posting to creating events for actual, real-life protests, and used targeted advertising to appeal to people who had interests in everything from Maya Angelou, Malcom X, the Tea Party, Fox News, or just "funny pics"—focusing on content that would deepen racial and political divides, according to Slate.
Earlier this year, researchers at the University of Washington found that the trolls played both sides of the conflict off of each other, trying to create the most divisive, most viral form of each argument.
"It's striking how systematic the trolls were," Ahmer Arif, one of the researchers on the study, told Mother Jones. "The content they're sharing is tailored to align to each audience's preferences."
Like Black Lives Matter, Abolish ICE is a similar hot-button issue for the liberal-conservative divide.
When Alexandria Ocasio-Cortez, a progressive candidate for Congress in New York's 14th district, came out in favor of ending ICE, conservative media and lawmakers had a meltdown, introducing bills saying that ICE was actually great and reacting with utter horror towards her social platform (which mostly consists of the belief that healthcare and education are good and more people should have them).
And malicious actors want this drama, because the continued division of America usually benefits them in some way and is detrimental to Americans despite their personal views.
"It is important that we come to see online disinformation not just as a problem of the other 'side' but as something that is targeted at all of us," University of Washington professor Kate Starbird, told Mother Jones. 
For the Macedonian teenagers racking up ad dollars on fake news clickbait, polarization means energized audiences just waiting to click on things. For actors potentially connected to a geopolitical rival, domestic division is a good thing—the Internet Research Agency wants conservatives to think BLM activists are domestic terrorists (they aren't), and it probably wants other parts of America to think that abolishing ICE would erode the last barrier between the heartland and a massive wave of illegal immigration (it won't).
"There were several mentions of ICE in the material that we took down today for coordinating authentic behavior and that includes one event that was protesting ICE," Nathaniel Gleicher, Facebook's head of cybersecurity policy, said during a press call on Tuesday. "We'd expect these types of coordinated actors to engage in popular social movements like that."
Creating events and protests, things that mobilize actual people, is a favorite tactic of internet trolls seeking to influence political discourse.
Facebook's latest crackdown, in fact, removed an event page started by a fake group known as "Resisters," which had more than 2,600 people interested and the support of three other legitimate political pages. The event, "No to Unite the Right 2 — DC" was intended as a counterprotest to a potential white nationalist gathering in the capital in early August. But while it may have been started with malicious intent, The Outline reports that real organizers were using the event page to coordinate activity, all of which compounds the confusion over what's real and what's not in online activism.  
Fortunately, it doesn't appear that these malicious actors have made much headway in influencing the conversation around Abolish ICE.
A spokesperson for Facebook told Observer that the content related to Abolish ICE was only a small portion of the content the company removed. So if malicious agents are testing the waters to see how polarizing content around the issue works, they're clearly just dipping their toes in. But if they decide it's worth it, it could become much more difficult to understand if the material you share is doing harm or good.