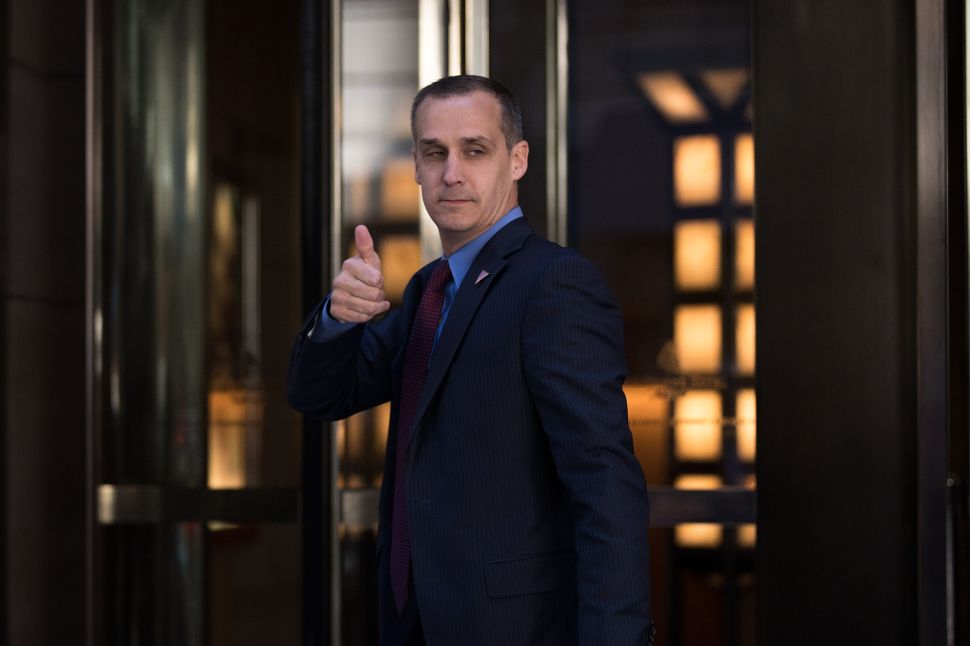 God, grant me the serenity, to accept… more petty infighting between Sam Nunberg and Corey Lewandowski.
On Tuesday morning, Lewandowski appeared on a conservative radio show on Virginia's WHKT to accuse Nunberg of "being intoxicated" on MSNBC.
Lewandowki was most likely referring to his rival's media meltdown this past March, when Nunberg freewheeled between cable news interviews to insult Special Counsel Robert Mueller and accuse his former Trump campaign coworkers of being Russian operatives.
These remarks did not sit well with Nunberg, who took to Twitter shortly after the radio attack to call Lewandowski a "white trash scumbag."
Reached by the Observer for comment, Nunberg denied once again that he was intoxicated during the talk-show blitz back in March, but did admit to drinking the night before. In an extended rant, he also accused Lewandowski of drunkenness throughout the 2016 election.
"[Lewandowski] wants to talk about me being inebriated? He fell asleep piss drunk at the Trump International Hotel in D.C. And that's for the public to see," Nunberg told the Observer. "During the campaign they found him wandering around one day, late afternoon, early night, and he was passed out, pissed drunk."
"This is the highlight of his life," continued the former Trump aide. "He's in his 40s. You'll be hearing about me when I'm in my 50s and 60s. He'll be in some dive fucking bar in New Hampshire talking about the good old days."
Minutes later, Lewandowski shot back in an email to the Observer. "Did Sam really accuse someone else of drinking too much? That's rich."
Both men have been accused of public intoxication by another former advisor on the Trump campaign, Roger Stone. Last December, Stone told Observer that Lewandowski was allegedly "thrown out for being drunk from Donald's sky box" during the 2016 Republican National Convention in Ohio. In an Instagram post from earlier this month, Stone also accused Nunberg of getting fired "from his first job at Jay Sekalow's legal foundation for drunkenly pissing on the floor in his bosses office."
Nunberg, Lewandowski and Stone are all under investigation by the FBI for colluding with the Russian government during the 2016 election.