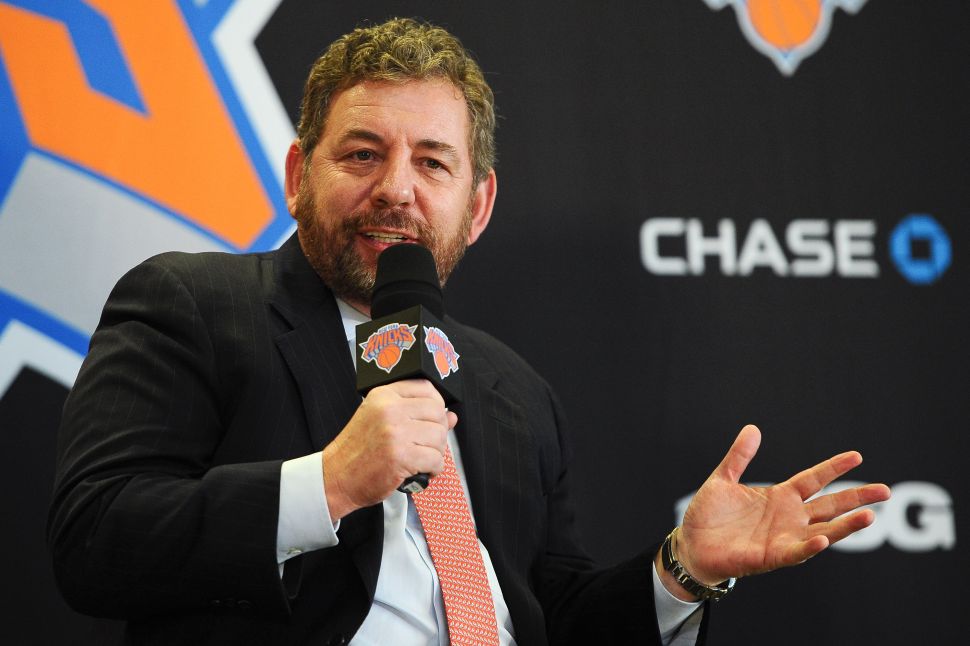 Maggie Gray is mad as hell, and she's not going to take it anymore.
The WFAN sports radio host tore into James Dolan on the Carlin, Maggie & Bart radio show over the Madison Square Garden owner's new song about the #MeToo movement.
Dolan and his band JD and the Straight Shot appeared on Fox 5 yesterday to perform the new song "I Should've Known," about his friend Harvey Weinstein's sexual misconduct.
In the chorus, Dolan sings:
"I should've known, I should've known
I should've thrown myself across his tracks
Stopped him from these vile attacks, I should've known."
It's not a particularly good song, but it's especially problematic given Dolan's own history with sexual misconduct.
In 2007, he and the Garden settled a lawsuit filed by former MSG executive Anucha Browne Sanders for $11.5 million. Browne Sanders claimed she was sexually harassed by former New York Knicks president Isiah Thomas.
Despite this allegation, Dolan rehired Thomas in 2015 as president of the Garden's WNBA team, the New York Liberty.
In light of these actions, Gray isn't setting any store by Dolan's mea culpa.
"I feel physically sick listening to that song," she said. "I can't believe James Dolan thinks we're this stupid."
Giving Thomas a second chance makes Dolan "a vile piece of trash," Gray said.
"People on Twitter couldn't even come up with something this stupid," she said. "You are the human embodiment of an online troll."
Gray went so far as to say she wouldn't enter the building Dolan owns anymore.
"I might never get into the Garden, even with a press pass after this, and I don't give a crap," she said. "Take your stupid song and everything you stand for and shove it up your colossal rear end."
Gray's co-host Chris Carlin echoed her sentiments, calling Dolan "beyond disgusting" and telling him to "shut the hell up."
Both hosts noted that Dolan's close friendship with Weinstein made the song even more disingenuous.
The mogul asked Weinstein to help overhaul the 2014 Spring Spectacular at Radio City Music Hall (which Dolan also owns) because of creative issues. He was also on the board of The Weinstein Company until the accusations against the disgraced executive became public.
In the end, Dolan's hypocrisy was too much for Gray to take.
"I hate that song, I hate him," she said. "Screw you, James Dolan."
WFAN wrote and tweeted about Gray's comments, which is ironic because the station is facing its own #MeToo moment of reckoning.
Last month, WFAN host Joe Benigno was accused of ranking women based on looks, having affairs with female colleagues and pressuring women into threesomes.
The suit also claimed that employees took clients to strip clubs (paying with company credit cards) and did shots of tequila and Jameson in the office.
In short, the station was a hostile work environment akin to the "Wild West, Mad Men or Animal House," the suit read.
Gray's takedown of Dolan is admirable. Let's hope she takes the issues at her own workplace just as seriously.