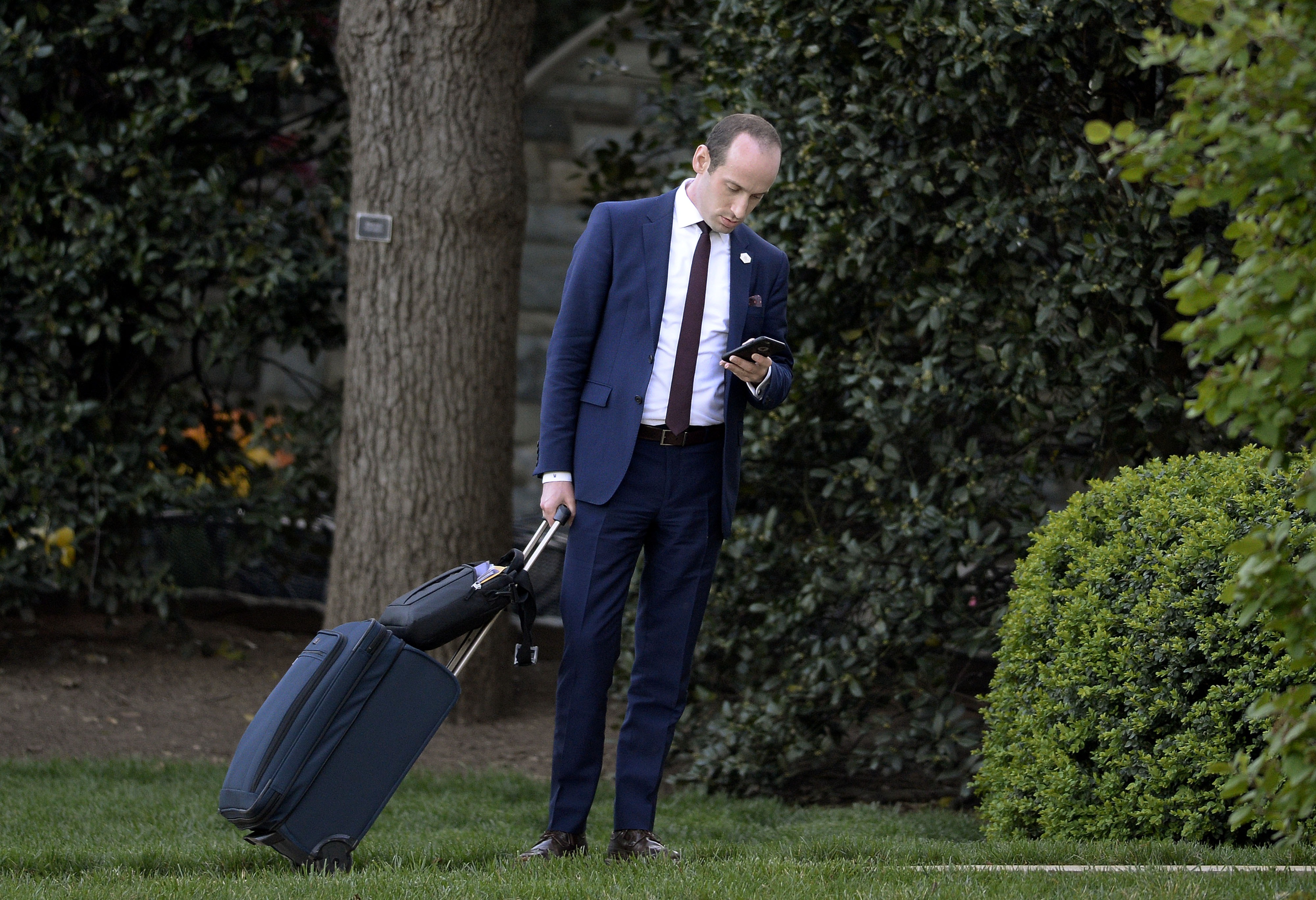 Although it's pretty easy to point out the outrageous hypocrisies practiced regularly in Trump's White House, it's still deeply satisfying to see them articulated. David Glosser, Stephen Miller's uncle, has done just that in a Politico piece published today.
The article eviscerates Miller's well-documented support of draconian policies—"the travel ban, the radical decrease in refugees, the separation of children from their parents and even talk of limiting citizenship for legal immigrants"—and repudiates the senior adviser for dismissing the facts of his own heritage in favor of cruel, exclusionary, America-first stratagems.
Glosser, who is Miller's mother's brother, explains that both he and his nephew are the descendants of Wolf-Leib Glosser, a Jewish man from Belarus who fled his Czar-occupied homeland for America in 1903.
Wolf-Leib and his extended family eventually opened a chain of successful department stores. Glosser writes in Politico that his ancestors narrowly escaped being killed by Nazis due to the timing of Wolf-Leib's journey. But against all odds, the Glosser clan flourished: "Children were born, synagogues founded and we thrived," he writes. "This was the miracle of America." In other words, Miller owes his life and career to his immigrant ancestors. 
Glosser's dismay at Miller's embrace of nativist thinking is palpable throughout the piece, which is, among other things, a truly exemplary piece of writing. Glosser, a retired neuropsychologist, was a volunteer for the Hebrew Immigrant Aid Society, and has experienced firsthand the degree to which trauma and abuse color the lives of refugees who come to the U.S. seeking asylum. The president perpetuates immigrant suffering in more ways than one, Glosser writes:
Trump and my nephew both know their immigrant and refugee roots. Yet, they repeat the insults and false accusations of earlier generations against these refugees to make them seem less than human. Trump publicly parades the grieving families of people hurt or killed by migrants, just as the early Nazis dredged up Jewish criminals to frighten and enrage their political base to justify persecution of all Jews.
There's something gratifying about watching a powerful political operator being linguistically disemboweled by someone who watched him grow up; it reduces Miller to little more than a sniveling teenager. Journalists and pundits have been eloquently critical of Miller for years, of course, but now we see that his family disapproves of his position as much as the public does.
At the end of his piece, Glosser staunchly advocates for immigration reform and soundly denounces the current administration at large, but he also has some final choice words for his relative: "While my nephew, Stephen, was famously recovering from the hardships of his high school cafeteria in Santa Monica, Joseph [a refugee who successfully settled in America] was a child on his own in Sudan in fear of being deported back to Eritrea to face execution for desertion."