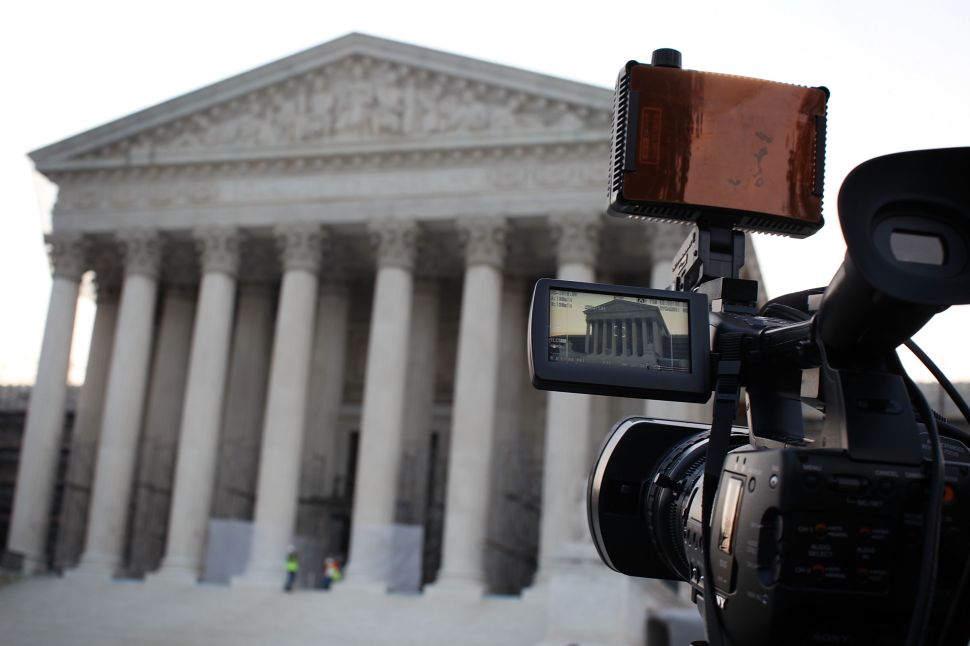 Everyone loves Supreme Court Justice Ruth Bader Ginsburg, but until this summer's documentary RBG, the general public didn't know much about her. It's not her fault—despite Ginsburg's viral popularity, the Supreme Court remains the most mysterious branch of government.
There's an easy fix to that, according to a new C-SPAN survey: televising oral arguments.
To coincide with Judge Brett Kavanaugh's Supreme Court confirmation hearings next week, the cable network released its latest survey of Americans' views on the nation's highest legal body today. Research firm PSB polled 1,000 likely U.S. voters online from August 13-15.
The most worrisome trend is that 52 percent of respondents couldn't identify a single Supreme Court justice. Ginsburg was the most popular judge, with 25 percent of those surveyed naming her.
One reason for this confusion may be that the American people don't really understand how the Supreme Court works. Fifty-six percent of people said Supreme Court justices were split on political grounds like Congress. Only 28 percent said the court was impartial.
"People are just assuming that they're partisan entities," PSB senior strategist Adam Rosenblatt told Observer. "That has very serious implications."
One way to remove the mystery from court proceedings would be allowing television coverage of oral arguments—or at the very least, releasing audio of said arguments the same day they're given.
Sixty-four percent of those surveyed say there should be TV coverage of the Supreme Court, while 71 percent say live audio should be available.
PSB and C-SPAN conduct surveys like this in advance of every Supreme Court confirmation hearing, and each time, a majority of Americans have said the court should offer live feeds of its testimony.
But for now, it only offers delayed audio recordings, and the justices themselves are sharply divided about how live coverage would affect their work. Justices Ruth Bader Ginsburg, Sonia Sotomayor, Elena Kagan and Samuel Alito all support cameras in the courtroom; while Justices John Roberts, Clarence Thomas and Anthony Kennedy are all against televised hearings. Justices Stephen Breyer and Neil Gorsuch are undecided.
"The justices actually support it when they're going through their confirmation hearings, but typically what we've seen is as soon as they get on the court, they start to change their story," Rosenblatt said.
That's foolish, though, because C-SPAN's study shows that making the court more transparent would improve its standing with the American people.
"Covering oral arguments is one small part of the process, because people don't see anything," Rosenblatt said. "This should be a bare minimum."
The justices reportedly resist live coverage because they don't want court proceedings to end up on late night TV and are worried attorneys will showboat for the camera instead of focusing on law.
There's also the risk that cameras would capture awkward moments, such as a justice falling asleep. But given that Ginsburg did exactly that at President Barack Obama's 2015 State of the Union address, the excuse doesn't really hold water.
Both national and international courts are ahead of the Supreme Court on this issue. The Second and Ninth Circuit Courts allow video coverage, and every state court also televises its proceedings.
The policies are even more liberal overseas—the British and Canadian Supreme Courts stream their hearings live.
So the United States is actually slipping further and further behind on this issue.
"American exceptionalism isn't helping here," Rosenblatt said.