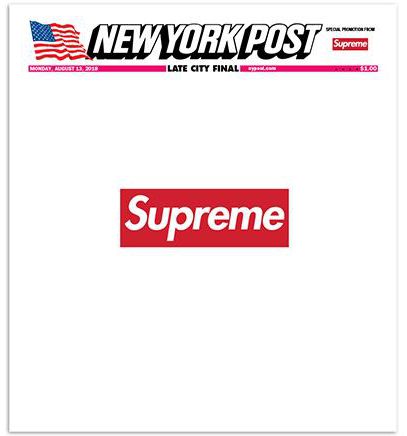 Supreme, the ubiquitous skate gear brand synonymous with staggeringly long lines, is also becoming famous for its unexpected marketing strategies. These days, it seems the company is willing to slap the Supreme logo on pretty much anything, and today its list of collaborations grew to include the New York Post, which features the brand's famous red lettering splashed across an otherwise blank front page.
"[Supreme] said that when they're looking to do collaborations, that they really want authentic brand partners," Shannon Toumey, VP of marketing and branded content strategy for the Post, told The New York Times. "They thought we were an authentic voice of New York."
Supreme isn't the first label to pay homage to the Post: the Wing, a polarizing network of women's co-working clubs helmed by CEO Audrey Gelman, sells a "New York Woman" T-shirt featuring the newspaper's iconic font in its online store. Brash, concise and often hilarious, Post headlines are often thought of as shorthand for the city itself. New Yorkers are often hustling, often witty and always trying to do the most they can with the limited space they've been given. 
By 7:15 a.m., the Times reported, copies of the paper were sold out at newsstands close to Port Authority bus terminal, and a 2 p.m. search of every bodega and pharmacy near Wall Street proved fruitless. In just a few hours, most available copies of Monday's Post could only be found online. "A kid came in here 30 minutes after we opened and took every copy we had," said Ashish Patel, who works at Freedom News on Broad Street. "It's crazy."
Crazy, but perhaps not surprising. Supreme is so popular that many of its offerings sell out within hours, largely due to resellers who buy the items in bulk and then jack up the prices to turn a profit. Miguelangel Oceguera, a reseller from Westchester, N.Y., who goes by Migue, told Observer he woke up at 10 a.m., went to every CVS and deli in his area and bought all the copies of the paper he could find for $1.50 each. "I think I have around 65," he said, "and I've sold, like, 15 so far."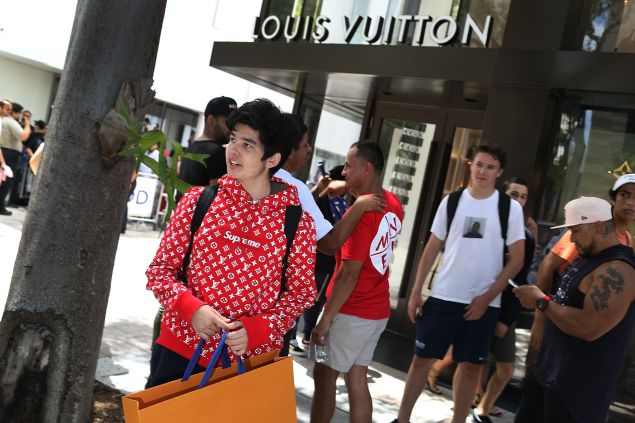 Oceguera is using Twitter and Instagram to sell copies of the Supreme-branded Post edition for $15 apiece. He said that while he mostly resells Supreme, he's also had success hawking Palace brand skateboards. "I usually resell things I know will make a profit, but sometimes I'm kind of tempted to keep things," he said. "I made around $500 selling a Supreme CashCannon. I was lucky enough to get two of them, so I still have one I use."
Detractors on Twitter have expressed shock that anyone would pay 10 times the original cost of an item just to have something with the Supreme logo on it. "So many people are hating on me because of me trying to sell these," said Oceguera, "probably because they think it's overpriced for a minimalistic design. But if these minimalist designs can help me and my parents pay for my college education and my car, let's do it! I'm just a 19-year-old trying to make a quick buck."