Leonard Bernstein, America's best known composer, conductor, author, TV host, music lecturer and pianist, would have turned 100 on August 25. It's certainly cause for celebration—not only was he one of the first composers born and educated in the U.S. to receive worldwide acclaim, but through his operettas, symphonies, and out-of-the-box musical programs he demystified traditional music forms for the mid-20th century public. In short, he changed the way classical music was considered and consumed in America. Avid fans will no doubt be looking for events to celebrate this auspicious occasion, and if you're not as well versed in Bernstein, it's time to get on it. Here are seven inventive ways to help you pay tribute to this modern American master. Start with mixing yourself his favorite drink…
Pour One Out for Leonard
As just a 21-year-old, Leonard Bernstein developed a taste for Rob Roys while drinking with Olga Koussevitzky, the wife of Bernstein's mentor and teacher Serge Koussevitzky, during his time at Tanglewood, where the Boston Symphony Orchestra plays in summer. The Rob Roy was  invented in the late 1800s at the Waldorf Astoria to honor the eponymous operetta, which celebrated the deeds of a Scottish hero. It's usually described as a Manhattan with Scotch whiskey. In case a pilgrimage to the Waldorf Astoria is not in the cards, all you need is two ounces of Scotch, one ounce of sweet vermouth and two dashes of bitters. Garnish with brandied cherry or a lemon twist.
Binge-Watch Bernstein's Young People's Concerts on YouTube
Almost as soon as Leonard Bernstein was appointed music director of the New York Philharmonic, in 1957, he instituted a practice of bringing the Young People's Concerts to TV. Part performance, part music history lesson, these televised programs showed his knack for both initiating his public into the intricacies of the musical world, while dashing its perception as elitist. You'll get to learn about things like the form of a sonata, before being told "no matter how many time people tell you stories about what music means, forget them. Stories are not what the music means at all. Music is never about anything. Music just is." So sit back, and let YouTube roll.
Get Your Tickets for New York City Ballet's Easy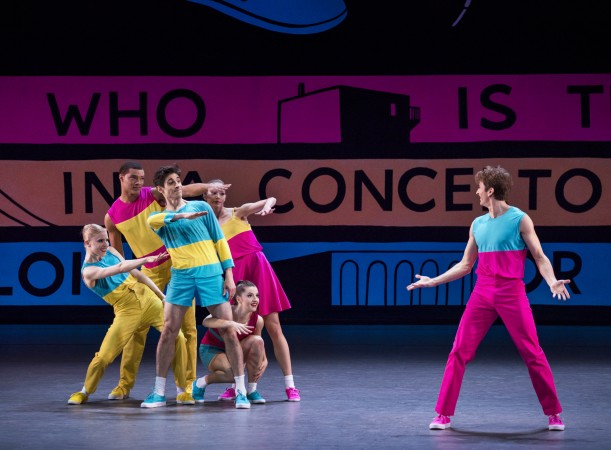 Famed New York City Ballet choreographer Jerome Robbins and Bernstein were frequent collaborators, maybe best known for the iconic dance scenes in West Side Story. For their centennial—both were born in 1918—NYCB resident choreographer Justin Peck has created Easy, a tribute to Robbins' choreographic style set to Leonard Bernstein's Prelude, Fugue and Riffs. The bright, rambunctious work will grace Lincoln Center's Koch Theater stage in late September and early October, but get your tickets now.
Revel in an All-Encompassing Celebration at Tanglewood Music Centre
Tanglewood, where Bernstein got his first taste of acclaim as a conductor, will host a sprawling centennial celebration of work on August 25. Notable performers include vocalist Audra McDonald, cellist Yo-Yo Ma and composer John Williams, who will conduct his own brand-new composition, Highwood's Ghost, written to commemorate this occasion. As of publishing, tickets were still available, but if you can't make it to the live event, PBS will be airing the performance on December 28.
Visit Bernstein's Grave at Green-Wood Cemetery
Bernstein chose non-sectarian Green-Wood as his burial ground, rather than a strictly Jewish cemetery, because of his interest in a wide variety of religions—often a theme of his work. On August 25, twin-sister piano duo Christina and Michelle Naughton will perform a music program in Green-Wood, bookended by works by Bernstein: Overture to Candide, his flamboyant operetta based on Voltaire's novella, and his arrangement of Aaron Copland's El Salón México. Tickets are available here, or find a quiet moment to commemorate the composer on your own by using this map.
Get Up Close and Personal With His Possessions at "Leonard Bernstein: The Power of Music"
The National Museum of American Jewish History's "The Power of Music," in Philadelphia, will get a close view of Bernstein's piano, marked-up scores, conducting suit and over a hundred other artifacts. It also highlights how major events and cultural moments of the 20th century such as World War II, the Holocaust, the Vietnam War and America's other social issues informed Bernstein's art, as he searched for what he called, "a solution to the 20th‐century crisis of faith." For him, this meant breaking racial barriers when he cast performers for his 1944 musical On The Town, setting his reinterpretation of Romeo and Juliet (West Side Story) in an immigrant-focused context and addressing the humanitarian crisis brought by the Vietnam war in his 1971 work Mass.
Mark Your Calendar for West Side Story's 2019 Revival
Helmed by Ivo van Hove, the minimalism and expressionism of the Belgian theater director's style, mixed with the playful, kaleidoscopic aesthetic usually associated with the tone of Bernstein's 1957 musical, will certainly give West Side Story an interesting angle. With contemporary choreographer Anne Teresa De Keersmaeker also on board to put an avant-garde spin on the dance components, this will mark the first time a production has deviated from the original choreography by Jerome Robbins. Radical, perhaps. But it at least has one proponent. West Side Story lyricist Stephen Sondheim has given his approval. "What keeps theater alive over time is reinterpretation, and when that reinterpretation is as invigorating as [van Hove's] productions of A View From the Bridge and The Crucible, it makes for something to look forward to with excitement," he said in a statement released with the project's announcement.