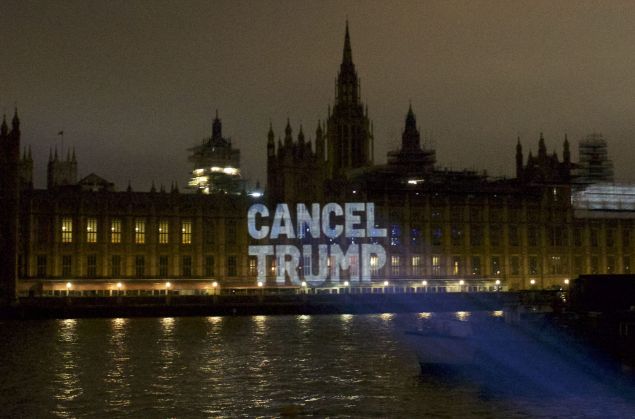 If you happened to walk past the Trump Hotel in Washington in last April, during National Sexual Assault Awareness and Prevention Month, you would have seen "There's a rapist in the white house" projected in huge letters on the building's facade. This light display, along with hundreds others that have been staged over the past seven years, is the work of nine individuals who together call themselves The Illuminator.
The idea is simple; take an issue, write a couple of lines about it and cast them in light onto prominent buildings in cities around the world. There's no defacement or destruction involved, and the results speak volumes.
The Illuminator have projected "Brexit is a crime" and "Evict the government" on the Ministry of Justice Building in London, along with "Repeat after us: trans women are women." They work alone, or sometimes on behalf of other organizations, such as when they wrote "Stomp the ban" on Brooklyn Borough Hall in light during the introduction of the Muslim travel ban in the U.S., which was a collaboration with the Arab-American Family Support Center and Take On Hate. If there's a pressing social justice issue, protest or event, chances are The Illuminator will be shining a light on it, literally.
Emily Andersen, one of the group's most active members, explains the collective first came together in 2011 during Occupy Wall Street. During this time, the newly formed collective projected "I'm 99%" on numerous New York City spots as a way to get media attention and "energize the people on the ground," she said.
Andersen herself, however, did not join until around three years ago. "There have been ebbs and flows over the years of people in the group. But we still have one to two people from that time." The current members come from a range of backgrounds, including documentary filmmakers, photographers and coders.
Her own background is "all over the place," and she described her contributions to the group as "technical stuff" and "some writing." But it's clear she's just being modest—both before and through our conversation she was somewhat frantically keeping an eye on the rapidly developing plans for a project they were doing that night. That action was in support of the New York Taxi Workers Alliance, commenting on the recent bills in New York capping the number of Uber, Lyft and other ride share vehicles and requiring drivers to be paid a minimum rate. "Uber = Vulture Capitalism" the Brooklyn Bridge proclaimed just a few hours after we spoke.
Their projects range from being self-generated to paid collaborations. "When we work with larger organizations like Greenpeace we ask them to contribute more to help cover the cost of upkeep so that we can do things for other people who have either no or little budget," Andersen said. "We aim to help small grassroots local groups either for free or for a very low amount of money."
One of Andersen's personal favorite pieces was working with Rise and Resist in New York for the Fourth of July. "Everyone was out and there was huge crowd watching the fireworks," she said. "When the fireworks ended, they all had to turn to exit, walking towards the U.N. building. So that's where we threw up first a 'Happy fourth of July from Macy's' and then just switched it into 'resist tyranny.'" This particular piece was shut down almost immediately.
But technically, they're not breaking any laws. Andersen said that a lot of the time police are confused about whether their action is legal, and end up letting them continue. Other times they tell them to move along, and the group complies. They don't give advance notice, and the nature of their work means it's hard to track "viewers," it's so on-the-fly. "It's really hard measuring impact, and we can never really tell which project is going to get hectic before we do it," she said. "The Fourth of July one was great because we got to see so many in-person reactions, but otherwise people usually come across it on social media." A piece that garnered a lot of attention on Facebook was their "Edward Snowden hologram" from a few years ago, she said.
The group's work has been gaining traction recently, partly due to high-profile collaborations such as their recent work with Dazed. But Andersen also thinks the "sense of crisis" in this current time is contributing to the increased interest and keeping them constantly active. "I do think people are feeling very politicized and are noticing newer forms of protest," she said. "I think, in this current time, everyone should be doing something and I don't think it should be restricted to artists. I do hope that people are doing more now and that we all will keep active and continue paying attention."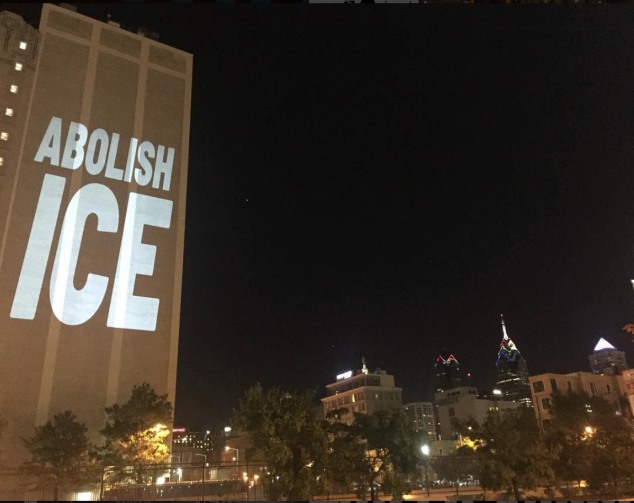 With recent trips to London and Washington, it's clear this year will continue to be a busy one for the collective. In the near future, keep an eye out for their work with New York groups such the "Chinatown Art Brigade" and the Bushwick-based anti-gentrification group "Mi Casa No Es Su Casa." Along with this, Andersen is also excited about doing some more self-generated work but could only give away that they have "lots of lofty ideas in the works." The element of surprise is not only central to engaging visitors, but key to successfully executing the work.
And their plans will continue to change and adapt as pressing political issues continue to arise. These nine people get virtually no personal recognition and instead band together for the good of the cause, emailing during their usual day jobs and sneaking out to project at night. "This is a nice way for me to channel some sort of creativity into what I can do to help," Andersen said. "Marching is important, but this feels good to me too. It gives me an outlet in a time where you could easily just feel constantly frustrated and sad."