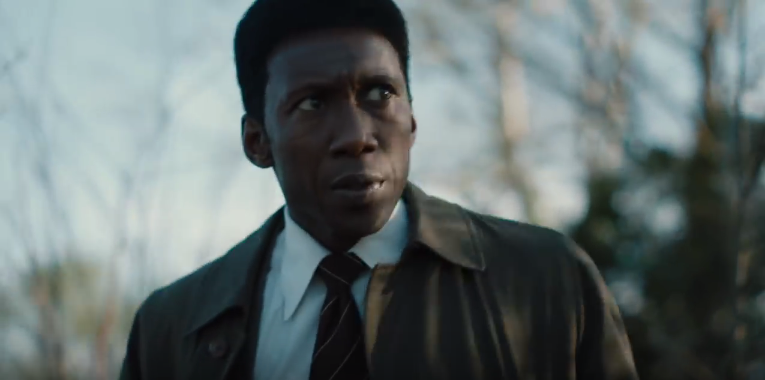 On Sunday night, HBO surprised viewers with the first teaser for the long-gestating third season of True Detective. It may not seem like it from the scant 60 seconds of footage we've been given, but this is a big deal. The first season of True Detective, starring Matthew McConaughey and Woody Harrelson and directed entirely by Cary Fukunaga, was a rare breed—an all-consuming phenomenon that united audiences in a fleeting monoculture. But season two, in which creator Nic Pizzolatto took on primary creative control, was met with widespread criticism and enough hype deflation to put the franchise on ice.
Now, three years later, HBO is ready to give it another go. But can Season 3 succeed where the second season failed?
Academy Award winner Mahershala Ali (Moonlight) leads the cast, playing a a state police detective who explores the deeper roots of a macabre crime in Arkansas over three stages of his life. Season 3 also costars Stephen Dorff (Blade), who may or may not be playing the detective's partner; Carmen Ejogo (Fantastic Beasts and Where to Find Them); and Scoot McNairy (Halt and Catch Fire). Fellow costar Jon Tenney previously told Observer that this new run of episodes hews closer to True Detective's impressive rookie run.
"I can't get into real specifics, but I think it does move a little bit in the direction of Season 1… a little bit more maybe than Season 2," Tenney said. "The scripts are just so compelling. Again, really moving. The company is great…I'm thrilled to be part of it and I think people are going to really dig it."
Season 2 stretched itself too thin by doubling the number of lead characters to four and trying to properly flesh each of them out in just eight episodes. The fractured screen time left their stories incomplete and inconsistent. The upcoming third season seems to be scaling back to better focus its narrative, with Ali as the clear lead. That should help.
But Season 1 also benefited from the clear and defining vision established by Fukunaga (that six-minute tracking shot in episode four is still a highlight in the Peak TV era). This new season was meant to emulate that strategy, with Green Room filmmaker Jeremy Saulnier serving as the primary director, but he departed over creative differences after working on just two episodes. Pizzolatto will now helm half of the season, with veteran TV director Daniel Sackheim tackling the rest. That's not a debilitating blow by any means, but given the series' rocky history, we have enough reason to be skeptical.
Still, this first teaser is a strong start—ominous, dark and overflowing with thematic snacks. It's enough to whet our appetite until Season 3 premieres on HBO in January.