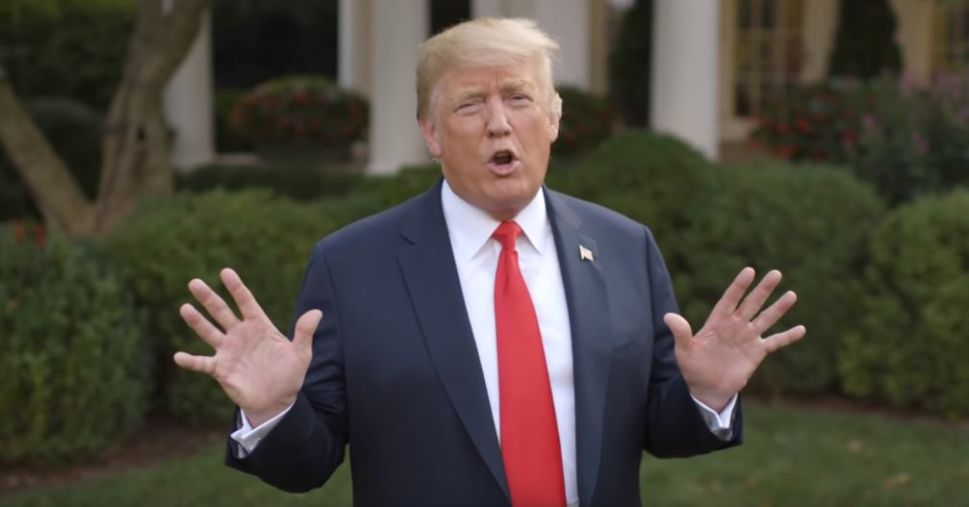 Donald Trump isn't just the president, he's also a media maven. And according to New York magazine, he's very particular about every piece of White House content.
The story mostly focuses on Trump's new Rose Garden videos, which show what the "Old Man Yells at Cloud" meme would look like if it achieved sentience. Trump reportedly films the short Twitter clips outside because the lighting is better.
But writer Olivia Nuzzi sprinkles in plenty of other interesting tidbits about Trump's history with digital media.
When Trump first joined Twitter in 2009, he didn't have a smartphone—so he'd make his staff print out his mentions and read them aloud to him. He would circle the tweets his aides should reply to with a black Sharpie.
That daily ritual thankfully ended when Trump got an Android in 2012.
His viral video obsession began with a series called "Ask the Donald," which was filmed at Trump Tower from 2011 to 2015. The future president spoke off the cuff about whatever he wanted, even the contents of his desk.
Another video showed Trump and Sarah Palin eating pizza—the future president caught a lot of heat for eating his slice with a knife and fork. The video made the rounds on late night comedy shows, much to Trump's delight.
Now, he's brought that same approach to the White House.
Trump reportedly didn't like being tied to a teleprompter for his weekly addresses. And luckily, after former Fox News president Bill Shine joined the White House communications staff in July, he didn't have to.
With the Rose Garden videos, Trump can finally say whatever he wants to the American people. And the production values more closely mirror the set of The Apprentice, a key metric for Trump.
Because even with all the staffers being kicked off the island, the White House wasn't enough of a reality show already.
We will give Shine credit for one thing, though: the yelling clips are at least marginally better than the White House's painful "Yanny or Laurel" video.