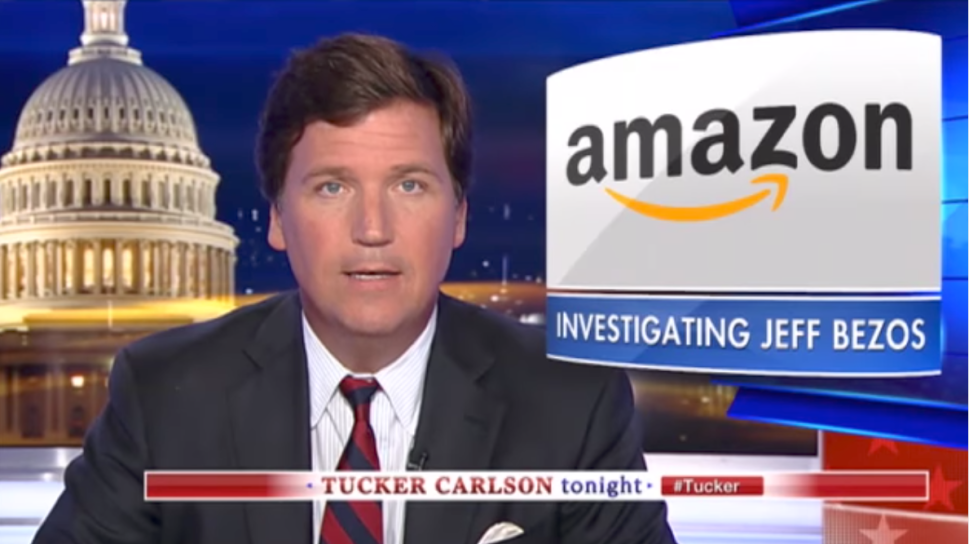 As President Trump launches an offense against Silicon Valley from the corridors of Washington, his allies in conservative media are amplifying his cause—embracing unlikely allies in the process.
Tucker Carlson delivered a monologue on Thursday evening warning against oligarchy and the power amassed by giant companies, where he praised progressive darling Bernie Sanders for trying to get taxpayer "money back from Jeff Bezos."
"A huge number of Amazon (AMZN) workers are so poorly paid, they qualify for federal welfare benefits," said the Fox News titan. "Jeff Bezos isn't paying his workers enough to eat, so you made up the difference in your tax dollars."
"On this question, Bernie is right," continued Carlson.
The segment also criticized the Walton family and ousted Uber founder Travis Kalanick, the latter of whom commands a personal fortune of 5 billion dollars at the expense of drivers who "often make less than minimum wage."
"This system is indefensible," said Carlson. "Conservatives like us support the free market, and for good reason. The free market works. But there's nothing free about this market. A lot of these companies operate as monopolies. They hate markets. They use government regulations to crush competition. There's nothing conservative about that, just as there's nothing conservative about most big corporations."
"I thought if you were pro-market you were anti-monopoly by definition," the Fox News host told Observer. "Apparently Congress disagrees."
Accusing big corporations like Walmart, Uber and Amazon of funding Democratic candidates to create "a new reality of activist corporate America," Carlson praised Sanders' legislative initiatives to increase the wages of workers at companies like Amazon.
As for the former presidential candidate's other policies?
He is "wrong on pretty much everything else," said Carlson.