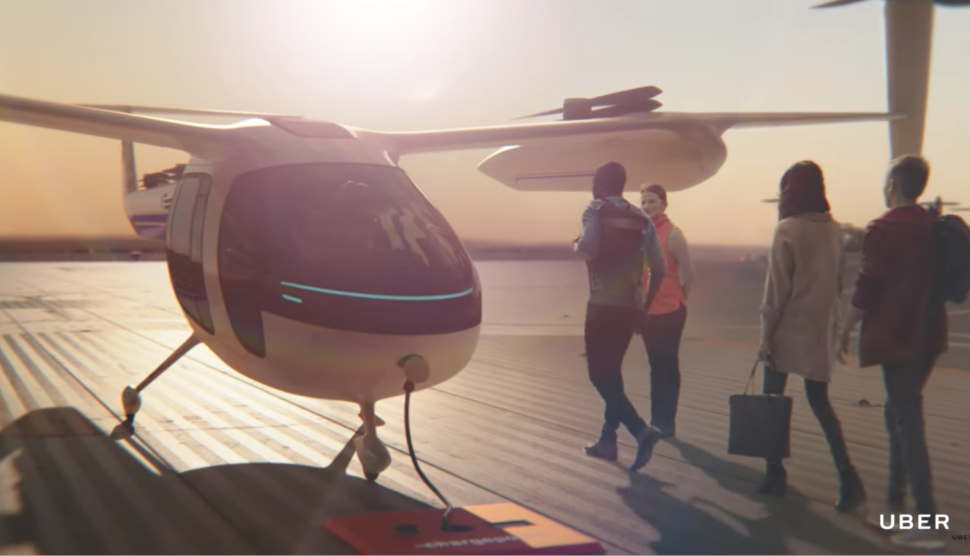 In news to nobody, Uber has long crushed traditional taxi businesses. So what's up next for the tech giant whose self-driving cars are also shifting into yesterday's headlines? Well, literally UP… that is, in the sky, where Uber wants to put flying cars.
Only, in the U.S., this concept is still considered too futuristic. Despite meaningful technological strides by Uber and other tech startups in recent years, little progress has been made on the infrastructure and regulation side to support the idea. Few companies are developing airports for flying cars; no legislation to regulate this new mode of transportation has been proposed, either. But thankfully, Uber has an opportunity to realize that ambition elsewhere.
In an announcement on Friday, the Japanese government enlisted Uber, Boeing, Airbus and 18 other companies and organizations in the transportation sector to make flying cars a reality above the busy streets in Tokyo and Osaka within the next decade.
Delegates from the government-led group will gather later this year to draft a roadmap for the project, Japan's trade and transportation ministries said in a statement.
Flying cars, despite their mere existence in science fiction movies, are at the top of the checklist of futurist-minded entrepreneurs. Google cofounder Larry Page has an electric aircraft startup called Kitty Hawk (named for the North Carolina town where the Wright brothers took flight for the first time in 1903); Toyota has backed a company named Cartivator since 2012, aiming to build the world's smallest flying car to debut at the 2020 Tokyo Olympics. But Uber is by far the most ambitious player in the field in terms commercializing the concept.
The ride-hailing giant first floated the idea in October 2016 with the introduction of a flying taxi project called "Elevate." In a massive white paper, Uber envisioned an all-electric, autonomous, and vertical takeoff and landing aircraft that can shuttle passengers from rooftop to rooftop in cities.
Since then, Uber has formed a partnership with NASA to create an air traffic control system to support these low-flying taxis and invested $23 million in an research and development center in Paris to build physical prototypes.
In a video (embedded below) released last November, Uber demonstrated how these flying taxis would work: a passenger books the flight through the Uber app, and then goes to a "skyport," or the rooftop of a nearly building. Under the guidance of a Uber employee, the passenger boards a drone-like aircraft with several other passengers and takes off. During the flight, they offer pitiful smiles to the long string of cars stuck in traffic below.
If all goes according to plan, Uber will test the "Elevate" service in three cities—Dallas, Los Angeles (the most congested city in the U.S.) and Dubai—by 2020. But commercialization can take much longer.
Like aviation, flying cars would need to clear multiple regulatory hurdles before reaching full commercialization, which skeptics say could take years in the U.S.
The Japanese appear more prepared. "The Japanese government will provide appropriate support to help realize the concept of flying cars, such as creation of acceptable rules," said the government statement.
At a press event this month, Japan's Economy Minister Hiroshige Seko said flying cars could ease urban traffic burdens, help transportation in remote islands and mountainous areas and can boost the tourism industry.