One day when I was a boy, I learned that my health-nut, beer-hating, loud-restaurant-avoiding mother LOVES Buffalo Wild Wings. It shook me to my core. It made me question everything I thought I knew about what moms eat.
Questions nagged at me for years. What restaurants do moms really like? Where do they take the family for a night out, but still have fun themselves? Do all moms crave two dozen Caribbean Jerk boneless wings? I needed to know. This is my journey.
The Method
Two words: quality data. I had to be thorough in my research, otherwise the whole mission would be for naught.
I thought about the polls during the 2016 election. Sure, they asked hundreds of thousands of people who they were going to vote for, but ultimately, those folks obviously weren't the best representatives of our country. I didn't want to fall into the same trap. Big data is great for improving a city's flow of traffic, optimizing sports performance, and spying on people with ease and efficiency. But sometimes it's just too big. I needed to get personal.
Instead of focusing on sheer numbers, I labored instead over the mom-ness of my participants. For optimal results, I needed a small, well-represented, sample size. This involved establishing some tough criteria. First off, the ideal mom restaurant essentially being a place that keeps both the kids and the moms happy (and not, say, an Iberian tapas place that moms go with their friend Trudy to escape for a bit). So for my study, moms needed to have at least one kid with them that looked big enough to also have an opinion on the restaurant. 
I started looking for other signs: did the candidate have a cool mom-haircut? Was she wearing a purse on her hip or holding it by the handles? I did not look for mom jeans, since those have been corrupted by non-moms. I decided grandmas, who are really just super experienced moms, would count if they fit at least one of these criteria. 
Most importantly, I needed all kinds of moms—from all across the country—so I trekked out from Observer HQ, wearing business casual clothing on a blistering July day, to Times Square, in search of the perfect cross-section of mom candidates. 
The Moms
Let me introduce our moms (for everybody's benefit, please imagine an Iron Chef-type intro):
Lynn (Gulf Shores, Alabama, "middle aged," one kid): Grade-A mom haircut, and very receptive. I found her taking a picture with her daughter. Classic mom move.
Karen (Greensborough, North Carolina, "40s," three kids): A timeless mom name. I found Karen joking around with her kids at a table in Time Square. Every scientific chain restaurant study needs a fun mom.
Jan (Atlanta, Georgia, "adult," one kid): Another wonderful bob. Jan had a very approachable mom-aura. She was enjoying the day with her granddaughter on a Central Park bench.
Anita (Selina, Kansas, 58, two kids): I noticed Anita eating something that looked very healthy with her husband and daughter, and I decided she would have a good perspective.
Jennifer (Des Moines, Iowa, 49, two kids): She looked like the eye of a hurricane as the whole family was orbiting around her. Jennifer was unfazed by the chaos, and I decided that she had the kind of level-headedness this study needed.
Patti (Syracuse, New York, "40s," two kids): I noticed Patti standing in Times Square with her husband and kids, trying to navigate to the Port Authority bus terminal. She was on her phone the entire time, and still locked into the interview, which is the second-greatest mom talent.
Jessica (New York, NY, 53, one kid): I liked how she took her young granddaughter's opinion into account, the way only a grandma can. This study is about what foods moms enjoy, but Jessica seemed to get enjoyment out of making her granddaughter happy, which cannot be discounted.
Emma (Dallas, Texas, 39, two kids): She looked very tired sitting in Central Park with her husband and kids. So tired, that Emma might have been sleeping with her eyes open, which is the no. 1 greatest mom talent.
Chari (Spokane, Washington, 37, four kids): I noticed Chari sitting away from her kids in one of those mom breaks—just far enough to not get hit with something, but close enough to keep a watchful eye.
Alicia (Brooklyn, New York, "30s," two kids, with more hovering around her): She just seemed happy that somebody was asking her a question that didn't involve juice boxes.
The Restaurants
I had my moms; now I needed my restaurants. This posed its own unique set of challenges, and involved creating more tough criteria. I knew the study would only work with the larger chains (my apologies to Long John Silvers, Fuddruckers, etc). It was easy to pick kid-friendly spots, but again, I'm looking for places where everybody will be happy (better luck next time, Chuck E. Cheese's). 
For days I grappled with the question of whether or not to include fast food. But ultimately I decided I'm looking for restaurants with servers, and a check.
After weeks of deliberation, I landed on these ten restaurants:
Cheesecake Factory: All moms love cheesecake. It's in the contract.
Red Lobster: Great biscuits, and some nice deals too. Affordable fancy.
Olive Garden: A family restaurant, but unlimited breadsticks might be dangerous.
TGI Friday's: I can't tell if TGI Friday's is for teens or old people, but maybe moms are into it.
IHOP: Breakfast for dinner is an instant hit.
Chili's: Just a solid, classic family restaurant.
Cracker Barrel: Feels really homey. They have food AND atmosphere.
Applebee's: Family deals. Huge desserts.
Shake Shack: The Shack isn't everywhere yet, and is the one fast food-type place, but LITERALLY EVERYONE seems to love it, so I threw them in the mix as a wildcard.
Buffalo Wild Wings: The control.
The Data 
Jan: "Yes, they have a very wide menu. A lot of salads."
Alicia: "Oh my gosh, I love the Cheesecake Factory. I love cheesecake."
Karen: "Oh I don't like it. I don't like cheesecake, but there's always a line and they shove you through." Clearly an unpopular opinion, but well thought out and reasoned.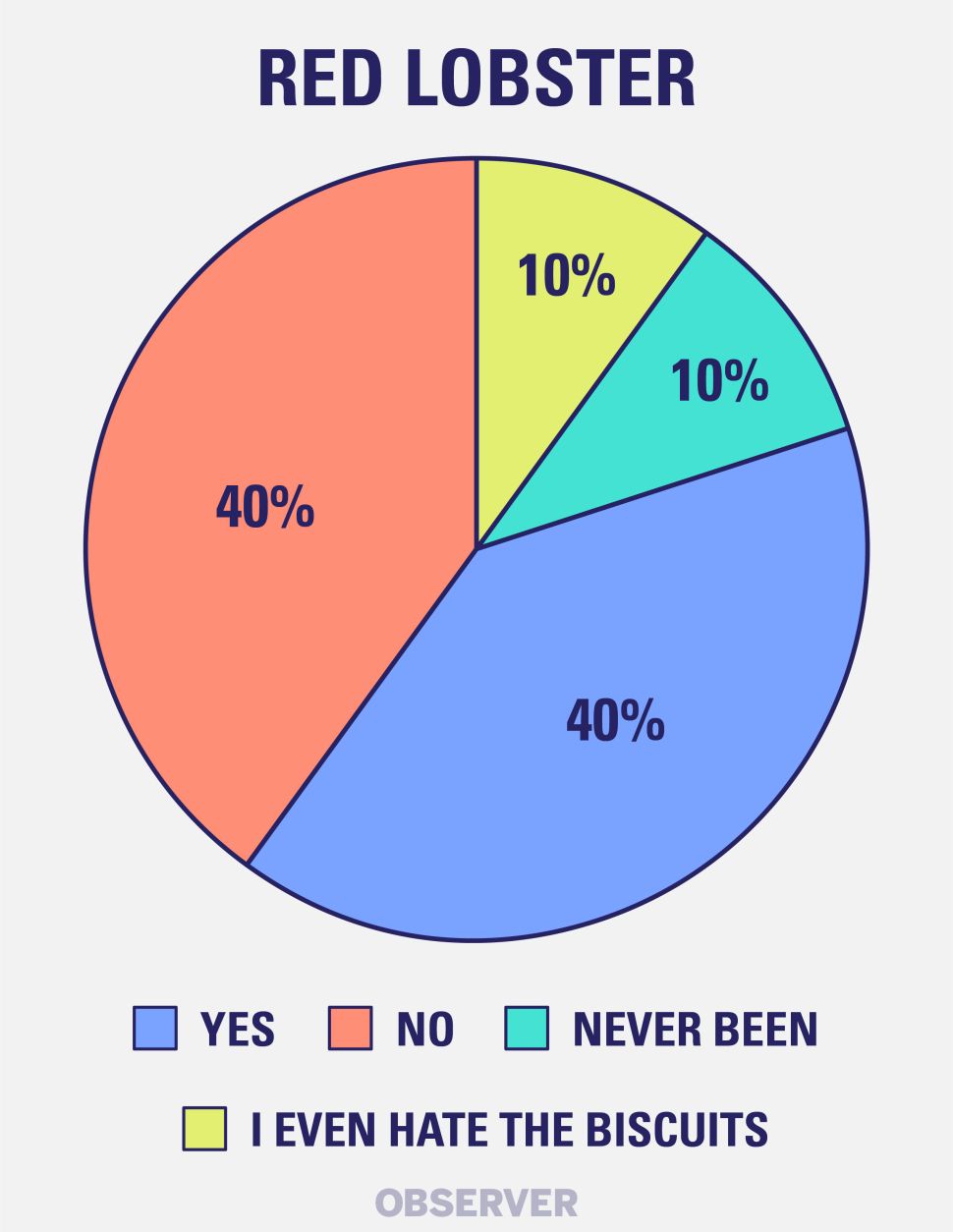 Lynn: "I don't like Red Lobster because they serve imported shrimp and seafood. The cheddar biscuits are ok, but not the shrimp."
Emma: "They like it, it's not my favorite. It's a favorite for them. I go for them so they can have their rolls." Classic mom answer, biting the bullet for the good of the family.
Patti: "No, don't even like the biscuits," she said it without even looking up from her phone. Gasp.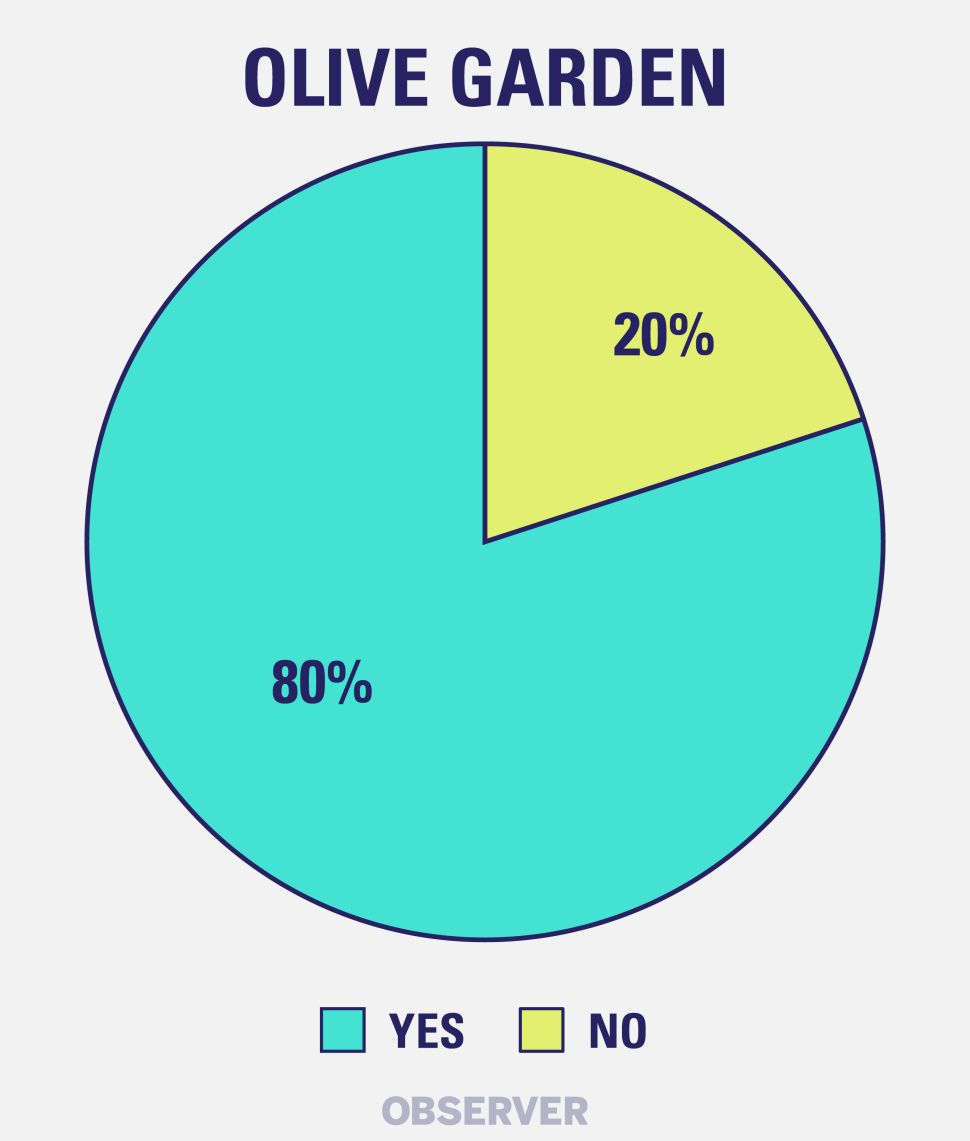 Chari: "Uh, yes." 
Karen: "No, my kids like it though, but we don't go there." 
Jan: "Good salads." I think I know where Jan's heart lies.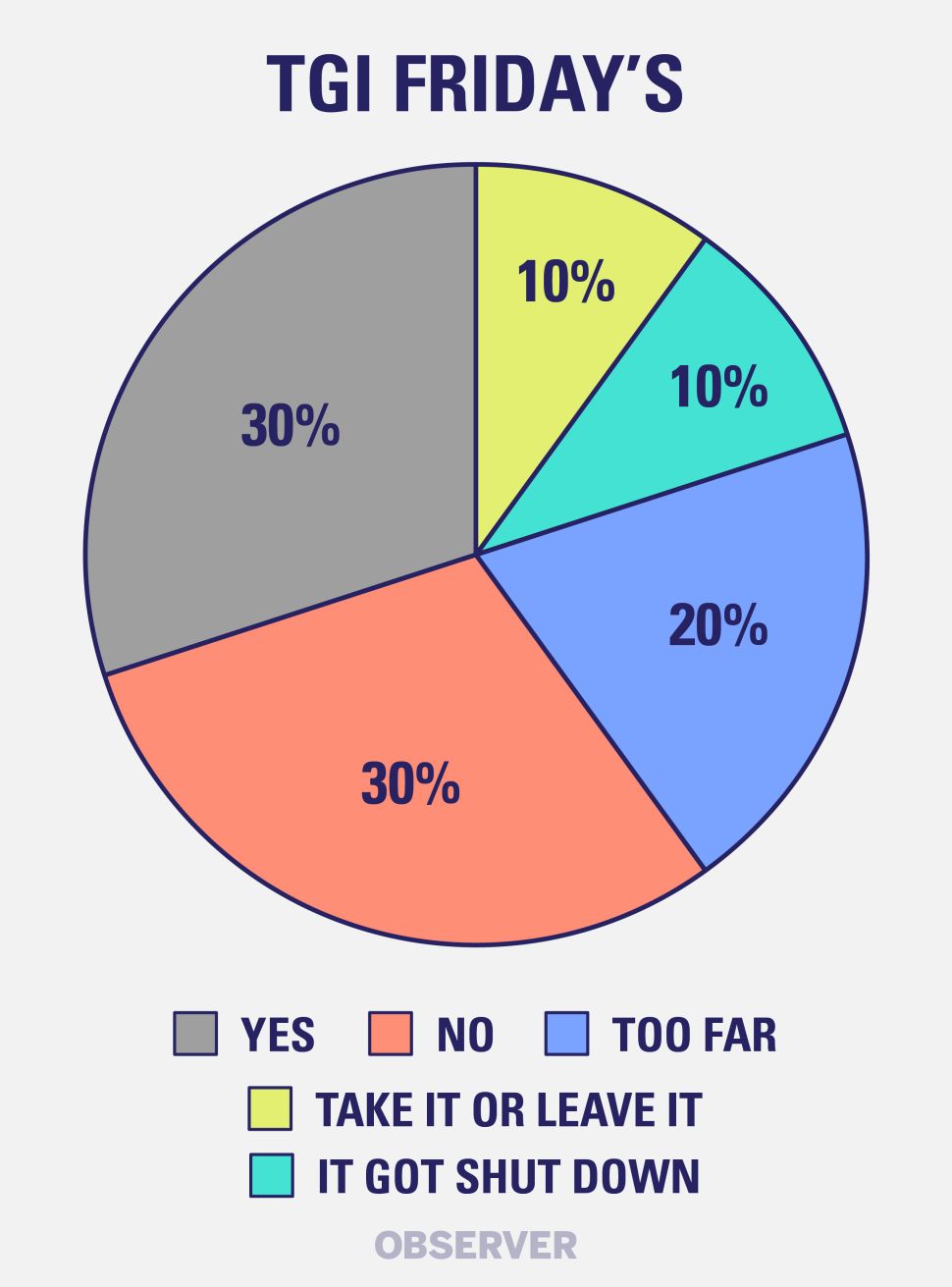 Jessica: "I haven't been there in a long time, so I'm gonna say no."
Alicia: "Friday's is nice. Friday's, Jack Daniels, ribs, and chicken. That's probably the best thing on the menu over there, but Friday's is nice, especially like an afternoon lunch spot."
Jennifer: "It got shut down." The whole family collaborated on this answer, and came up with it almost immediately. I didn't want to get caught up in the drama of a boarded-up TGI Friday's, so I decided not to ask any more questions.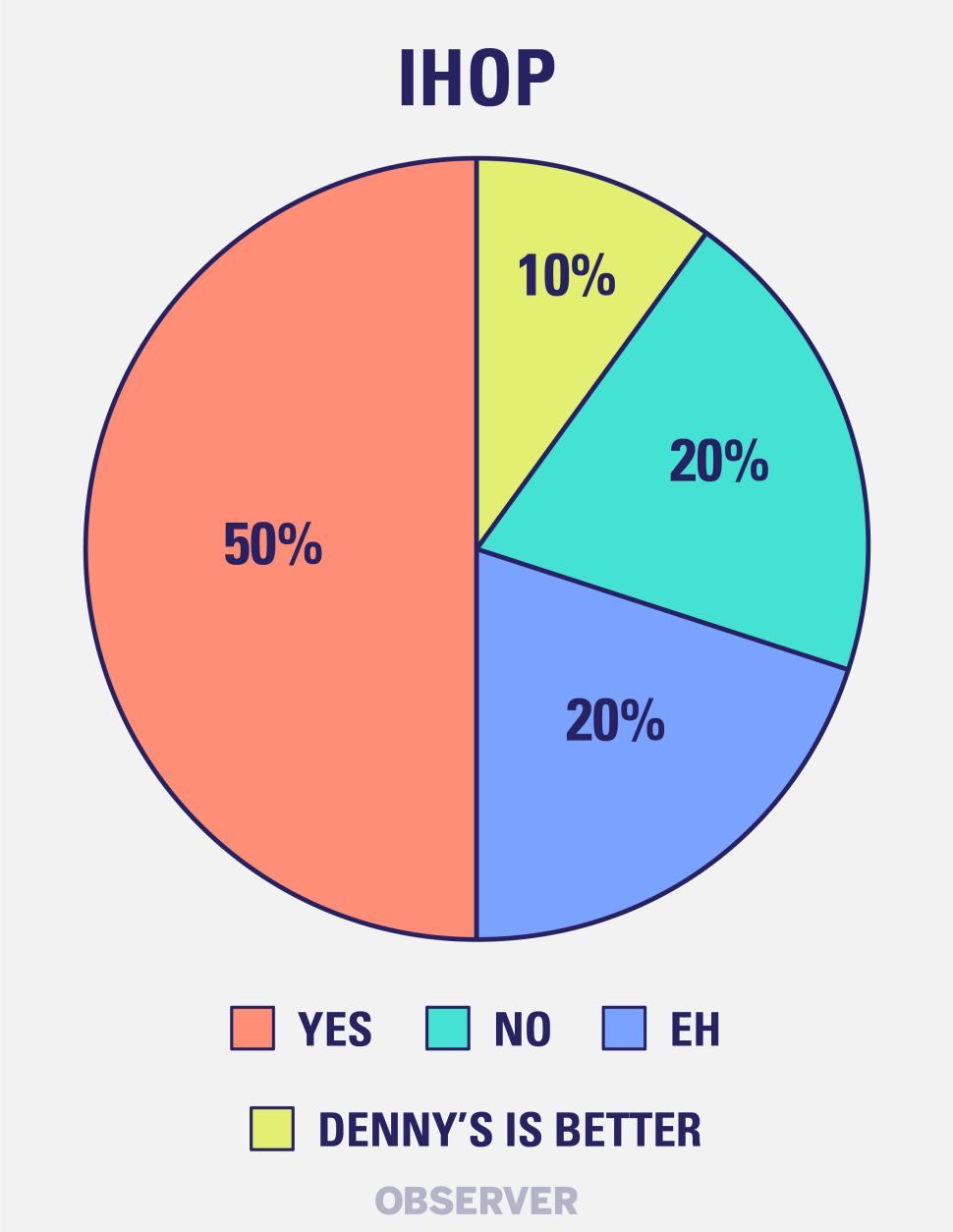 Alicia: "IHOP is good. Denny's is better." Bold stance, but I can get behind it.
Karen: "Yes," at this point, her daughter screamed "YES!" also. "I've never eaten their regular food, but the pancakes are good, and they don't get mad when the kids are loud."
Emma: "I don't like it, from personal experience." At this point, her nine-year old son chimed in with, "the food's good, but the service is…" he grimaced a little and shook his head. The parents told me their son writes restaurant reviews. I felt threatened and left.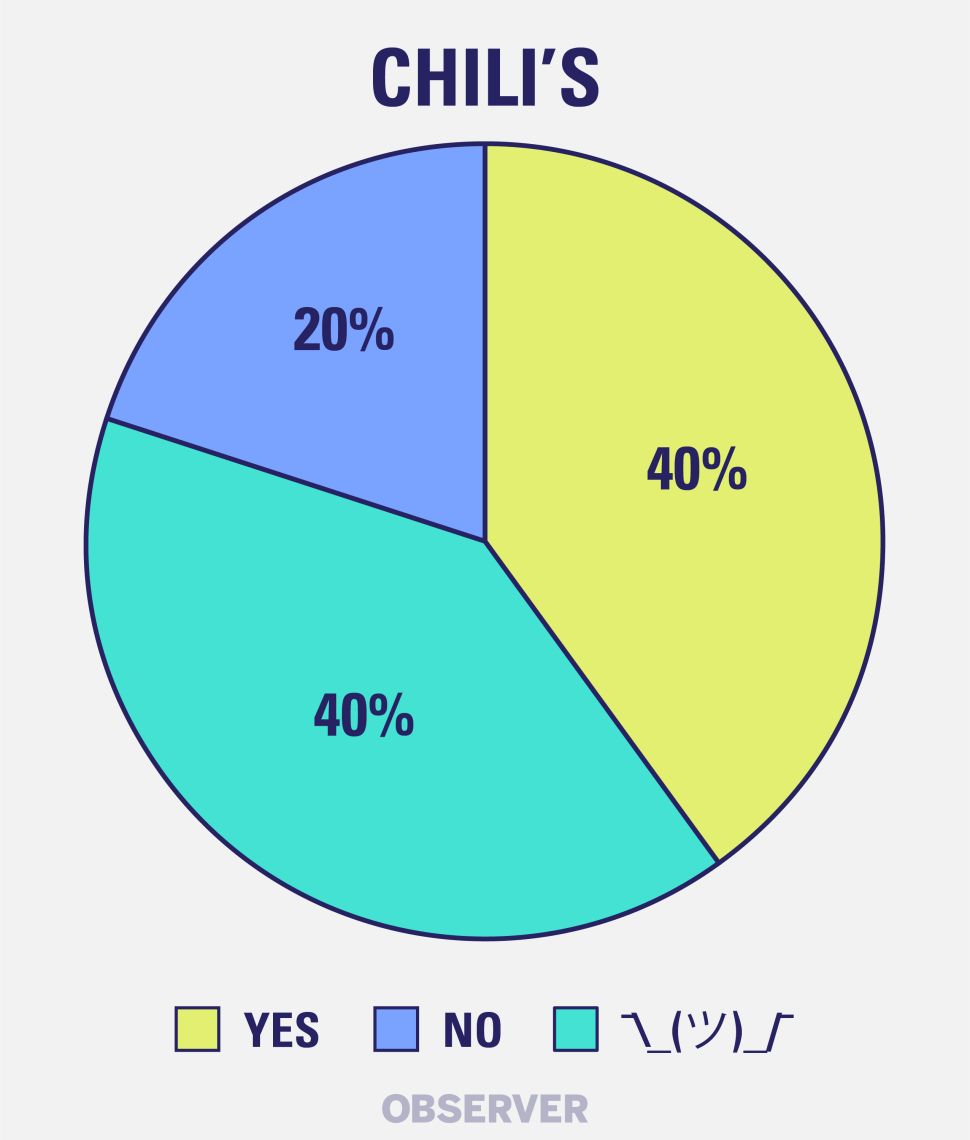 Alicia: "They like Chili's. Chili's is not bad." This statement encompassed the general vibe of the group. Her kids seemed far more excited about Chili's.
Anita: "Well, our son worked at Chili's, so we kind of have a special soft spot for Chili's." Her daughter then informed me that Chili's is the "only chain they like."
Jennifer: "We don't go to Chili's." Jennifer was a straight shooter, and I appreciated it.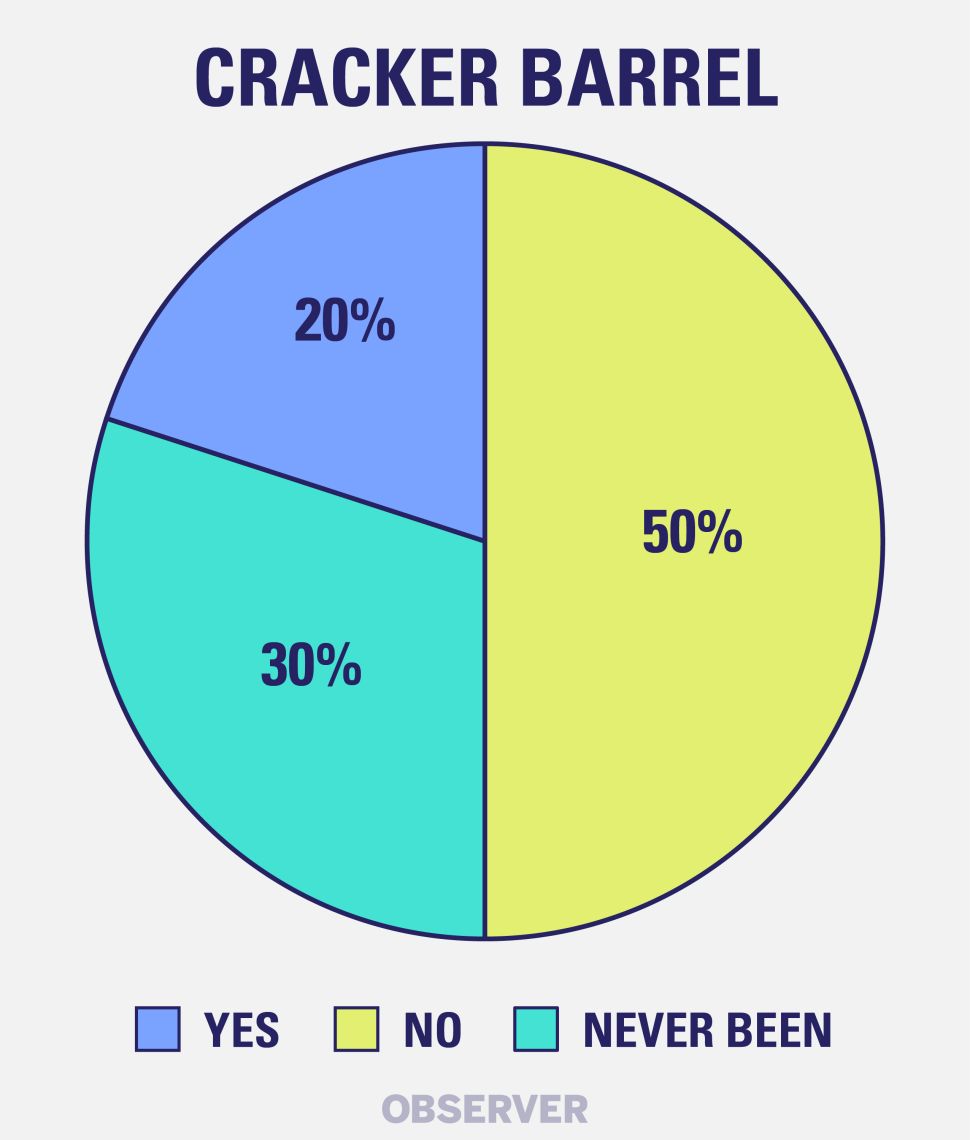 Jan: "I do not like the Cracker Barrel." Her granddaughter shot her a look of shock and disgust. "I know, everybody in the world loves the Cracker Barrel. I'm just not a huge fan," Jan finished, laughing. You're not alone Jan, you're not alone.
Lynn: "I used to like the Cracker Barrel, but it seems like they're not as good as they used to be."
Emma: "The pancakes are good. It's nice that they have a place for the kids to play."                    
Patti: After holding a brief family meeting in the middle of Time Square, Patti turned to me and said, "It's ok."
Anita: "No, we don't go to Applebee's. Given a choice, we'll always go to Chili's." It's hard to find loyalty in this world, but it warmed my heart to see this kind of love for a restaurant—even if it is only because their son worked there.
Chari: "Yeah, we like that. We like to go during the happy hour when the appetizers are half-price." This is what all happy hours should be about—the appetizers.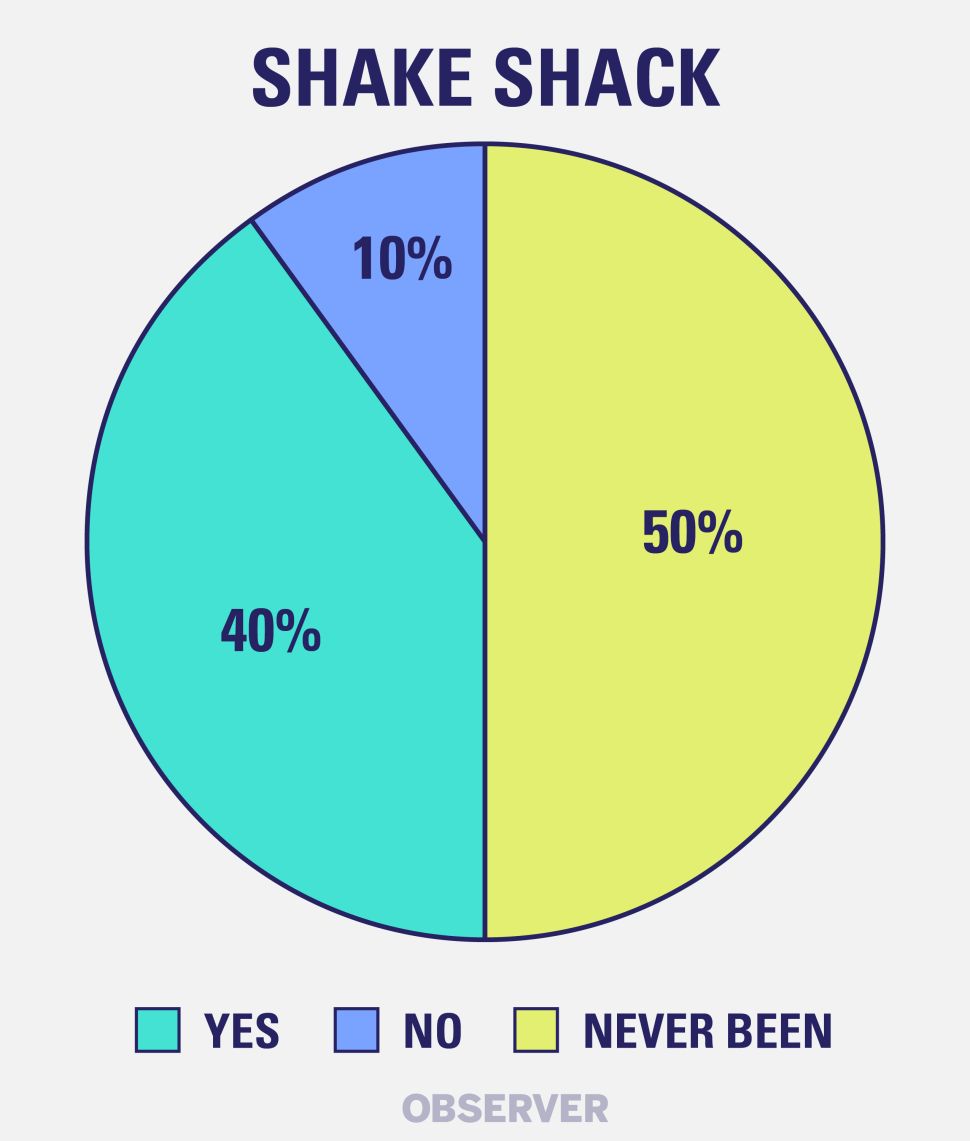 Jessica: "The burgers are very good."
Lynn: "We don't have a Shake Shack where we live. We do whenever we're here in New York, we'll go visit the one downstairs in Grand Central." I'd never think of going to Grand Central to eat, but some things just need to be done.
Alicia: "Never been," but her husband likes it.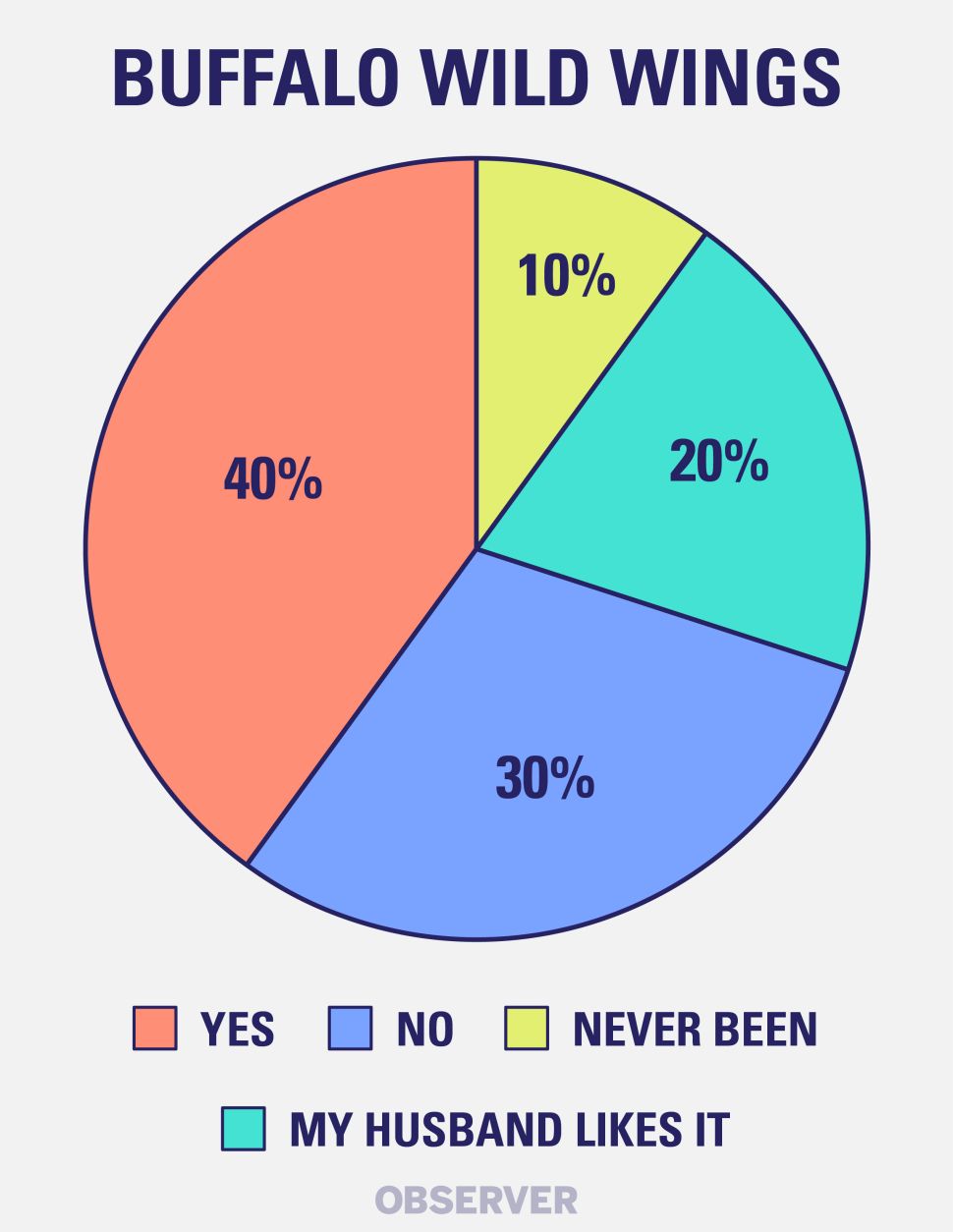 Chari: "Yeah, we like that. Kind of loud though, to take the whole family, a little too blaring."
Karen: "My husband likes that place, so we do go there." Karen was simply stating a fact. She seemed neither excited, nor unhappy about it.
Kelly (Jennifer's husband): "Yeah!" He goes there with his friends, and the family does NOT come along.
***
I returned home feeling very sweaty, and nervous to look at the results. The gravity of what I might learn once the numbers were crunched, the data analyzed, weighed heavily on my soul. It is dangerous to approach the tree of knowledge, and I was about to unlock a dark and powerful secret. I would soon know the best mom restaurant. It frightened me.
The Results
The Cheesecake Factory and Olive Garden are clear winners, with whopping 80% approval ratings. It seems moms truly do love cheesecake, and when you go to the Olive Garden, you really are family. Applebee's took third place, with a 70% rating.
TGI Friday's is the most polarizing restaurant on the list, with 30% yes, 30% no, and a whole lot of other random but clearly well thought-out answers. A few moms claimed to enjoy it before they had kids; nobody seems to miss it.
Shake Shack got 50% approval, but its popularity was hampered by a lack of locations, though 20% of those polled expressed a desire to try it one day, just as I expected. What I did not foresee was for Cracker Barrel to be so disliked. 50% said no flat out, and 30% have never even been. I have many fond memories at Cracker Barrel. The chicken fried steak is wonderful, and I'd be hard pressed to think of a time when that game with the wooden pegs in the triangle wasn't wildly entertaining. It looks so simple, yet so hard to solve!
I always knew some of the study's revelations could be earth-shattering, but by far the biggest surprise was the Red Lobster. I have always enjoyed Red Lobster, but it was disliked, sometimes vehemently, by 50% of the voting body. I've never heard of anybody hating those golden-brown cheddar cheese biscuits before, but 10% of those polled did. I had to remind myself that cheddar biscuits are not the main point of this study, and that I should peacefully remove myself from the situation, but it was difficult.
As for Buffalo Wild Wings, the nucleus of this quest, I concluded pretty quickly that it wasn't going to be the most popular choice amongst moms. It had a meager 40% approval rating, and 10% have abstained from it completely, but I was just happy to see that it's not a restaurant that only my particular mom can love.