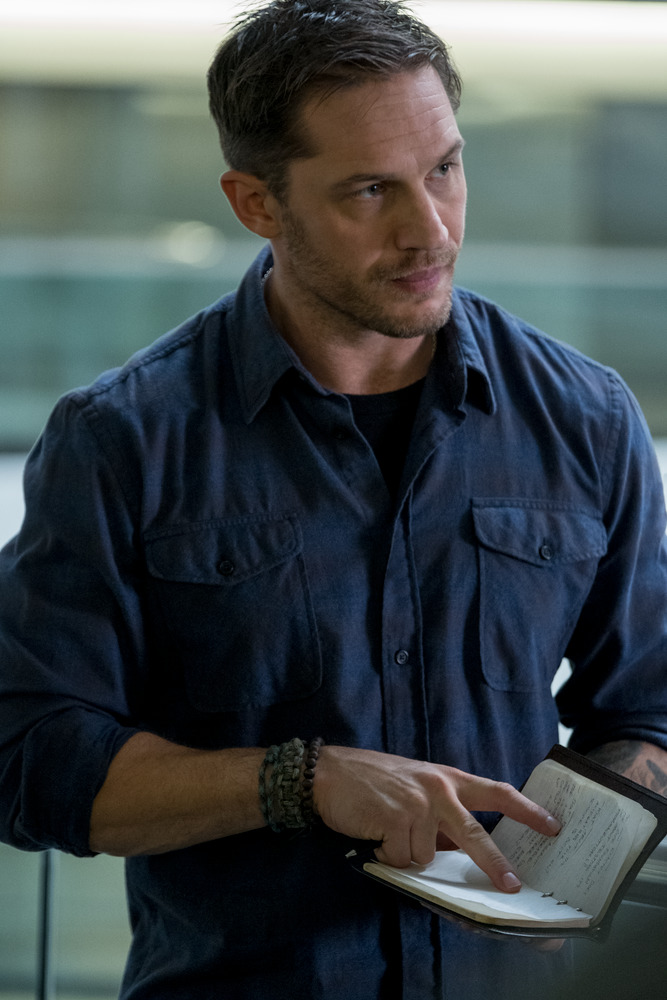 Sony needs Tom Hardy's Venom to be a hit. The studio is already fast-tracking Jared Leto's Morbius in order to get in on all that sweet, sweet box office cash the Marvel Cinematic Universe is hoarding, and it's banking on this Spider-Man-adjacent title to kick-start a shared cinematic universe populated with Marvel comics characters. But is Venom really a worthwhile bet?
Though the film's promotional material has been so-so thus far, the second trailer Sony released was greeted with a better reaction. Social media buzz has picked up, and YouTube views have surpassed those of its contemporaries, even Spider-Man: Homecoming. This all suggests that Venom could rack up bigger opening-weekend numbers than expected, which sounds good for a feature with an estimated budget of $65 million to $100 million.
The record for October openings belongs to Gravity's $55.8 million in 2013. Given inflation and the rising popularity of the superhero genre, it wouldn't be surprising to see Venom open to $60 million or more. Hardy isn't exactly a big movie star, but his presence adds some legitimacy to the film and an intriguing hook for the critical crowd. The ideal scenario for Sony would be if Venom blew past expectations and became the first October movie ever to crack $100 million in its first frame, similar to how Deadpool unexpectedly broke out in 2016.
Though Venom may very well set a record, there's reason to believe that its box office total could be rather front-loaded. Opening October 5, the movie will go head-to-head with Warner Bros.' A Star Is Born, starring Bradley Cooper and Lady Gaga. Its first trailer received rave reviews across the board, and A Star Is Born sits atop many critic's lists of anticipated fall projects. Things won't get any easier in the following weeks, as the unofficial start of Oscars season will see the release of Damien Chazelle's First Man (October 12), Jamie Lee Curtis' return to Halloween (October 19) and Matthew McConaughey's Serenity (October 19). While none of these pictures are out-and-out blockbusters like Venom, they still pose a threat because they'll also appeal to a more adult-skewing target demographic. Reviews and word of mouth will be particularly crucial for Venom's financial prospects.
We could see Venom take in over or under $65 million in its opening weekend but post an underwhelming multiplier—the multiple of the film's final gross to its debut numbers—somewhere between Batman v Superman: Dawn of Justice (1.9x) and Suicide Squad (2.4x). Such a range would ultimately push Venom to between $124 million and $156 million domestic, though it's hard to know without having seen any critical responses to the film.
It's more difficult to draw an international parallel, but if it plays like most superhero blockbusters and collects 65 percent of its total gross overseas, Venom is looking at an international take of between $230 million and $290 million. All told, Venom could be looking at a worldwide gross of between $350 million and $450 million. And if word on the street is that Venom connects, a $600 million-plus worldwide target is well within reach.