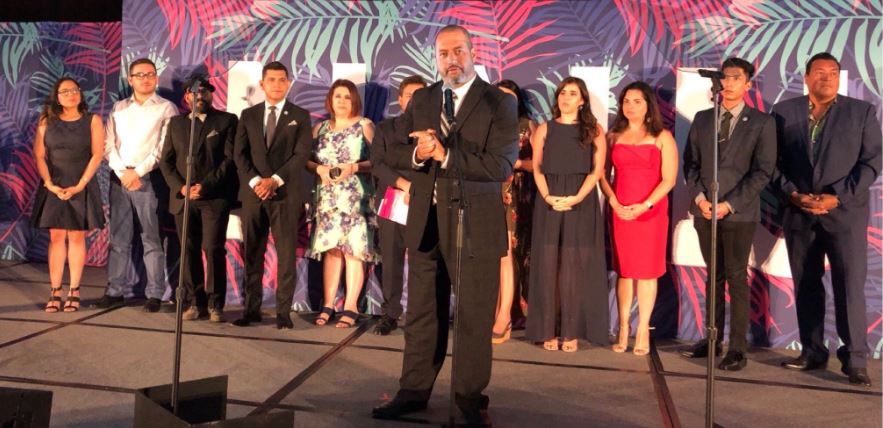 The Washington Post may push for diversity in its newsroom, but Latinos think its most recent coverage has been muy malo.
For the past several weeks, the Post has been engaged in a contentious dialogue with the National Association of Hispanic Journalists (NAHJ).
At issue is a July 30 story called "White, and in the minority," written by Terrence McCoy. It profiled Heaven Engle and Venson Heim, a white couple employed at a Fredericksburg, Pennsylvania, Bell & Evans chicken plant staffed mostly by Latinos.
Even though Engle and Heim are surrounded by Hispanics every day, they steadfastly refuse to learn Spanish. Engle gets paranoid every time she hears the word gringa.
"I swear to God, if they don't say anything in English, I'm going to freak out," she said.
For his part, Heim envisions a future where whites become a minority and are "punished for their collective crimes."
"They don't give a rat's ass about people with white skin," he said.
Most Fredericksburg residents agree with this assessment—the surrounding area is filled with Confederate flags and Trump stickers.
McCoy hammers home the point that whites are becoming a minority in America, noting the "tectonic demographic shift that will, with little historic precedent, reconfigure the racial and ethnic geography of an entire country."
"Some of the everyday experiences that have long challenged millions of black, Latino and immigrant Americans—the struggle to understand and be understood, feeling unseen, fear of rapid judgments—were beginning to challenge them, too," McCoy writes.
It's true that more minority babies have been born than white babies in recent years. The amount of racial minorities in America in general is also growing.
But Engle and Heim's view that these changes are universally negative goes unchallenged in the Post story. McCoy doesn't include any comments from Hispanic workers, relying only on his two white protagonists.
That's a huge missed opportunity, and the reason conversations about the piece have continued unabated over the past few weeks.
NAHJ President Hugo Balta told Observer that the Post story was "incomplete."
"It lacked the voices of the community at the center of the narrative," he said. "It continues to feed the polarization of the Latino community as the others."
CNN correspondent Nick Valencia, a member of NAHJ's board, added the piece was "tone deaf" and "distasteful."
"I was disappointed in how the Latino community was framed as invaders into the United States rather than a community that wants to assimilate," he told Observer. "It doesn't take a Latino to cover Latino issues, but it sure does help."
Even writers affiliated with the Post were annoyed. Esther Cepeda, who writes for the syndicated Washington Post Writer's Group, reached out to executive editor Marty Baron with her concerns.
"It was one-sided and offensive," she told Observer. "When individuals and organizations tell you this coverage is harmful to a marginalized group of people, that should tell you something is amiss."
Baron told Cepeda (and Balta in a later phone call) that they were simply "misreading" the piece, and there would be no follow-up. He pointed out that it was edited by a person of color (though not a Latino).
"Terrence McCoy's story captured the perspective of those who feel displaced by demographic change, by conveying what it is like for two white Americans who must themselves adapt to a new America," the Post told Observer in a statement.
The NAHJ also won't be allowed to give input on the Post's diversity training.
That's regrettable, because a Latina Post staffer told Cepeda (who's syndicated in over 70 papers but not the Post) that she had expressed concerns about the piece and was ignored.
All of the Hispanic journalists Observer spoke with praised the Post in general, and said the story of demographic shifts in America is an important one. But they said the lack of Latino voices in the piece (such as the managers of the plant) was troubling.
"The topic is very relevant, but the story would've benefited from the perspective of the community at the heart of this young woman's angst," Balta said. "The intent wasn't to create division or fan the flames, but the impact was certainly that. "
"For all we know, all of these workers are terrified of these two white people," Cepeda said.
Indeed, the entire framing of the story as a struggle between one or the other or "us vs. them" was problematic.
"In trying to portray the anxiety among white working-class America, they made it seem like the other guys were the bad guys," Valencia said. "You don't need to have a good guy-bad guy narrative in a story about anxiety."
Of course, the issue goes beyond one story or one outlet. Balta said diversity should be a priority in journalism, as in every other discipline.
"Newsrooms need to integrate inclusion from assignment to publication," he said. "Many newsrooms are not reflective of the communities they're serving."